5 Best Hair Dryer Brushes for 2022 Reviewed
It's not that women purposely take a long time to get ready. It's that using our hair styling tools to get the right look can take forever. If you're searching for a way to cut down on your morning beauty routine, the solution is in finding the best hair dryer brush.  
Hot air brushes are special tools designed to accelerate the hair drying and styling processes. They're incredibly handy and produce consistently great results, and it's no wonder they've become so popular within the beauty industry. 
Are you new to the world of hot air brushes? We're here to help you find the best hair dryer brush for your type and needs.  
Below, we're offering up our picks for the best hot air brush on the market. We're also going the extra mile and sharing what to look for when shopping for the best hair brush dryer. If none of our choices work for you, you can use these guidelines to make an informed decision on your own.
1. Revlon One-Step Hair Dryer And Volumizer
Pros
– ION generator

– Ceramic coating

– Fast drying

– Portable
Cons
– Only for US outlets

– Not ideal for shorter hair
The Revlon one-step hair dryer & volumizer is an innovative and efficient way to get lusciously flowing locks. Instead of wasting time drying hair only to have to curl it separately, now you can dry and curl your hair in one seamless step! This will easily cut down on your morning routine, and make your hair look sleek, shiny, healthy, thick, and full.
2. BED HEAD One-Step Hair Dryer and Volumizer Hot Air Brush
Pros
– Oval design for maximum volume boost

– Tourmaline ceramic technology

– Smoother heat distribution

– Creates versatile looks

– Suitable for all hair types
Cons
– USA outlets only, no dual voltage
The BED HEAD blow dryer and volumizer hot airbrush can provide many styles. Whether you want crimps or beach-style waves, the design of the brush allows users to achieve maximum volume and control over their styling. With three heat and speed settings and 1100 watts of power, this heated tool is a must-have.
3. Revlon One-Step Hair Dryer and Styler
Pros
– Dual-action design – style and dry

– Works quickly and efficiently, drying and styling hair in half of the time

– Tangle-free, flexible bristles

– No-tangle swivel chord

– Simple to use temperature and speed adjustment settings

– Reduces hair frizz

– Recommended by Amazon and hairstylists
Cons
– It can only be used in the United States due to shipping details (APO/FPO addresses only), and voltage (120V)

– It can be louder than other hair dryers

– Plastic bristles may warp over time
Labeled as an Amazon's Choice product and recommended by hairdressers, the Revlon One Step Hair Dryer and Styler from the Pro Collection is a stylish and unique combination design. The product's modern technology will make your hair styling a breeze.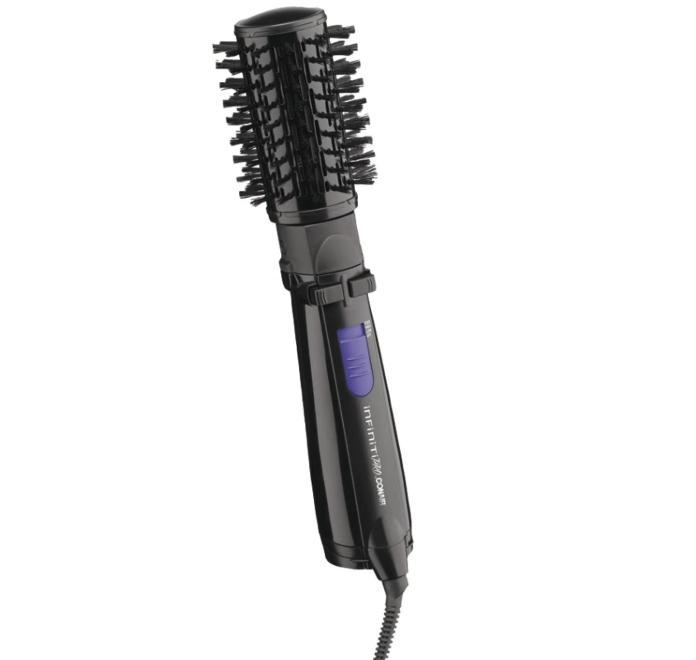 4. Conair Infiniti Pro Hot Air Brush
Pros
– Lightweight and easy to use

– Tourmaline ceramic technology protects from heat damage

– Multi-directional rotating brush
Cons
– Slight learning curve

– May require pre-drying for long or thick hair
There's no better way to feel like a glamorous super model than with a simple but voluminous blow-dry. Unfortunately, it's hard to get that same flawless bouncy look that your hairstylist leaves you with after a fresh cut when you're trying it at home.
5. BaBylissPRO Nano Titanium Rotating Hot Air Brush
Pros
– All-in-one dryer brush and styling tool

– Anti-static bristles

– Forward/reverse control buttons
Cons
– Use regular dryer to dry hair up to 80% before using this product

 
The BaBylissPRO BABNT178 Nano Titanium Rotating Hot Air Brush will be the only tool you need when you realize all it can do at once! This is the ultimate companion for your hair as it dries, brushes, styles and provides a beautiful, shiny finish to your everyday look!  
What you need to know before buying a Hair Dryer Brush
Why Choose a Hair Dryer Brush?

 

If your problem is dealing with a lengthy styling routine, then a hair dryer brush is the answer. When shopping for a blow dryer brush for you and your hair, there are a few things you'll want to look out for. This will ensure you end up with the perfect product for your unique needs. 

Materials

 

First off, check to see what the brush is made out of. Generally speaking, most blow dryer brush manufacturers use ceramic to create the barrel, as it works as an excellent conductor of heat and can hold temperatures well. 

You'll also likely find tourmaline materials in certain aspects of the brush. It's common to find a combination of both ceramic and tourmaline because these two materials work well together to reach an appropriate temperature, evenly distribute the heat, and minimize the potential risk of damaging your locks. 

Don't forget to look into the type of brush bristles you'll be working with. The bristles are what comb through your hair, so you want them to capture the heat produced and transfer it gently to your hair. Bristles should reflect the kind of hair you have: 

- Short or fine tresses works best with short and soft bristles. 

- For longer and coarser hair, you might prefer a bit of thickness, length, and spacing to your brush bristles. 

 

Functionality

 

Of course, the way the hair dryer brush functions is the most important part. Two important aspects of the brush functionality to look for while shopping are barrel size and grip. 

- Barrel Size:

The hair brush dryer's barrel size is what determines how your dried and styled hair will lay. Most of these products have a barrel size between 1 and 2 inches, but don't lose hope if you're searching for a smaller or larger size. Settle on the barrel size you want before shopping and filter your results by it for a more streamlined buying process. As some general tips, thick and coarse strands work best with a wider barrel, while normal to fine hair benefits the most from a mid-sized barrel. 

 

- Grip:

The grip of the blow dryer brush impacts just how comfortable the styling process is. While it can be easy to overlook grip in the name of barrel size or price, it's not worth it. Paying close attention to grip comfort will benefit you down the road, as your styling sessions will be so much less exhausting and uncomfortable. What you want to see is an ergonomic design that fits naturally in your closed palm. Remember that hot air brushing your hair will require some twists and turns of the hand, so look for anti-slip and comfort.  

 

Power and Wattage

 

Many people don't pay attention to the wattage of their hair styling tools without realizing that it impacts their results. It can be hard to find this information from manufacturers sometimes, which could indicate that the power's not as high as it should be. You're better off choosing a product from a brand that keeps this information readily available: 

- Less than 250 watts: No powerful drying effect. Better for almost dried hair. 

- 260-740 watts: A compromise of decent drying power while staying lightweight.

- Over 750 watts: A full-powered hair dryer brush that can work even on wet -hair.

 
 

Heat settings

 

You can tailor your hair dryer brush search based on the heat settings you plan to use when styling your hair. Most of the products on the market come with variable heat settings so you can pick whatever temperature you prefer. Check for the temperature range before buying to make sure that your ideal temperature falls somewhere in between.  

If you don't know where to start, look at your hair. Fine or damaged hair should stick to a lower heat setting, while a thick and coarse mane can benefit from higher temperatures.  

Special features

 

While these won't matter to everyone, here are some additional features to look out for during your hunt for the best hot air brush: 

- Cord:

Check to see how long the cord extends and whether or not it has a swiveling connector to the tool. This impacts styling comfort.

- Size and weight:

How portable will the device be? Get a feel for the size and weight to double-check that it can fit into your carry-on without being too much of a nuisance. 

- Brand:

Some brands are more reputable than others, with long histories of satisfied beauty customers. Stick to these brands for the best results.

- Warranty:

The higher the product's warranty is, the more you can trust the quality of the product. 

- Rotating barrels:

Rotating barrels can make the styling process even easier, as the air continues to rotate through the barrel as you brush your locks through.

- Dual-voltage capability:

While traveling with a hot air brush is handy because it cuts down on the need for extra styling tools, don't bring it on international flights. Most tools work at a voltage level that isn't compatible with countries outside the United States.

- Cool air setting:

For those who want to dry and style without heat, blow dryer brushes with a cool air setting is a key feature to shop for. These still get the job done, just a bit slower and with less damage.

- Airspeed setting:

If you can control the speed of the air flowing from the barrel, you can control the speed at which your locks dry. Generally speaking, faster air dries hair faster. 

 

Verdict

 

Instead of taking 45 minutes with a hair dryer and a flat iron, your styling process could get cut down to just 20 minutes with a blow dryer brush. 

When you do the math like that, it's easy to see why these tools are so popular. They save time, work for wet or dry hair, and produce even better results than other styling tools.  

Now that you know how to shop for one and see what the top models on the market have to offer, you're ready to make your purchase and take one step closer to perfectly styled tresses.