4 Best Hair Straighteners for 2022 Reviewed
Welcome to the HHBeauty best hair straighteners guide, offering your need-to-know about all things flat iron. What plate material is best for my hair? What technology should I be looking out for? How do I know what's the best value for money? Here, we'll let you in on all the trade secrets, so you get the best straightener for your needs and budget.
In our in-depth product reviews, we'll lay out all the important specs for you to compare, including:
– Price
– Plate material
– Technology
– Other features
– Multi-styling capabilities
Our guide will get you super-savvy on what's hot and what's not in hair straightening. Don't just buy the most expensive model from the most popular brand, thinking price equals quality. Our reviews will show you that some budget versions work just as well for a fraction of the price.
Ready to go? Let's do this!
1. BaBylissPRO Nano Titanium-Plated Ultra-Thin Straightening Iron
Pros
– Great multi-styling capability
– Titanium plates reach full heat quickly
– Super-advanced heat settings for all hair types
Cons
– Reaches unnecessarily high temperatures
– US voltage means that it may not be usable outside the US/Canada
BaByliss are the beloved, international haircare brand loved by teenagers and women alike. They create innovative new hairstyling products, that look fun and function like a dream. In my opinion, they're the perfect introduction to haircare products for young people or newcomers to styling: straightforward to use, easy to handle, cute to look at, and with all the safety precautions that are necessary when using heat.
The BaBylissPRO Nano Titanium-Plated Ultra-Thin Straightening Iron is no exception. It's an eye-catching, lightweight flat iron perfect for taking on your travels, or simply keeping on your dressing table at home.
2. Izutech Ktx 450 Titanium Digital Flat Iron
Pros
– Salon professional technology
– Titanium plated for durability
– Ideal for multi-styling
– Has keratin treatment built into plates
– Automatically shuts down after 60 minutes of inactivity
Cons
– Limited temperature controls
The Amazon listing for the Izutech Ktx 450 Titanium Digital Flat Iron boasts that this product heals and hydrates hair that has sustained damage by years of styling. While we're not sure that a heated straightener could HEAL your damaged hair, this product certainly has a go at being a kinder styling tool to your locks than others.
3. BIO IONIC OnePass Straightening Iron
Pros
– Precise heat adjustment
– Beautiful eye-catching design
– Optimized for multi-styling
– Used by salons
– Five-year warranty
Cons
– Zero, that we can tell!
All this alone would be enough for us to crown the BioIonic OnePass our straightener of choice… But there's more. The styler allows for precise heat adjustment, meaning YOU control the amount of heat that hits your precious locks. (Our pro tip: turn it down!)
We also award top marks to the look of this straightener. The luxe-looking dark grey of the styler compared with the baby blue plates is a complementary colorway that works wonders.
The curved barrel of BioIonic's OnePass means curling and waving your hair is no problem at all. The silicon strips aid this function, making it one of the quickest tools for curling on the market. Once finished, simply brush out your curls, spritz with hairspray and dash out to your party.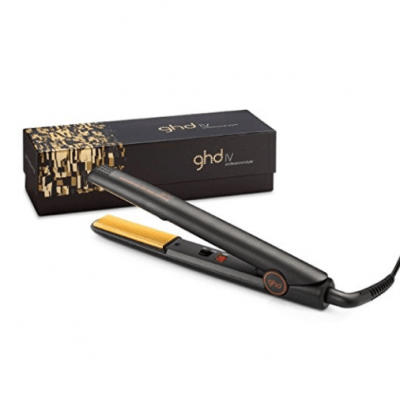 4. GHD IV Styler Ceramic Flat Iron
Pros
– World-famous, trusted brand used in salons across the globe
– Advanced technology
– Multi-styling capabilities
– Automatic shutdown after an hour of inactivity
– Sensors that calculate hair porosity – kinder to hair
Cons
– Most expensive product on our list
– This exact product can only be shipped within the US (though other GHD products can be bought worldwide)
With its luxe gold plates and multiple awards to its name (from the likes of Company Magazine, InStyle and CoolBrands), this flat iron is instantly associated with premium functionality and being a worthwhile expenditure. But in the wrong hands, a truly professional tool like this can spell disaster for your hair. Salon-trained stylists obviously know how to handle heat on different hair types; but everyday women buying straighteners often neglect to research the proper use for their hair.
The GD IV Styler reaches scorching temperatures of above 350°F – obviously this would burn your skin to a crisp if you were to touch it, so we need to apply the same precautions to our hair. Just because you can't feel it, doesn't mean huge amounts of heat damage isn't being done to your tresses. It's recommended that you drastically reduce this top temperature (even use less than 200°F if your hair is fine or almost-straight anyway), and coat your hair with protective spray before use.
Tips for Buying a Hair Straightener
Our flat iron straightener reviews go in-depth in all you'd ever need to know about choosing a product. We explain what it means for a product to feature ceramic plates; what exactly ionic technology does; and how far-infrared technology works. We recommend styling tools for girls with wild curls who straighten every day; and those with soft waves who like the poker-straight look every now and then.
Our guides will show you which iron is best for achieving multiple styling techniques, and those that are top of their range just for simple straightening. We show you how to get the best straightening tech for your money, whether your budget is $30 or $300. We feature the biggest brands and compare them to those you've never heard of (but should!).
These are only a few things you should bear in mind when choosing a styling product to purchase. No matter what brand, model, or material you go for – our #1 top tip is to ALWAYS use a heat protection spray or cream on your hair before using heat! No matter what fancy coating is added to the plates that promises the utmost heat protection, remember that your skin would be scarred if you applied the same heat to it. The same goes for your hair, and you should protect it as best you can when you curl it for a weekend party.
Here's our hot tips to know before buying:
– Ceramic is best for fine/thin/damaged/dyed hair
– Titanium is great for people with Afro/curly/thick hair
– Sleek metal outer design makes straighteners great for use as a curler as well
– Ionic technology prevents static and frizz
– Infrared technology protects delicate outer layer of hair
– 'Coating' on product plates is likely to come off/stop working over time
– Best straighteners have advanced heat control settings (so you can set it to a low temperature and prevent heat damage)
Have a look at some of our HHBeauty Guides below, written by beauty experts. They go into great detail about how to straighten different types of hair and how to achieve amazing styles with only one tool. One guide shows you how to straighten your hair while inflicting the least damage possible! Have a read and be sure to share the link on social media if you found it helpful!