5 Best Hair Dryers for 2022 Reviewed
Drying your hair can be tedious – especially if your locks are long and thick, and you don't have the best blow dryer. It can sometimes take hours to dry hair naturally, or alternatively a long blast of intense heat to get it bone dry quickly. Plus, some hair types need specific drying methods and hair dryers to ensure the hair style looks its best.
A simple solution is to get a high-quality blow dryer that will half the drying time and lessen the possibility of your hair becoming frazzled. However, people are more likely to invest in expensive hair straighteners and hair curlers instead and stick to budget hair dryers, but this isn't the best habit. A great hair dryer can also style your hair too, and protect it from more damage.
To help you decide which hair dryer is for you, we weigh in on five best sellers, looking at their specialty features, pros and cons, ratings and user experience. The hair dryers reviewed here range in styles, functionality, technology and features, and are suitable for a range of different people and different hair types.
Investing in a high-quality hair dryer can positively impact the health of tresses; using the right hair dryer for your hair type can prevent you from frying your hair and ending up with frizzy, snapped locks.
We have also outlined what you should look for when choosing a hair dryer: the material it's made from, the weight and the wattage. There are aspects and features of hair styling products that you should compare, based on your lifestyle, hair type and color so you can achieve the most effective blow dry, and keep your hair looking as healthy and nourished as possible.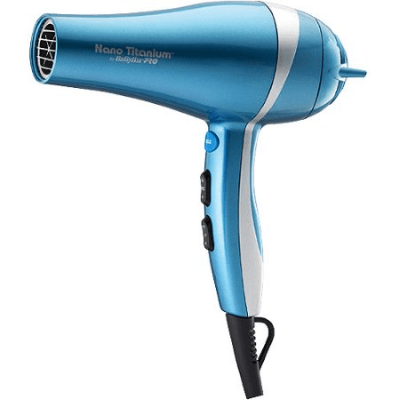 1. BaBylissPro Nano Titanium Dryer
Pros
– Super fast drying
– Various heat and speed settings
– Combats frizz with ionic technology
– Lightweight and simple to use
– Perfect for thick hair
– Removable parts make it easy to clean
Cons
– Limited 4 year warranty
– Exterior heats up – be careful around skin
The BaBylissPro Nano Titanium Dryer is the latest powerful hair drying product from international haircare brand BaByliss. This model is mid-sized, lightweight, and set apart from its competitors by both its sky blue outer and vast range of settings.
This dryer works at 2000 watts: much more powerful than the usual hairdryer wattage range of 800-1800. This extra power means that it dries hair far faster than competing models – and fast drying means the less heat damage your hair is exposed to.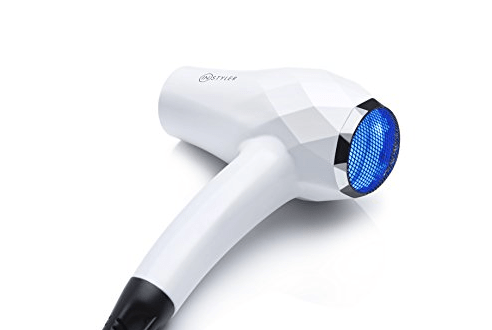 2. InStyler BLU Turbo Ionic Dryer
Pros
– 2000 watt performance and high speed cuts drying time by up to a half
– Only hairdryer in the industry that allows for custom ion levels
– Has a unique air speed dial
– Ceramic and tourmaline combats frizz and lightens the model
– Cool shot button for setting hairstyle
– Comes with concentrator and diffuser nozzles
Cons
– Awkwardly-positioned buttons
– Some users find airflow isn't hot enough
Cut your drying time literally in half with this innovative hairdryer, equipped with advanced technology allowing you to fine-tune all aspects of its functionality. Users can adjust speed, power, heat and even the levels of negative ions emitted, with precision controls. Create a completely custom style with this fully customizable dryer.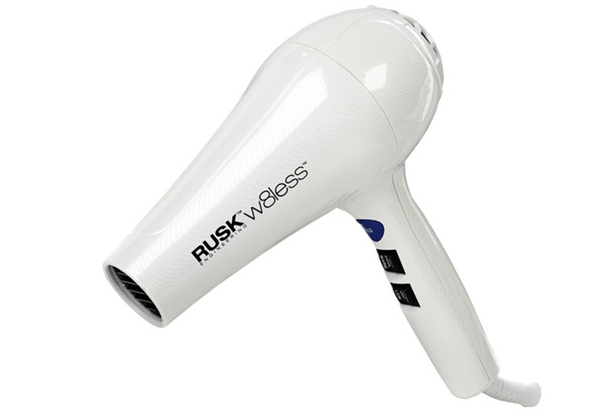 3. RUSK Engineering W8Less Professional Dryer
Pros
– Weighs less than 1lb
– Powerful
– Several heat and speed settings
– Far-infrared technology
– Advanced tech dries hair quickly and healthily
– Great for hair that takes longer to dry
– Inclusion of nozzle
Cons
– Some customer reviews question its value for money
If you have masses of thick hair, you probably dread 'hair wash day'. Settling down to the mammoth task of blow drying your hair, even after towel drying, can take up to an hour and involve a whole collection of products and tools. If this sounds like you – then you might want to take a look at the RUSK Engineering W8Less Professional hairdryer.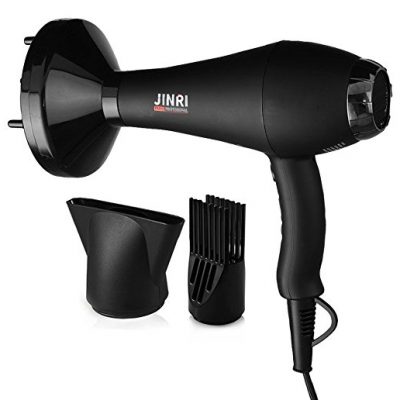 4. Jinri Salon Grade Professional Hair Dryer
Pros
– Advanced technology for a smooth outcome
– Fast drying
– Multiple speed/heat settings
– Cool button setting function
– Comes with a host of customizable add-ons
– Budget-friendly
– Positive customer reviews
Cons
– Slightly less powerful than some other models
– Not as ergonomically designed as others
Never heard of the Jinri brand? Us neither, until we tried out this nifty little hairdryer. And we liked what we found. It handily comes with three attachments, meaning you can dry your hair in four different ways. It performs its job extra-fast and extra-well. Have a read of our full review and consider investing in a Jinri dryer today!
Although it's a slightly lesser powerful model at 1875 watts (other dryers we've reviewed tend to be 2000 watts), this isn't noticeable. It's fast drying, infused with far-infrared, tourmaline, and ionic technology, and dries hair as well as the next product. These different technologies ensure your hair is defended from some of the harsher effects of drying and heat exposure. The combination of tourmaline ion technology, which makes for a frizz-free finished product, and far-infrared waves which penetrate hair for a more effective dry, equal a smooth and shiny blow dry.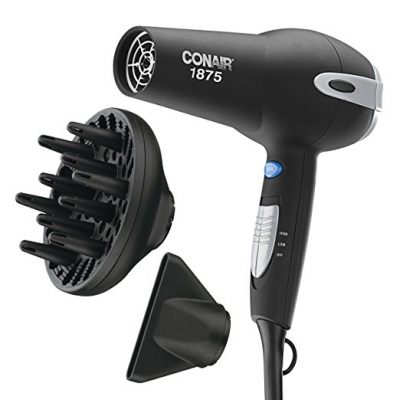 5. Conair 1875 Watt Ionic Ceramic Hair Dryer
Pros
– Smooth, frizz-free styling – great for all hair types
– Precision styling control
– Long power cord
Cons
– Lower watt performance than other models may not be the best option for thick hair/hair that takes a long time to dry
This easy-on-the-wallet hairdryer set, containing two extra nozzles, is a budget model that doesn't compromise any functionality. It's equipped with ceramic and tourmaline technology, which makes the dryer lightweight and fast-drying. The cool shot button ensures your look gets locked and set after drying, and the extra-long, salon length cord means you have extra movement when styling. Overall, we think this is a great choice for those without big bucks to spare, and features most of the functions you'd expect from a more expensive dryer.
What to look for when buying a hair dryer
Choosing the right hair dryer for your hair type will make all the difference in its drying speed, health of tresses and likelihood of damage. We're all aware that apply too much heat directly to your hair will cause damage – especially if you're using it alongside other heat products such as hair straighteners and hair curlers. But you might find that you're using an unnecessary amount of heat on your hair, and this is mainly down to the material your dryer is made from: titanium, ionic, tourmaline or ceramic.
Aside from the material of the blow dryer, other things to consider before buying is the power and wattage, the option of different heat settings, attachable nozzles and diffusers and any other special features which can improve the drying quality of your precious locks.
Avoid getting brittle or frazzled hairs by consulting our guide on what to consider when buying a blow dryer.
Ionic or tourmaline dryer

Ionic and tourmaline technology is great for people with thick or curly hair. They both help to break down the droplets on the hair so that it dries quicker and smoother. This combats frizz an neutralizes static.

An ionic or tourmaline hair dryer is great for those whose hair takes ages to dry. They may have a higher price tag but if your hair is thick and frizzy it's worth the expense.

You should avoid ionic or tourmaline hair dryers if you have thinner hair as they would not give you voluminous locks, and you could be using more heat than you need.

Ceramic dryer

If you have thin hair (perhaps it's been a little damaged from previous heat styling) you should opt for a ceramic dryer. This is because ceramic technology distributes heat more evenly on your hair, rather than too concentrated, and doesn't need to be so hot to dry the hair. The result is less damage and frizz.

Titanium dryer

If you have a lot of hair, a titanium blow dryer is for you. It can get very hot, so it's not suitable for people with thin or damaged hair. People will find that their drying time is cut in half with a titanium hair dryer.

Another plus side of a titanium dryer is that titanium is more lightweight than ceramic, which makes it easier to style and hold large amounts of hair.

Power and wattage

Another aspect to look out for when buying a hair dryer is the number of watts it has. Simply, more watts = more power = the quicker you will dry your hair. Professional hair dryers can go up to 3500 watts, but these models are a lot more expensive than cheaper models you can buy in store or online.

If you have especially thick hair, or its curly, or there is a lot of it, you will benefit best from a dryer that is at least 1800 watts. Thinner hair will dry just fine with a 1500-watt performance hair dryer.

Professional hair dryers are durable and powerful; they are made to dry hair all day every day, so you can be sure that forking out a little extra money on one will be a great investment. You might find that a cheaper one from high street stores will not last more than a couple of years (and damage your hair in the process).

Heat settings

What makes a hair dryer good quality and versatile is if it has multiple heat settings to choose from. This way, you can alter the heat depending on your hair type and styling goals. As always, the least amount of heat possible is best, so thinner hair will be fine on a low-medium heat setting, whereas super thick hair will require a higher heat setting.

Diffusers and nozzles

Most hair dryers will come with a detachable nozzle. The purpose of a nozzle is to direct heat to create a smoother finish, and you can easily straighten your hair with a nozzle by pointing it downwards whilst brushing your hair.

A diffuser is also detachable, though they tend to be more of an add-on product. While the purpose of a nozzle is to create a smooth, sleek finish, a diffuser's purpose is the opposite – to create texture and keep curls intact. A diffuser will distribute a lot of hot hair in a larger area, and you should point it up into your hair to achieve a voluminous finish.

Special features

One of the most important extras you should look for when you buy a dryer is a cool shot button. This will "set" your hair style after you've finished drying it (not dissimilar from when you splash your face with cold water to close your pores), as when your hair is hot it is susceptible to kinking.