While you might have never heard it referred to as triangular hair, each of us has seen this look once or twice. Perhaps you have triangular hair yourself and have stumbled upon this article in hopes of finding a solution to your dilemma. Well, today is your lucky day. I am going to dive into this less than appealing look in every way. What makes this happen? How can you prevent this from happening? What can you do to fix it if it already has? 
If you are in the middle of a post haircut spiral due to this issue, don't get worked up quite yet. You still have options to get rid of triangular hair. Take a deep breath, and soak in your answered prayer.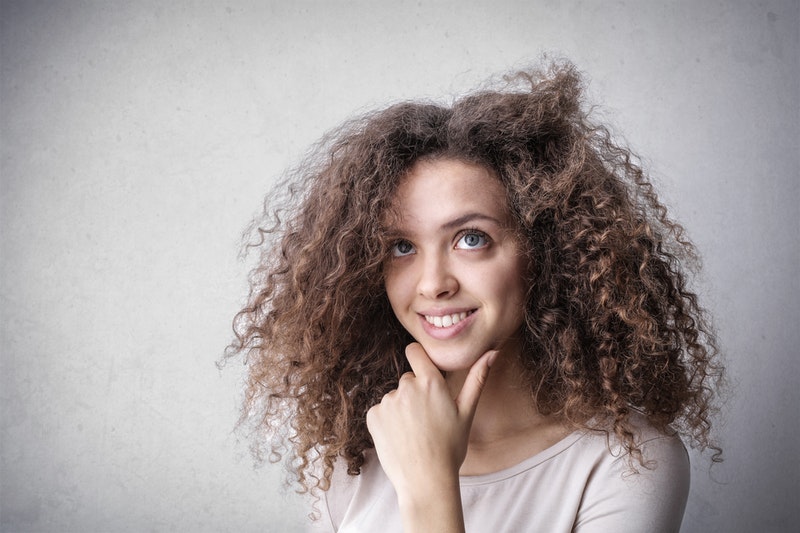 What is Triangular Hair? 
Let's talk about what triangular hair is before anything. This is a term referencing luscious locks that fall flat on top but voluminous on the bottom. As a result, it resembles a triangle which is often not a desired look by many. There are many forms of this: curly gals, frizz issues, bad haircuts. Whatever the type and reason, there is a solution to the issue. 
The key is being informed about your type of hair, haircut options, and ways to style your locks. When you master these three, you will be able to kiss triangles goodbye for good. Like with anything, knowledge is power. 
Prevention and Rehabilitating
Finding the source of the problem for you is going to give you the best results for prevention and getting rid of triangular hair. Let's talk about each issue a bit more in detail to learn how to get rid of triangle hair:
The Poof
If you have been graced with poofy hair in the cards of life, then your solution is going to be using better products to combat frizz. More often than not, if your hair is poofy, then you are not using the right products for your hair time. You might actually have naturally curly hair that can't make its way through with all of the products tainting the curls. 
The best way to find success is trial and error. Start trying curly hair products, wavy hair products, or frizz reducing products. See which of them sticks. You can also incorporate the next two categories to your routine if the product alone doesn't seem to be cutting it. 
Curls for Days
For curly haired ladies, the most important component is going to be finding a curly hair specialist at a salon. More and more cities are getting curly locks specialists that pride themself in catering cuts and styling to curly locks specifically. For some, it might be alright to rock more subtle triangle. After all, many with curls can't prevent their hair from getting more voluminous at the ends. Getting a shorter cut can also help make the triangular hair a bit more subtle. 
Haircut from Hell
If you think the haircut you have is the issue, then it might be time to reevaluate your stylist, or at least find a better reference photo or instructions to give them next time. Consult them to see if they can find a happy medium of your goal cut while still keeping the dreaded triangle out of your sights. Oftentimes, a straight across cut with no layers is the perfect concoction for triangular sights.  Instead, try adding layers and asking the stylist to thin out your ends. 
Those of us blessed with thick locks are the ones who often struggle with this specific reason. I know it might be scary and foreign to ask for a stylist to thin your prized possession, but I promise this works wonders for awkwardly thick ends. Not to mention thinning cuts can help reduce headaches and styling falling out prematurely. 
Conclusion
While there is not a one size fits all solution, you can customize your solution by mixing the culprits together depending on your specific hair. You know your hair better than anyone else, so use your experience mixed with your new knowledge to find your solution. Before you know it, you'll be back to even and voluminous hair all over your head rather than at the ends only. Remember, knowledge is power!