Welcome back my lovelies. If you haven't noticed yet, today I'm going over the best short hairstyles with highlights that will be sure to turn heads this year. No matter your face shape, hair type, or color, you can rock one of these looks guaranteed. Let's get started! 
1. Dusty Blonde
First, we have a classic cut right above the shoulders to accentuate natural dirty blonde with lighter blonde highlights. This look is versatile, works for all kinds of people, and uses the lighter blonde to frame your face well. If you have never tried highlights before and have a similar hair color, this is a great first option. 
2. Curly Brown
Next, we have a look that can work for my curly gals. Especially brunettes. This carmel highlight does an amazing job of defining her curls without a drastic color difference between her brunette color. As a fellow brunette, I am in love with this caramel highlight and think it suits just about any brunette when done correctly, curly or not. 
3. Pop of Color
A bit more spunky. You can go with a bright color highlight. Her short bowl cut looks amazing with these blue highlights to stand out. This look is an attention grabber, so if you are ready to make a bold statement, you need to give this look a try. You can follow her lead with blue, or try out pink, purple, or even red. The possibilities are endless with fun colors. 
4. Mom with Style
Taking a drastic turn from bold and blue, this warm and inviting auburn tone is great for something fresh that feels natural. It works well on brunettes and pairs nicely with this subtle cut right below the ears. Perfect for low maintenance, keeping your eye away from your eyes, and blending with any outfit. If you are scared to go light on your dark hair, this a happy medium. 
5. Platinum with Peeps of Dark
Maybe you like the drastic difference? Well I have the perfect option for you. Try a short pixie cut mixed with platinum highlights on your dark hair. This is just enough contrast before we move into full on skunk territory. The peeps of dark are a beautiful touch and sure to look great on anyone. 
6. Ombre Blonde Highlights
Another option is the ombre highlight look. This also works great for dirty blonde hair and allows for less trips to the salon since it is mainly focused on the ends of your hair. If you love adding dimension to your hair but not the hefty price tag that comes along with it, try this look! You can go with a bit longer at the shoulder length or short your hair and highlight the ends accordingly!
7. Brunette to Blonde
Looking for a more classic highlight look? It's always fun to make the switch from brunette to blonde. Especially with a cute cut to go along with it. Try a straight shoulder cut with a bit of layers and some warm blonde highlights mixed into your darker hair. This look is timeless and can work for anyone, even if you think you will never be part of the blonde crowd.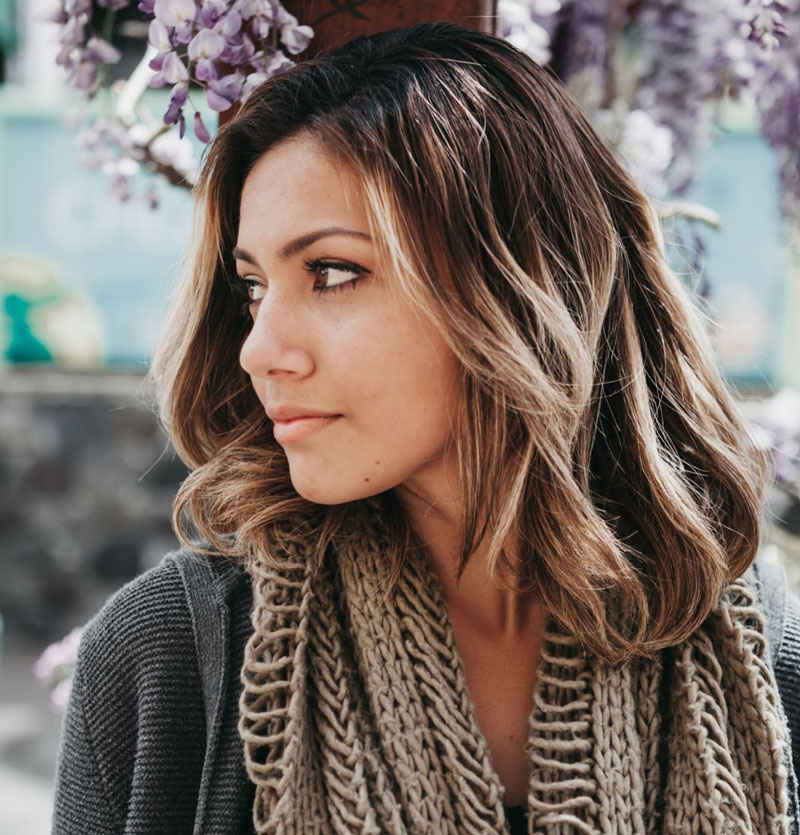 8. Go Orange
A unique hair color that seems to be a big trend in 2021 is orange hair! Yes. You heard right. Not redhead. Orange. Surprisingly, this look isn't as off putting as the name might seem. It can go with a lot of styles and blends well with darker hair the best. You can make the look work with any cut, but she looks great with a simple above the shoulder cut and some face framing bangs. 
9. Brassy Bowl
This look is great for any age range. It blends well and looks like natural highlights. This cut is just enough edge that it gives a fresh take on a shorter hairstyle without moving into full on rock or punk. Brassy highlights are a beautiful alternative to your natural hair for a change. 
10. Go with Grey
For my ladies that are starting to grey or far along into the process. Bite the bullet and opt for a full head of grey hair with some highlights in them. This brings depth to your grey look while helping lower the maintenance of constantly dying your hair. Be sure to check out my other articles on grey hair styles. 
11. Blonde Bob
Not ready to join the grey crowd quite yet? Or maybe you just have a similar hair color to our blonde bob beauty. This look is timeless. It suits all ages by offering a classy, simple, and effortless highlight look. Her bangs add some face framing rather than an elongated bob at the ends as well. 
12. Go Natural
Rock your natural hair texture with some beautiful blonde highlights. I am in love with this short cut with some shape to it. The platinum blonde addition is the icing on the cake. This look can be a drastic change, or the perfect opportunity for you to grow out your natural hair!
13. Warm Blonde 
For those who work better with warm tones. Give your naturally blonde hair a bit of extra love and add in a few warm highlights. I love the simple one length mixed with this color as well. Short and sweet. The motto for life and for hair. Another perk with hair cut at the same length is that you can play with your part a bit more without commitment. Let yourself get creative with this great canvas to start with. 
14. Platinum All Around
If all else fails, you can never go wrong with platinum blonde highlights. This look is quite a bit more hair dying than other highlight jobs, but including the highlights rather than one platinum color can add dimension to your eye grabbing color. Mix that with a cut right at the ear level and some jagged layers to complete the look. The dimension is more than enough to create an eye-catching look that will be your new go to look!
15. Color with Color
Saving the craziest look for last. If you are dying for a colorful look, try mixing colored hair with highlights of another color. You can stay within the same color family or make the color difference drastic. Be sure to find a good salon for a look like this, as it is not an easy look to achieve. However, when done well, this is beautiful and can be the highlight of your 2021. 
Final Thoughts
There are so many looks here, I am sure you can find one to fit your personal style and preference. Now pick up the phone, dial that salon of your dreams, and make this your best year yet. 2021 is our year people, and our hair is no exception!