How many times have you tried to blow dry your hair, only to have it looking like a frizzy mess when you're through with it? 
Oftentimes, when we go to salons and leave with beautiful hair we absolutely love, it's a struggle to recreate the look and feel at home. This especially rings true for heat-styling. Our strands never come out quite as straight or frizz-free as they do when a professional takes care of them. 
Having frizzy hair after blow drying is quite common, but with the proper knowledge, you can do what you need to dry your looks like a pro. Here, I'll walk you through how to prevent frizz when blow drying and how to correct it afterward. So, let's get into it, love!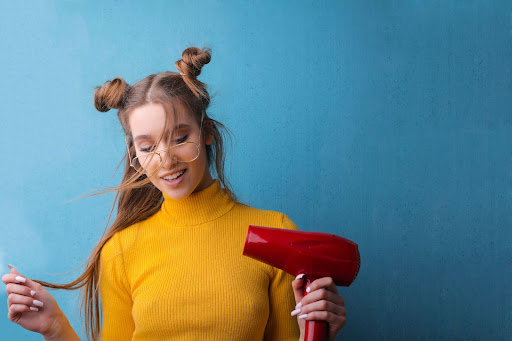 Preventing the Frizz
1. Use a Heat Protectant to Prep your Hair
Before using any type of tool on your hair that uses heat, it's crucial to prepare your strands in advance. Heat protectants are great for this purpose, as they work to seal hair cuticles, which prevent the loss of elasticity and moisture once heat is applied. When you combine protectants, leave-in conditioner, and styling products at the end, you are setting yourself up for a smooth blow dry and frizz-free results.
2. Use a Smoothing Product Prior to Drying
Prior to even reaching for your dryer at home, you'll want to make sure you use products that help encourage smoothness during and after the drying process. One element that really helps to fight frizz and moisturize strands is oil. When your hair is damp after washing, apply some oil to your hair and then when it's dry, you can add a bit more for extra gloss and smoothness. It can function as the perfect starting and finishing touch.
3. High Quality Dryer Equals High Quality Results
Although it may seem obvious that investing in a high quality hair dryer will yield higher quality results, many of us are probably guilty of using low quality heat tools and expecting great results. As much as we may hope that the cheap hair dryer we have from 10 years ago will help us achieve salon hair, the fact is that a professional-grade hair dryer is needed to achieve the desired beautiful, healthy outcome.
4. Blow the Air in the Direction your Hair Grows
When we dry our hair, many of us just do it as fast as we can, blowing the nozzle in any which direction in an effort to get our strands dried. However, it's highly recommended that when you blow dry your hair, you use technique and go about it methodically. 
During the drying process, you want to make sure that you're aiming the path of the air in the direction that you want your hair to lay upon your head. Ultimately, this will reduce frizzing. What can we learn from this piece of knowledge? Well, we should definitely stay away from flipping our heads over to dry our hair. 
Direct the air in the direction that hair grows out of your scalp. Additionally, don't be afraid to use the attachment that comes with your dryer so that you can more precisely direct the airflow while drying your hair.
5. Go for a Ceramic or Bristle Brush
When you're blow drying your strands, the type of brush you use matters. It can make the difference between a sleek or frizzy final outcome. For ideal, smooth results, you'll want to stick to bristle or ceramic brushes. 
Begin brushing early on in the drying process and when you get to the end, switch your dryer from hot to cool air and point the nozzle down towards your scalp at any hairs that are still sticking out. This will help smooth flyaways.
Dealing with the Frizz
So, you've used heat protectant, oils, and technique while drying your hair. Your arms are probably tired from the drying process and you look up into the mirror just to notice that frizz and flyaways are still everywhere. If this is the case for you and you just want to know how to fix frizzy hair after blow drying, we've got your back. Don't be discouraged or frustrated, there are steps you can take to save your style!
Once your strands are dried, you can use a spray wax or pomade and gently spray or brush over the hairs that are standing out. What this does is it also helps pull in baby hairs to lay flat among other hairs. Then, you can grab a finishing spray to make sure everything stays in place. 
If you're noticing that your hair just doesn't seem healthy or look right no matter what you do, it might be time to try out a hair rinse. After doing so, you can revisit this blow drying technique and watch how smooth your locks will be.
Happy styling, friend!