Having beautiful, healthy locks goes beyond washing and conditioning them everyday. Your hair care routine should consist of regular trims, heat protectant when using hot tools, detangling with minimum damage, and a deep conditioning treatment from time to time. 
While the above should be standard practice, sometimes your locks need a little extra loving to feel their best. That's where a hair rinse comes in. If you've never considered rinsing your hair, now's the time.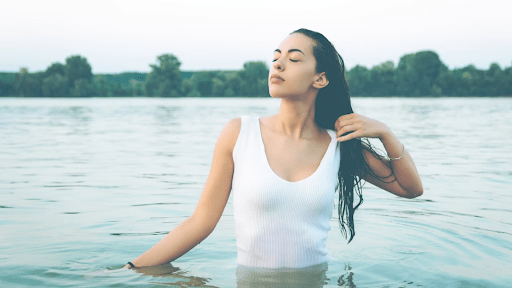 What is a Hair Rinse?
This is a concept that far too many people are unfamiliar with, but fortunately, it is rising in popularity. When individuals realize how easy one is and all the benefits received, it quickly becomes a part of their hair care routine. 
To keep things simple, a hair rinse is a treatment that nourishes, moisturizes, and removes product buildup. Known as a multi-purpose treatment, it provides your mane with several benefits all in one treatment. 
Should You Rinse Your Hair?
If your locks haven't been themselves lately, a rinse may be just what they need. There are several purposes for rinses among them cleansing, softening, or strengthening locks. 
Unlike certain treatments, rinses can benefit all types of hair. And, the best part is the ingredients you need for one are probably already sitting in your home. 
So, to answer your question, YES. You should rinse your locks, but not daily. Rinsing your hair every day will strip your tresses from their natural oils and make your scalp more prone to bad bacteria or irritation. Instead, rinse once a week.
How to Rinse Your Hair 
Rinsing hair is easy. We will go over popular recipes, but before that, familiarize yourself with the step-by-step process of rinsing. Here's what you need to know:  
Wash Your Tresses.

Schedule your rinse on a shampoo/conditioner day. In order for hair rinsing to work, you need to make sure your strands are clean and moisturized. 

Apply the Rinse.

After washing your mane, apply the rinse all over your damp locks. Massage it into your scalp and throughout your strands.

Let It Sit.

Don't wash the rinse out of your hair immediately. Let it sit for 10 minutes.

Rinse.

After 10 minutes have passed, thoroughly rinse your tresses with warm water. Allow it to air dry and then

style as desired

.


What Type of Rinse is Best For My Hair?  
The best part is that a rinse treatment can be done using inexpensive products that are probably already sitting in your home. These include apple cider vinegar, tea bags, baking soda, among other ingredients. The type of rinse for your hair depends on what your goals are. 
For instance: 
For Product Buildup 
If you have textured hair, chances are you use a lot of products. Over time, the accumulation of these products is what we call "build-up". It can make hair dull or the scalp itchy. A good remedy to this is rinsing your hair with apple cider vinegar. You'll need: 
2 cups of water

1 cup of apple cider vinegar
Note: Don't have ACV? Use 1 tablespoon of baking soda with 1 cup of water instead. 
For Weak, Thin Locks
If you're noticing a little more shedding than usually, a black tea rinse is for you. Black tea thickens hair and will tighten your pores. It also works to get rid of excess oils and blocks dirt and bacteria from entering. For this rinse, you'll need: 
4 bags of black tea leaves

4 cups of water 
Boil the water, set aside, and steep the black tea leaves for about an hour. Use it on your hair once it's at room temperature. 
For Softer Locks 
A basic rinse will do wonders for your tresses, and if you're looking to achieve softer locks, this chamomile tea option is what you need. Chamomile is a fantastic conditioning herb and gentle enough to use on your mane once a week. You'll need: 
4 bags of chamomile tea

4 cups of water 
Boil the water, set aside, and steep the chamomile tea for about an hour. Use it on your locks once it's at room temperature. 
The Takeaway
Give your locks a little extra love this week by using a hair rinse. You can use apple cider vinegar, baking soda, or tea to do so! In a few easy steps, you'll help your locks feel and look their best.