4 Best Fahrenheit Flat Irons for 2022 Reviewed
Fahrenheit hair care system consistently puts out top-of-the-line flat irons that perform well in straightening ability, versatility, technological innovation,  and durability. The Fahrenheit hair care system flat iron reviews online are generally highly favorable. In addition, they produce a range of material types, from ceramic to titanium plated straighteners, giving their fans of various hair types a diverse range of options to choose from. And thanks to this Fahrenheit flat iron review, you wont be struggling to figure out which one to go for
Fahrenheit irons are known not only for being budget-friendly, but also for being user-friendly. All of the flat irons reviewed here share some commonalities, such as the sleek ergonomic design with a non-slip grip, which really shows that Fahrenheit straighteners are developed with the user experience and comfort in mind. Anyone with especially long or curly hair knows how long it can sometimes take to straighten even an inch-wide section of hair. One of the seemingly miniscule details I always pay attention to when looking at flat irons is the grip. After all, you don't want your hand cramping up while your straightening or styling, or even worse, for the device to fall out of your hand and burn you!
Additionally, all of the Fahrenheit straighteners are made with far-infrared technology, which means that not only are they engineered to provide consistent heat across the entire surface of the plate, they also reduce bacteria! So what makes the three Fahrenheit straighteners reviewed here distinct from each other and what do you need to know to choose the best straightener for you? Read on and find out.
The Fahrenheit flat irons reviewed here represent a range in straightener styles, from ceramic, to ceramic with tourmaline coating, to titanium plating. Since the type of plating material will affect the flat iron's heat output in different ways, I thought it might be helpful to review the top-rated products in each of these categories to give you a better idea of the options that are available on the market.
More than the ergonomic grip and far-infrared technology of the flat irons, which all of these Fahrenheit straighteners have in common, the most important factor in choosing a straightener is without a doubt the material type since that will tell you whether or not it's suitable for your hair type. People with thin hair are going to want a flat iron that can provide lower heat output while still achieving the desired effect. People with thicker hair will want a straightener that is capable of safely producing higher temperatures while also not burning their hair. These are just some of the features to keep in mind when choosing a hair straightener.
TOP 4 FAHRENHEIT FLAT IRONS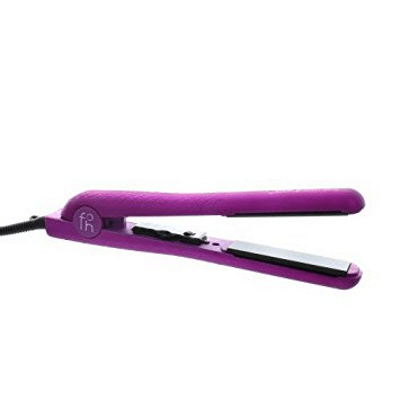 1. Fahrenheit Glistening Orchid
Pros
– 100% Ceramic plating—ideal for proven consistent heating
– Ionic technology generates negative ion—goodbye frizz!
– Far-infrared technology—consistent heating and no nasty bacterial residue
– Adjustable temperature makes this user-friendly for a range of hair types and styles
– Ergonomic grip—This is comfortable to hold for prolonged periods!
The Fahrenheit "Heat Wave" collection is incredible high-quality and advanced line of flat irons, and the purple Glistening Orchid is one of the many colors you can choose from. It is the do-it-all heat styling product; sleek as well as ergonomically designed, with impressive features and versatility. It is the hair straightener that you can rely on.
Many flat irons have plates that are made from titanium – an incredibly strong (though light) metal that can that reach high temperatures in a very short amount of time. Titanium plates are recommended for users with thick, more coarse hair, and people with thinner, more delicate hair are not advised to use them as they can cause damage.
2. Fahrenheit Leopard Special Edition Ceramic Flat Iron
Pros
– 100% solid ceramic plates
– Black tourmaline-gemstone coating
– Far-infrared technology—consistent heating and bacteria reduction
– Adjustable temperature makes this suitable for all hair types
Cons
– Special Edition—that means supplies are limited. It's really too bad that they would limit the availability of such a great product, but there you have it.
The special edition tourmaline-coated ceramic Leopard is another great product from the Fahrenheit hair care system. Similar to the Heat Wave collection, the Leopard also has 100% solid ceramic plates, which means that it is made of material that has been proven to be reliable in terms of consistent heat output in the hair care industry.
But aside from its flashy design pattern, the Leopard stands out for its black tourmaline-coated gemstone plates. Tourmaline is a crystallized mineral that is ground up into fine powder and applied to the ceramic plates of some straighteners as a form of insulation. Tourmaline plates guarantee even heating and provide a frictionless surface—so no bumps in your otherwise straight hair! The tourmaline coating entails that the heat emanating from the flat iron is evenly distributed throughout the plate, allowing for a controlled application of heat. This is ideal for people who have thick or difficult to manage locks because it allows you to turn up the heat on the flat iron without burning your hand or causing damage to your hair.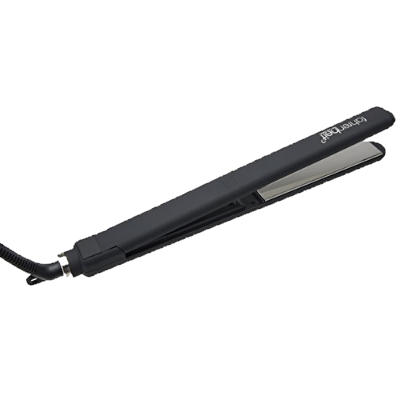 3. Fahrenheit Sleek Pro Flat Iron
Pros
– Diverse multi-styler
– Titanium plates
– Advanced ionic technology
Cons
– Reaches high heats that may not be suitable for finer hair types
The Fahrenheit Sleek Pro is possibly Fahrenheit's most diverse straightener: it will work amazingly on all hair types, and can produce a variety of styles. It's made with all the key features anyone with mid-to-long hair should want from a multi-styler straightener; which we'll discuss in this review.
The Fahrenheit Sleek Pro features extra-long 100% titanium plates, allowing for quick, easy, professional straightening. Section out your hair and glide your flat iron down the lengths for a silky smooth finish. It's that simple! The plates are also a small 1-inch diameter, helping you to create cute ringlets instead of straightening if you wish.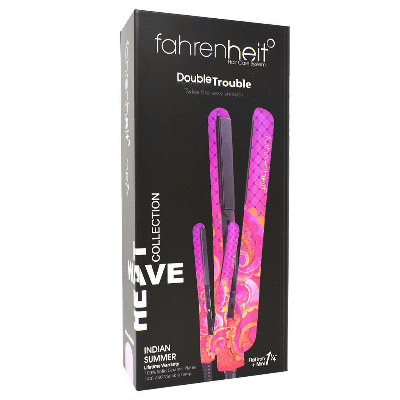 4. Fahrenheit Double Trouble Flat Iron
Pros
– Amazing value
– Two straighteners for one price
– Ceramic plates – kind to your hair
– Contains advanced straightening technology
– Features beveled plates and a swiveling cord
Cons
– Reaches high temperatures – you must remember to lower the temp to avoid damaging your hair!
This set features 100% ceramic plates; the best and safest material for hair styling. It's kind on your hair, reducing heat damage, while maintaining an even temperature across the plate surface. This means your style will be achieved in double-quick time. What's more is that with pure ceramic plates, not ceramic-coated like other cheaper brands use, your straightener will be highly durable and last for years to come. Ceramic is the best choice for preserving your hair's health, and is well worth investing in… especially when you get two stylers in one!
The outer material of the flat irons depends on which styles you can achieve with your tool. Some Heat Wave models come in an outer coating of rubber, which enables expert grip and prevents damage to the flat iron and yourself, but means that curling your hair is a no-go. (The rubber will grip and pull your hair.) Still, silky straight hair and Hollywood waves can easily be achieved with this coating!
To wrap things up, the four Fahrenheit straighteners—the Heat Wave, the Leopard, the Pro Sleek and the Double Trouble—all rank really high in terms of meeting the essential criteria for choosing a hair straightener. The Heat Wave and the Leopard are comparable because they are made of ceramic, which is perhaps the most applicable flat iron material for all hair types. But the Heat Wave and the Pro Sleek comparable for their ionic technology, which will allow you to achieve maximum effect at lower temperatures.
For those with thicker hair, the Leopard and the Pro Sleek are two strong contenders with very different heat management capabilities. While the ceramic plating of the Leopard might entail that it will heat up less quickly, it also has a tourmaline coating that leads to better overall consistency and provides safer insulation. The Pro Sleek, on the other hand, because of its titanium plating and ionic technology will be able to heat up quickly without having to run at as high of a temperature to achieve a similar effect.
In terms of pricing, the Leopard is the least expensive, with the Sleek Pro and the Heat Wave being the next in the line up in that order. But there is definitely something to be said about making a larger initial investment to have greater returns in the long run.
Overall, these three Fahrenheit straighteners prove to be comparable in their straightening capabilities and potential for styling. In the end, whether one is better than the other will depend on you and your hair type.
Which Fahrenheit Flat Iron Should I Buy?
We've already spoken a little about what you need to consider when choosing the right flat iron straightener for you.
We've built a comprehensive guide on the best Fahrenheit flat iron for your hair type and other priorities: like whether you want to use your iron for curling as well as straightening, traveling or keeping at home, and which material works best for your hair type.
Note: no matter what hair type you have, you must always use a heat protection product before using flat irons, to prevent heat damage. Thicker hair should use a thicker treatment like a cream or serum, while fine hair works best with a light spray (thick products will be too heavy and cause greasiness and build-up).
Which Fahrenheit Model is Best for My Hair Type?

• Curly – You'll need a wide plate, with great heat distribution to iron out all your curls, reaching high temperatures to fully straighten. Fahrenheit's Special Edition Leopard model would be perfect for you, with its wide plate, tourmaline coating and top temperature of 450°F. A titanium flat iron would also be good for your hair since they hold a high, consistent temperature and heat up faster. In this case, the Sleek Pro could be a smart choice for you, although be aware it may take you longer to straighten your whole mane due to its very slim plates.
• Thick – Again, a wide plate would be best for you (to cover more hair at a time, since you have a lot of it) and a model capable of high temperatures. We'd recommend the Special Edition Leopard flat iron as the best option for you! Tourmaline coating on the Leopard's ceramic plates keeps hair straighter for longer.
• Afro – Thick and tightly-curled hair will need a wide plate and high temperatures, with protective coating layer on the plates to prevent damage, and leave you with beautifully straight, sleek tresses. You guessed it, the Special Edition Leopard would work best for you – but the Sleek Pro with its titanium plates would also work if you mind adding slightly more time onto your straightening routine.
• Fine – A narrower plate is recommended for use on silky fine strands, and you won't be needing your flat iron to reach very high temperatures. A protective coating on your straightener plates is necessary to prevent overheating and damaging your hair. Fahrenheit's Sleek Pro Professional Slim Line Titanium Plate flat iron is the one for you – the ionic technology in the plate protects hair and leaves it super smooth, while the thin plates are perfect for curling.
• Short – Generally, a narrow plate is fine for short hair, unless it's very thick (the less hair you have, the smaller your plates need be). Very high temperatures will likely be unnecessary, unless you have Afro or stubborn curls. We recommend Fahrenheit's Glistening Orchid straightener for its slim plates and high performance. While rubber casing is great for grip, it prevents the model from working as a curler, which isn't usually a problem for short hair (we'll talk more about why rubber won't work for curling later).

What Do Flat Iron Materials Mean for My Hair?

• Ceramic – Ceramic straighteners generally take a little longer to reach top temperatures than other materials, and usually won't produce temperatures as high as titanium models. This means it's the perfect material for fine, straight or slightly wavy hair which will become heat damaged much faster when subjected to very high temperatures.
• Titanium – This metal is found to be a great option for even heat conduction. This means the plate is less likely to contain heat spots, which is better for your hair overall. It allows your flat iron to reach high temperatures while protecting the hair, and leaves you with straighter hair for longer!
• Tourmaline – Tourmaline coating is often added to ceramic plates to prevent heat damage, conduct heat evenly across the plates and make your style last longer.
• Rubber Casing – Rubber casing is often added to the outside of flat iron straighteners to improve grip on the tool, preventing you from dropping or losing control of the straightener and potentially burning yourself. While it's great for grip, it's not so great for hair – if you attempt to curl your hair around a rubber-cased straightener, it will grip the hair and likely end up pulling it out. Stick to metal or plastic casing when you want to use your straightener as a multi-styler.

What Function Do You Want from Your Flat Iron?

Some want their straightener to work as a 2-in-1 styler, with the added option of using it for curling. We'll talk here about which Fahrenheit models are best for multi-styling and which you should choose to stick to straightening.
• Straightening/Taming – If you only require your straightener for smoothing out fine curls and taming frizz, the Fahrenheit Glistening Orchid model is perfect for you. This is because the rubber casing on the product would get stuck in your hair if you attempted to curl your hair around it, which could cause some serious damage. If you have soft curls or just want to tame frizzing in your already-straight locks, this is the model for you.
Alternatively, if you have thick curly/Afro hair and are looking only for a straightening tool, go for the Fahrenheit Special Edition Leopard model, for a wider plate and high-temperature straightening ability.
• Curling – for straight-haired customers looking for a multi-styling tool, Fahrenheit's Sleek Pro Professional Slim Line Titanium Plate was made for you.

Which Flat Iron is Best for Travel?

• Travel – We say the Fahrenheit Sleek Pro. It's skinny, lightweight, and won't take up unnecessary space in your travel bag. You won't even know it's there!
• Keeping at home – Either the Fahrenheit Leopard or Glistening Orchid model would be great for you. They're slightly larger and a bit heavier, but can still come on your travels with you – they're obviously still portable, just not as small!

Tips for Choosing a Hair Straightener

When you're choosing the best straightener for you, there will be several factors to keep in mind. Sometimes I find it helpful to keep a checklist like the one below at hand so that as you compare different products, you can go through the specifications to see which items do or do not meet your needs. The items on the checklist below are suggestions, and of course, you'll want to prioritize them according to your own needs.

Before shopping think about your hair type: Is it extra fine, thin and straight? Is it coarse and naturally curly? Is it thick and slightly wavy? Is it delicate and tightly curled?
What material is the plating on the flat iron made of—ceramic or titanium?
Is the material treated in some way, such as with ionic technology or tourmaline coating?
What is the diameter of the straightener—1 inch to 2 inches? The thinner the straightener, the more versatile it will be as a styling tool. However, if you intend to use it strictly for straightening and you have a lot of hair, then you'll probably prefer the one with a thicker diameter.
Does the straightener have an ergonomic grip? If you end up having to hold it for a long time, you want it to fit comfortably in your hand.
Is the straightener made of durable material that won't overheat in your hand?
Does it meet your budget? You don't want to go too cheap because you shouldn't sacrifice quality, but will you still be able to feel comfortable about your decision?
Are there other features that might end up being really useful, such as a dual-voltage function for the travelers out there?

In the end, it will be your decision to determine which one is the best straightener for you. The products reviewed below were chosen because they tend to meet and excel in many of the criteria listed above.