Makeup baking is quite a bit different than the milk and cookies kind, but it can be an awesome tool to have under your belt. Baking your face can transform your makeup look to the next level in appearance and longevity. Those are my two favorite qualities when it comes to makeup, and I'm assuming it is yours as well!
So, now that we've agreed baking is something we would like to learn, I can unleash my knowledge so you can rock the baked makeup look like the queen you are! 
There is an art to learning how to bake your face, so give yourself some time to pick up on the learning curve. We all need to learn a little more patience with ourselves. But, before you can perfect the art, you will need the proper tools. What do you bake your face with? How do you bake your face? I have the answers to both of these questions in this article, so let's get started.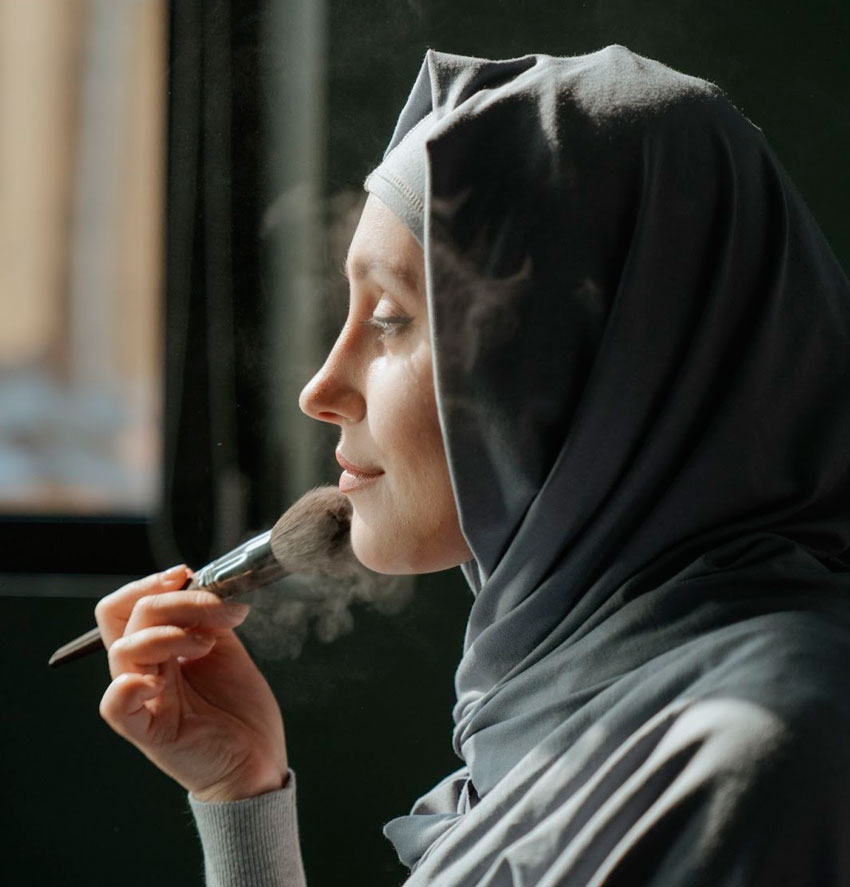 What You'll Need
The proper tools are always the first step in anything. For this case, we will need an application tool and some makeup products to execute the full baked look. There are some different options in terms of applicators, so give each a try and see which is the best fit for you. 
First, you can use a typical powder brush. These are thick and easy to apply loads of powder with which is what we will need. Another option is a beauty blender. Personally, this method is a bit more difficult, but when mastered, it can have precise and quick results. Another option is a powder pad, this option is great for application but not as much when you need to blend the powder out. You can mix this method with a powder brush for blending if need be. 
Now that we have our applicator, we need to get our makeup. First and foremost, we need powder to execute baking. This is what is going to seal the deal. However, you also need a good primer and foundation to back the powder onto. Personally, I use a liquid foundation with setting powder. This has the best results and is the easiest to use. 
How to Bake Your Face
The moment of truth. Learning how to bake your face can be narrowed down to a few easy steps:
1. Apply a primer
Think of primer as the velcro for your makeup. This will hold everything into place and help your makeup stand out brighter and with better coverage. There are lots of primers on the market, so give a few a try to find your perfect match. Primer is not a substitute for moisturizer, so make sure to include moisturizer into your skincare routine beforehand.
2. Apply foundation
Grab your foundation of choice and apply it as normal, we will be applying the powder on top of this to set the foundation in place, so make sure it is where you like it. This includes your concealer routine. Personally, I use a beauty blender for the foundation process to pack the foundation in to create a solid base for the powder we will add in a minute.
3. Pack the powder onto your applicator
Now, the moment of truth. Grab the applicator that you decided on and press it into the powder. It might look a bit different depending on which type of applicator you chose. Regardless, it should pick up quite a bit. Make sure to not tap away the excess. We want as much powder as possible.
4. Line your under eyes, lower cheeks, and oily areas with the powder
Pack the powder as evenly as possible along the main three areas. Under your eyes, directly below your cheekbones, and on the sides of your nose. Don't brush away the powder! Get as much as possible. This should create a white powder on your face.
5. Let the powder set for 5 to 10 minutes
Giving the powder 5 to 10 minutes allows for the powder to soak up any excess oil and set into your makeup. This is what differentiates baking from using powder normally. It creates a matte finish that is quite well known in the makeup world.
6. Swipe the excess powder away
Last but not least, it is time for the final results. Grab your brush and wipe away the excess powder. No more white complexion. Your foundation color should shine through as intended with a matte finish free of oil. Add your blush and bronzer to finish your look and everything is all set for the day! This look will last significantly longer than others due to the mixture of the primer and baking. 
Follow these steps and you will be sure to rock your new makeup trick with style. Try different products and mix and match applicator options. It is a process of elimination knowing what works for you. Now get to baking!