Do you ever feel like you've given up on your hair? You wake up every day never knowing what to do with it. Same!
People with medium length hair have that awkward in-between stage where it's not long enough for a large sock bun, or short enough to look cute naturally. But the in-between stage of short or long hair isn't so bad – when you know how to style it.
It's important to always refresh your memory or get new inspiration on hairstyles or else you're going to be stuck doing the same hairstyle every day. In addition, not every hairstyle has to involve hot irons and an hour of your time. Here are 6 hair styling trends for people with medium length hair that can be done in less than 15 minutes: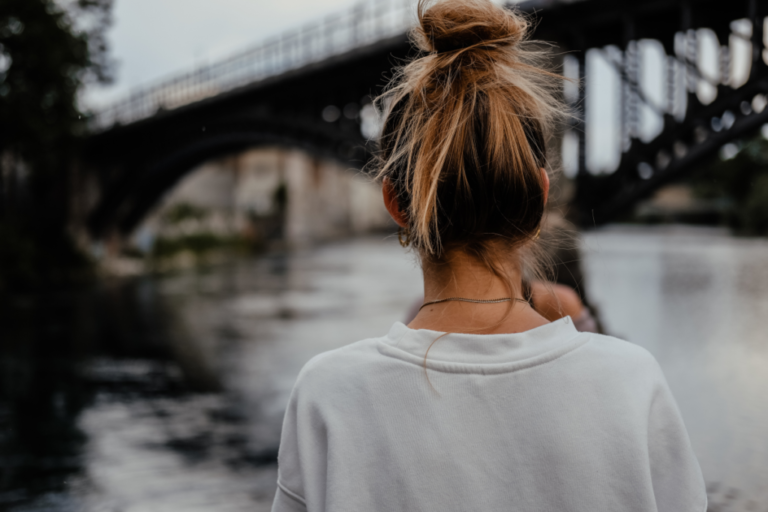 1. Classy Ponytail
Not just any ponytail, the classy ponytail. What makes a ponytail classy exactly? You have two options:
The first style is to part your hair perfectly down the middle, then pull your hair back tight to look sleek and shiny, and then lightly go over the ponytail with a hair straightener to look straight and smooth.
The second option is to pull your ponytail super high on your head and straighten your ponytail to look pin straight. There is nothing classier than a clean, sleek ponytail that tells the world who's boss!
If you want to go the extra mile and look fancy, take a small strand of your ponytail and then wrap it around the ponytail holder, securing it with a bobby pin. Now you look effortlessly chic without wasting hours in the bathroom.
2. French Braid
A French braid is always the way to go. However, we aren't talking about a traditional French braid – we are talking about a loose braid. The braid that has your little hairs shaping your face so that when you pull the braid pieces, it looks larger and messier.
Sometimes having some chunks of hair fall out looks effortless. There is something about a messy French braid that looks all natural and beachy. It takes a few short minutes, and you also won't have to worry about using hairspray to keep the braid secure.
Messy braids also look great in photos. They pull the hair away from your face while giving you a more relaxed look. This hairstyle is perfect for lazy days, shopping trips, the beach, vacation, or school.
3. Double French Braid
The most popular hairstyle this year is the double French braid – it is so hot right now. You will see this hairstyle on Pinterest and all over girls' Instagrams. You can call it the hairstyle of summer 2018.
You can either do a double French braid or a double outside French braid. The outside braid makes it look like the braid is sitting on top of your head rather than being woven into your head. It kind of has a 3-D aspect to it.
With medium length hair, it can be difficult to keep all your hairs inside the braid – don't worry! A loose double French braid is just as popular. This hairstyle takes less than fifteen minutes and is perfect for any occasion.
4. Top Knot
The cutest hairstyle trend of this year goes to the top knot. A top knot is a fancy word for a different kind of bun; essentially, your bun looks like a little knot on the top of your head.
Yet another popular hairstyle is the half up top knot. For this, you separate the top half of your hair, make it into a top knot, while leaving the other half of your hair down. For better results, lightly curl the bottom layer of your hair to look a bit messy and wavy.
A top knot can make any boring outfit seem more fun and stylish. Make the top knot your new best friend because you're going to need it when you want to look good but don't have time.
5. The Beach Wave
The simple way of curling your hair without spending an hour in the bathroom is the beach wave! To achieve a natural looking beach wave, you just have to complete three easy steps.
First you can braid the bottom half of your hair and sleep with it, waking up to lightly wavy hair. Then add some styling cream to the tips of your hair or use your hair straightener to lightly curl the very tips of your hair. By taking large chunks of hair, you will save a lot of time. Then separate the hair once finished to give it a tousled look. In order to keep a beach wave, you can either spray home-made salt water to your hair, use styling cream, or even mousse.
6. Messy Bun
The messy bun makes its way through 2018. This popular hairstyle has been the most praised hairstyle for years, and it still continues to land on the top of everyone's heads. A messy bun requires little hairs to fall out of place, maybe a few bobby pins, and a spiral bun sitting at the very top of your head.