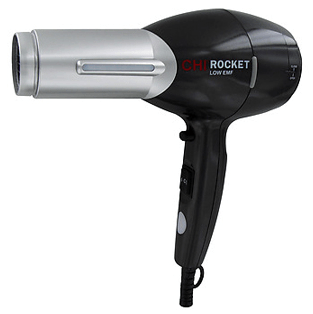 Pros
– Dries hair fast

– Operates quietly

– Ideal for frizzy locks

– Two speeds: high and low

– Professional quality

– Small and not bulky

– Comb attachments included for straightening

– Includes a 2 Year Warranty
Cons
– Beginners may find it hard to handle

– Becomes hot quickly

– Somewhat pricey
Who is This Hair Dryer For?
The CHI Rocket Hair Dryer is professional-grade, which means it's suitable for serious beauty/cosmetic enthusiasts. However, if you're new to the game and dedicated to making it work, it's not too hard to figure out. When you master it, it produces beautiful results much faster than your average blow dryer.
We were pleased with its results with any type of hair, but this product is ideal for hair of frizzy and/or fine hair. You don't have to worry about your hair sticking up in different places anymore. The CHI Rocket Dryer will smooth hair out and make it shine like never before.
Specifications
Weight: 2.0 pounds, with 2.2 pounds as the CHI Rocket's shipping weight. It's lightweight and costs little to nothing to ship.
Dimensions: 9.1 x 3.5 x 8.5 inches. It's a standard size that you're probably used to. It won't fit in your pocket, but it's not so large that you can't get a good grip of it either.
Wattage: Contains an 1800-watt motor to conduct heat quickly. Careful of burns.
What Makes This Hair Dryer Special?
CHI is known for its top-notch flat iron products. The CHI Rocket Blow dryer not only functions as a quality but as a flat iron and straightener as well. Its comb attachment is convenient and allows your hair to be shinier, smoother, and softer.
It uses an 1800-watt motor, which dries the hair quickly without harming it. It also utilizes new technology like ionic positive energy to moisturize and prevent static electricity. This is also what contributes to smoother, healthier hair when you use it.
Why Should I Buy This Hair Dryer?
You should buy this dryer if you're looking to get serious about your hair care. Though it is pricier than other options out there, it gets the job done faster and leaves hair much shinier and less frizzy than other brands on the market today.
It also has a two-year warranty. This means if it were to break, the company would gladly replace it. Easy shipping and lower prices on Amazon also make it the ideal shopping situation for those who love to order online.
Our Verdict
You won't have to leave the house with damp hair again with the CHI Rocket Hair Dryer. This trusted brand has once again created a quality product in beauty and cosmetics. It's also the perfect size and weight for those who have trouble with bulkier options.
All in all, we recommend this product to the highest degree. Though beginners may have a harder time handling it than the gurus and influencers out there, everyone should still give this blow dryer a shot. It's perfect for streamlining your routine and maintaining a gorgeous style!
Pros
– Dries hair fast

– Operates quietly

– Ideal for frizzy locks

– Two speeds: high and low

– Professional quality

– Small and not bulky

– Comb attachments included for straightening

– Includes a 2 Year Warranty
Cons
– Beginners may find it hard to handle

– Becomes hot quickly

– Somewhat pricey