3 Best T3 Hair Dryers for 2022 Reviewed
T3 products are well-renowned in the celebrity hairstyling and beauty industry, their hairdryers being the number one choice for many celebrity hairstylists. With their cutting-edge technology and innovative hair styling tools, the T3 range of hairdryers are designed to achieve long lasting shiny, healthy hair. 
Owning a T3 hairdryer gives people the opportunity to use the same tools as professionals, enabling professional level styling to be performed at home. All the T3 hairdryer products are crafted and designed with the upmost precision and care, so that hair damage is limited and products are gentle on the hair. 
So, if you are wanting to dry and style your hair damage-free, then the selection of T3 hairdryers are the perfect choice to make. The technology used in T3 dryers ensures that the frizz, flyaway hairs and split ends that come with the use of traditional hairdryers are eradicated, instead using specially-engineered fans that can dry larger sections of hair as gently and quickly as possible, minimizing the amount of heat used. The dryers help maintain the upmost moisture in the hair, keep natural shine intact and remove any form of frizz and flyaways.  
So, take a look at these three products from T3, all designed to give your hair that silky, smooth, salon finish. 
1. T3 Micro Featherweight Luxe 2I Dryer
Pros
– Multiple heat and speed settings

– Lightweight

– Quiet

– 2 year warranty

– Comes with 2.5" barrel brush

– Pretty design
Cons
– More expensive than other options
The T3 Micro Featherweight Luxe 2I Dryer creates a luxurious drying experience that leaves locks looking their most shiny and beautiful. 94% of women from a consumer study agreed the condition of their hair after using this dryer was healthier than after air drying!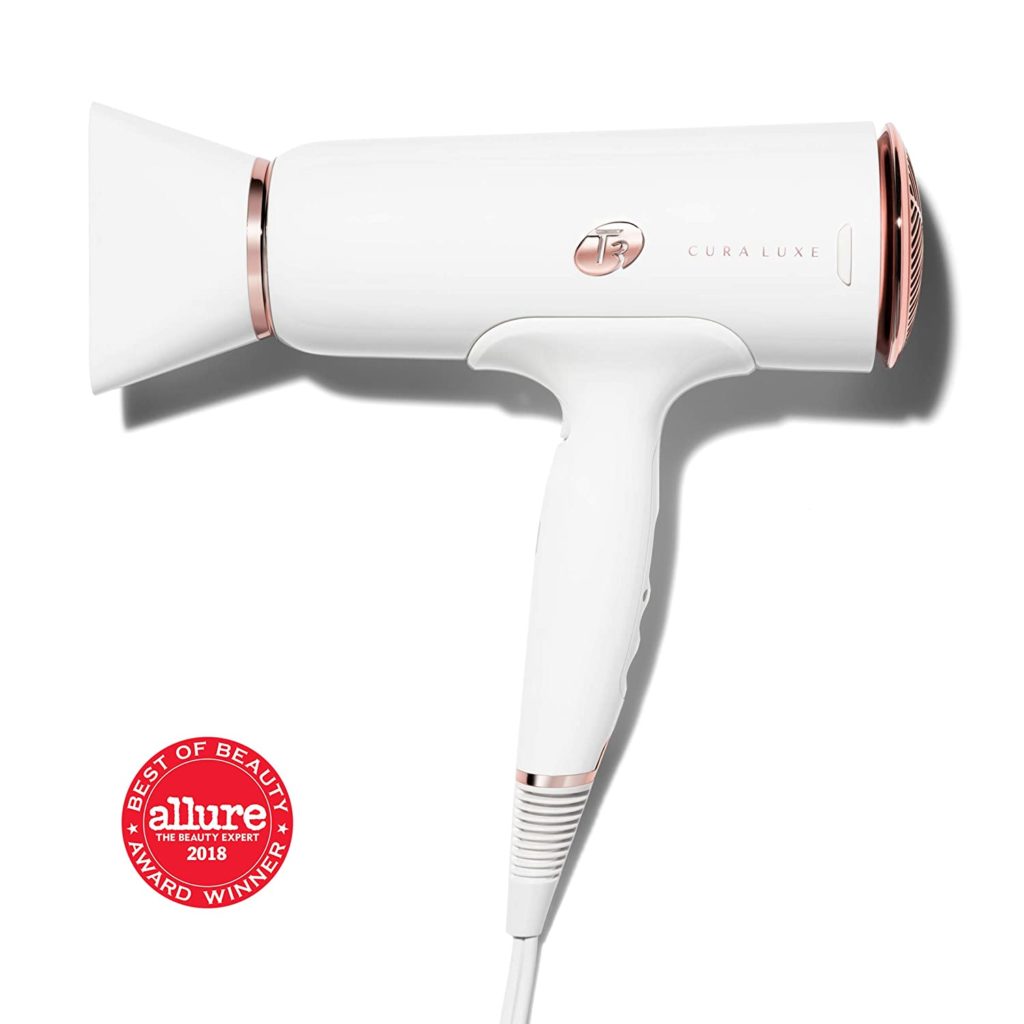 2. T3 Cura LUXE Hair Dryer
Pros
– 2 Speed Settings

– 5 Heat Settings

– Auto-Pause Sensor

– Volume Booster

– Digital Ionair Technology

– Lightweight, Ergonomic and Aesthetically-pleasing design

– Wide Airflow
Cons
– Nothing – everything is covered!
If you love smooth and voluminous hair, the T3 Cura LUXE hair dryer is perfect for you. You can adjust the heat with five different settings and have a choice of two for speed, meaning you can completely customize your blow drying experience. Instead of dealing with dry and frizzy hair from regular blow dryers, this tool will make your hair smooth and shiny instantly. More advanced features like the auto-pause sensor stop airflow when it isn't needed, keeping you from suffering unnecessary heat damage to your hair.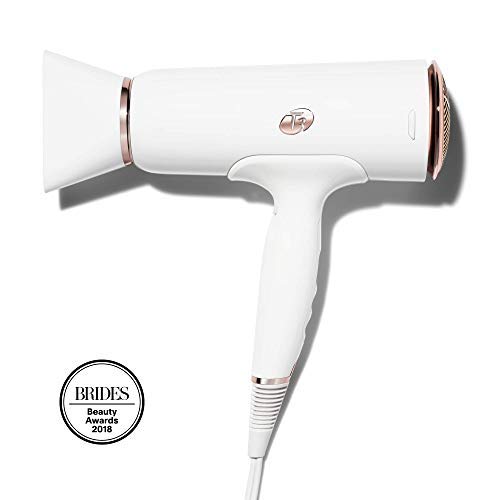 3. T3 Cura Hair Dryer
Pros
– Multiple heat and speed settings

– Powerful, frizz-fighting technology

– Ergonomic, easy-to-use design

– Long lasting motor

– 2 year warranty
Cons
– High demand

– Higher price tag
T3 consistently creates powerful, professional hair care tools and products. The award winning T3 Cura hair dryer is no exception. With its ergonomic, light weight design and premium quality, the T3 Cura delivers results that are comparable to any high end salon. This dryer even won the 2018 BRIDES Beauty Award.
What you need to know before buying a T3 Hair Dryer
Why Choose a T3 Hairdryer?

 

T3 hair dryers are built to provide a salon quality finish within the comforts of your own home. With their slimline and light-weight design, T3 hair dryers possess endless features that have inaugurated them into the celebrity stylists essential items. When using a T3 product you are ensuring guaranteed quality, performance and results.  

Here are some of the features that make these T3 hair dryers the best in the market right now:  

Materials

 

These T3 hairdryers are designed to provide the best quality and comfort when using; their slimline and delicate structure along with their ergonomic handle ensure an effortless approach to drying and styling your tresses. The products boast a built-in ion generator that allow for optimum shine along with salon standard results. T3 use digitally-controlled heat systems that are combined with a broad yet gentle airstream that allows hair to dry quicker while delivering expert body and shine.  

The T3 - Cura Dryer is designed to reduce the amount of frizz in less time than a traditional dryer. It uses Digital Ion Air which provides more air for a faster finish. The wide airflow allows the hair to be dried quicker and evenly. The built-in iron generator and negative ions smooth the hair cuticle, leaving it softer and free of that unwanted frizz. 

The T3 - Cura LUXE Dryer uses digitally-controlled heating, used for precise heat management. It includes five precise heat settings and two speed settings, paired with the cool shot feature that allow for the styling of all hair types, textures and conditions. 

The T3 - Micro Featherweight Luxe is powered by T3's own Softaire technology, along with an ion generator used for fast and great results. The negative ions retain moisture, neutralize static, enhance shine and reduce frizz. The dryer also boasts multiple speed and heat settings (2 speed settings and 3 heat settings) and caters for all hair types with its versatility, fast drying and premium features. 

Regardless of the hair dryer you opt for, T3 ensure premium, top of the range materials that maintain top quality hair condition. They pride themselves on the gentle airstream and technologies that ensure the most professional and safest results for your locks. 

No matter the size of the product you choose, T3 ensures that the materials it uses for its heat stylers are as gentle as can be on your hair. Choose the curler that sounds right for you, and see if you can notice a difference in your hair quality compared to your old styler.  

Functionality

 

All three dryers are built with a lightweight body and ergonomic handle, ensuring the drying and styling process can be as comfortable as possible. Each hair dryer handle is designed for complete wrist comfort, so no aching arms after blow drying those long thick tresses of hair! The switches on the back of the handles also enable easy access for switching settings or simply turning the products on and off. The products also include: 

- Pure Stream Filter

- Drying Concentrator

- Styling Concentrator

- Long life motor

- Cord and cord wrap 

 

Power and Wattage

 

All three dryers have a wattage of 1875 W and are compatible with the SoftCurl diffuser and can be plugged in via the mains. When using these sort of products however, always make sure they are unplugged after use. Heated hair styling tools can be a fire hazard, so it's extremely important to unplug and put away after use - you don't want to end up with the manic frizz the T3 hair dryers so nicely remove for you! 

Heat Settings

 

The three T3 dryers all include different heat and speed settings, allowing you to adjust the temperature to a preferred heat or use different speeds for a desired look. 

Adjustable heat settings are extremely handy for choosing which settings to dry your hair with, according to your own individual hair type. For example, choose a low heat setting if you have fine, dyed or slightly damaged locks. this will help prevent any existing heat damage or prevent any heat damage at all. 

If you have frizzy or thick hair, a high setting is more suitable to get the desired results, however you can still use lower settings if you are wanting to avoid any unnecessary heat damage.  

Whenever applying heat to the hair though, it's always helpful to use some form of heat protector spray, just for added protection.  

Special Features

 

All dryers come with a 9ft cord and cord wrap, making accessibility much easier. They all have a long life motor, so a luscious, salon-style mane can be maintained for a very long time! 

The beautiful color scheme of white and rose gold give the products a professional and pleasing look, and match perfectly with the T3 curling irons - a perfect combination to have in your bedroom! 

Additionally, the Micro Featherweight Luxe 2I Dryer also comes with a T3 barrel brush to help you with all your blow-drying needs! 

Bottom Line

 

If, for some reason, you don't own a T3 hair dryer, you are definitely missing out! Gone are the days of heat damaged, frizzy-post dried hair, and in with the days of silky, smooth, shiny celebrity-worthy locks. The whole luxurious drying experience! 

Celebrity hair stylist Jennifer Yepez, whose famous clients include stars such as Bella Hadid, Alessandra Ambrosio and Salma Hayek, swears by T3 hair tools, telling magazines like Elle how she achieves her celebrity clients' looks using their products. The dryers have won awards from Oprah Magazine, Cosmopolitan, Brides Beauty and many more, and are a great addition to your hair care routine that will keep your beloved barnets safe and well.