2 Best L'ange Curling Wands for 2022 Reviewed
It's not always easy to find the best hair styling products with the range of choices available on the market. When faced with a decision, why not consider the L'ange Curling Wands? These curling irons are ideal for styling as they are incredibly versatile and work well for any hair type, from thick and wiry locks, to thin, slippery tresses. 
Designed with matching barrel sizes, and set with a tourmaline-infused ceramic barrel, the L'ange Hair Lustré and Ondulé wands are perfect for elegant styling. While many wand designs work better for specific hair types or styles, the beauty of the L'ange models is their ability to adapt to and create different hair styles. Whether you're after beachy waves, lazy curls, spiral curls or springy ringlets, the L'ange wands are able to create a variety of looks. 
As a luxury styling tool brand, L'ange aim to maintain quality and style whilst remaining aware of developing styling technologies. The Lustré and Ondulé curling wands allow for customized styling and their versatility and simple yet professional curling style places them among the best curling products on the market.
TOP 2 L'ange Curling Wands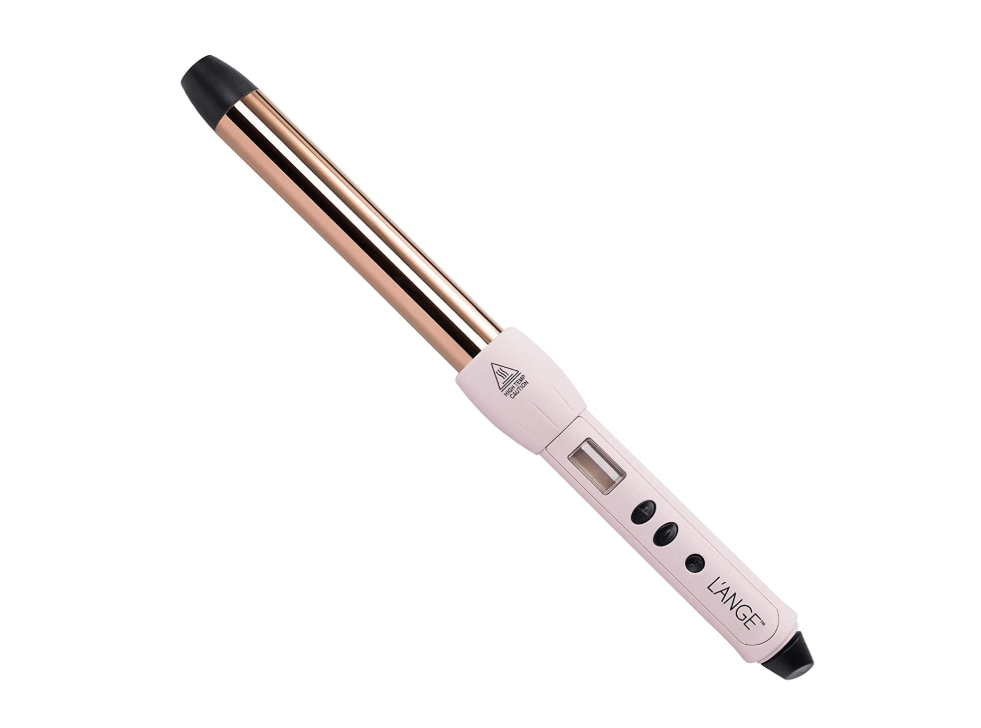 1. L'ange Lustre Curling Wand
Pros
– Sleek, elegant appearance

– Negative ion technology to reduce heat damage

– Multiple barrel sizes

– Long, flexible cord for a longer reach
Cons
– Curls need extra product to hold

– Somewhat expensive
L'ange Lustre is a trusted brand among hairstylists and enthusiasts. They consistently put out quality hair styling tools, and the L'ange Lustre Curling Wand is no exception. With a fun, elegant appearance, a titanium barrel, and simple instructions, this wand is great for stylists and amateurs alike.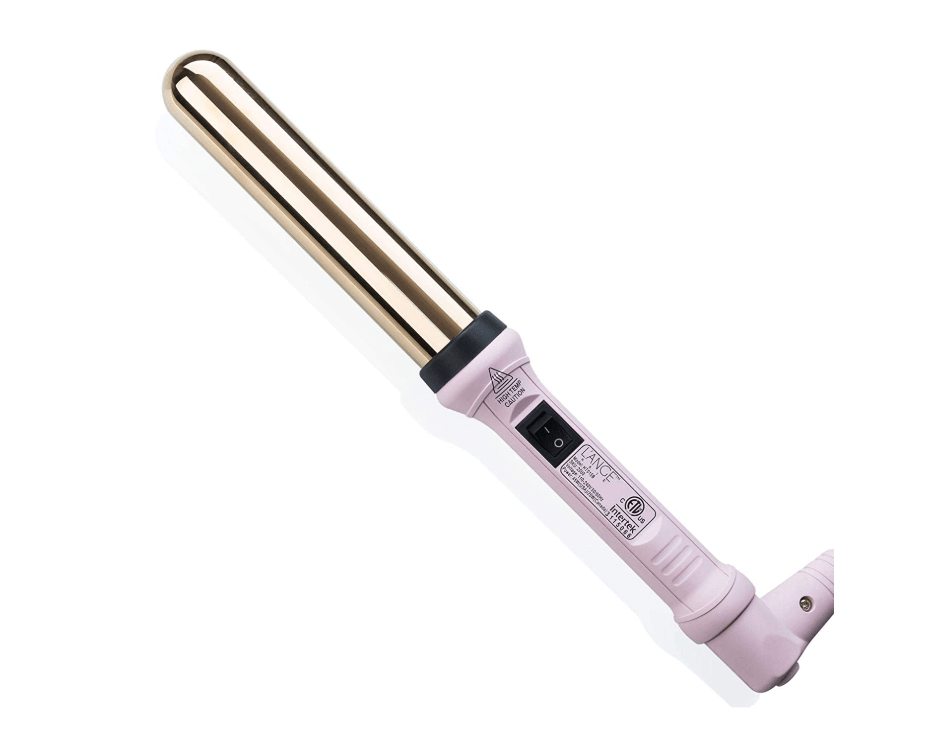 2. L'ange Ondule Curling Wand
Pros
– Affordable

– Reduces frizz

– Minimized heat damage

– Ease of movement

– Lightweight for effortless travel

– Dual voltage (110 – 240V)

– Corrosion-resistant

– Stain-resistant

– Advanced heating core for even heat distribution
The L'ange Ondule Curling Wand is available in different designs to suit various hair types and desired styling results. Those with fine-medium hair should opt for the tourmaline-infused ceramic barrel, while those with coarse hair that can prove a challenge to tame should opt for the titanium barrel instead. The latter is known for being the most robust ionic material available, thus ensuring smooth, frizz-free curls no matter how thick or unruly the hair in question may be.
What to look for when buying a L'ange Curling Wand
Why Choose a L'ange Curling Wand?

 

Materials

When it comes to hair styling and curling, it's important to consider the material make-up of a product and how this might effect the texture of your curls. Curling wands may be designed from a number of different materials and some inevitably work more effectively than others. 

The L'ange wand range is designed with a titanium barrel which looks sleek and elegant whilst working efficiently. This barrel is infused with tourmaline and designed with negative ion and infra-red technology, which help to retain moisture and keep hair follicles looking soft and luscious. 

As the hardest material with the greatest ionic output, titanium is perfect for creating glossier, longer lasting curls. Through penetrating the hair cuticles and sealing in your natural hair oils, it prevents frizz whilst enabling greater heat distribution. The tourmaline within both wand barrels also contributes to a better distribution of heat. 

The corrosion and stain resistant barrels featured on both curling products repel all residue from hair or other sources and this, along with a highly polished barrel, ensures curls come out looking bright and shiny. These carefully chosen materials ensure the best service possible and buyers will definitely be rewarded with the professional results of L'ange curling wand technology. 

Functionality

 

If you are a beauty or cosmetic enthusiast, then finding an iron that is simple to use yet achieves professional results isn't always easy. The Lange curling wand line is designed to overcome this issue and can be used to quickly create ravishing or elegant styles. 

With lightweight, 25mm or 32mm titanium barrels, the L'ange Hair Lustré and Ondulé curling wands look smart and remove the possibility of unwanted tangles. The smooth, ergonomic wands allow curls to slip off in silky waves that often can't be achieved with wands that rely on hair securing clips. 

Individuals with curly hair may find that wands with clips are problematic, but with L'ange curlers, this is not an issue.The smooth barrel design is ideal for customers with thick hair or locks that are usually difficult to curl. While the wands do require you to hold hair onto the barrel, this method allows for greater styling control. The comfortable, easy to grip handle is designed with a rubber finish to allow for ease of direction. 

Hair must be wrapped carefully around the wand barrel and held for a short while before being released. Users can decide how tightly to wrap hair depending on what type of curl is desired. This allows for a great amount of creative license and curling can be a fun experience which nevertheless yields elegant and professional results. 

The versatility of both iron designs makes them easy to function and they work successfully for professionals, enthusiasts, and ordinary customers alike. The durability of the product designs simply adds their functionality, making them strong yet flexible items in the hair styling market.

Power and Wattage

 

With dual voltage - 110 - 240V - the L'ange Lustré and Ondulé curling irons are perfect for travelling with. Not all curling irons come with dual voltage features and this can limit ease of use and reduce the range of portability. A dual voltage system also ensures a stable power supply with regular and direct currents.

Both irons boast a professional length, 360° power swivel cord. Whilst allowing extra reach, the design of the cord also limits unwanted, wiry tangles. The irons also have simple on and off switches and take a matter of seconds to be ready for use. The Lustré iron however has an additional power effect, set with a sleep mode which activates after 60 minutes. This enables greater safety and means anyone who tends to be forgetful can get away with not switching their iron off immediately. If you're forever asking someone to check that your heat tools are switched off after you've left the house, these devices are for you! 

Heat settings

 

Heat settings are perhaps the most important factor to consider when looking to buy a curling wand. Too long to heat, and the iron isn't much use to customers wanting a quick fix. Too hot, and hair may become damaged after a while. 

The Lustré iron has adjustable heat settings ranging from 170-450 degrees. This flexibility means that temperatures can be matched to all types of hair and to all types of heat tolerances. Thin hair or may require a lower heat than thick or wiry hair for example and hair that is usually difficult to curl may need a higher heat setting. This versatility makes this particular curling iron quick to use and perfect for a variety of buyers. 

With an automatic safety shut off, temperatures can never rise too high or become unsafe. The Lustré iron is also designed with a cool tip to fulfill the same purpose. Both irons however come with a heat resistant glove which makes the iron easier to handle without risk of burning. 

The Ondulé iron doesn't come with adjustable heat settings but is automatically set to 410 F when switched on. This is ideal for customers who know and understand their hair type and have no need for adjustable settings. With 410 F the tested optimal temperature for beautiful, long lasting curls, multiple temperature settings aren't required. 

Special features

 

Alongside key functions and appearance, features are important to look out for. They make one product stand out from another and make sure a product is worth the money. Buying a simple, featureless curling wand at great expense is of little use, so you should look out for well priced wands with additional features such as those in the L'ange range. 

The Lustré and Ondulé curling wands use of negative ion and infra-red technologies to improve curling success and keep hair follicles healthy is another bonus. The feature is one worth looking for in a curling wand as glossier, long-lasting curls are better than dry, heat damaged waves. Additional features include a long, tangle-free cord and, in the case of the Lustré wand, an automatic sleep setting for those forgetful stylists. 

Check out our L'ange curling wand reviews above for an in-depth look into each product!