3 Best Elchim Hair Dryers for 2022 Reviewed
Italian brand Elchim has been creating professional dryers and styling equipment since 1945. Providing professional standard products to salons all over the world, Elchim is one of the most popular brands. They reign supreme not only in the professional hair world but also with at-home customers. 
Elchim produces revolutionary hairdryers with distinctive designs and premium quality. We can't see a reason as to why you wouldn't want to try Elchim for your next dryer. 
The Elchim brand prides itself on its lightweight, efficient, quiet, balanced devices. With ionic and ceramic technologies, the brand makes clear that the first and foremost importance in any Elchim product is the health of your locks. The brand's highly-advanced technology seals the hair cuticles and preserves the hair and shine. 
By using any Elchim hair dryer, you also can ensure the most ergonomic professional tools available in the market. 
Pair that with their innovative technology, and you get an Elchim product that delivers its overarching mission: HEALTHY HAIR!
1. Elchim 3900 Healthy Ionic Hair Dryer
Pros
– Great for all hair types, particularly thin, dry hair

– Designed to turn out the perfect level of air flow, reducing dry time by 30 percent

– Designed to eliminate static electricity and frizz, resulting in a smooth finish

– Professional, Italian engineered AC motor yields professional results

– Lightweight, ergonomic design that is easy to wield and won't tire out your wrist

– Far infrared technology to prevent hair cuticles from getting too hot

– Also includes a cold air button for a sleek finish

– Two concentrators included, one for brushing and one for styling

– Has 2 air speeds and 3 temperature settings

– Durable nylon exterior 
Cons
– Moderate price tag

– Works best for more thin hair types 
The elchim 3900 healthy ionic is a professional ceramic hair dryer. Developed in the fashion hub of Milan, Italy, it delivers salon quality results with its Italian engineered AC motor. With the elchim 3900, you'll look like you just stepped out of the salon after every use.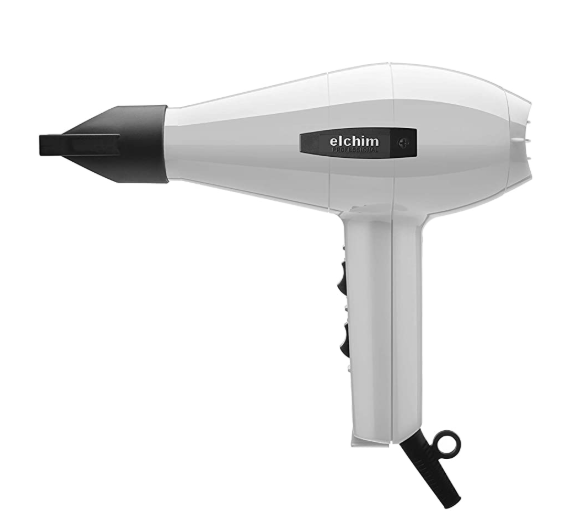 2. Elchim Classic 2001 Hair Dryer
Pros
– Quick & energy efficient

– Multiple temperature and speed controls

-Guaranteed 2000 working hours

– Nice design & multiple color choices

– Lifetime warranty

– Infrared heat for glossy results
The Elchim 2001 Professional Hair Dryer is a dream come true for anyone looking for a way to tame their difficult hair. It's efficient while remaining gentle on your hair, resulting in beautiful, shiny results. Equipped with Italian engineering and backed up by a lifetime warranty, this product is as reliable as they come. The dryer itself is a gorgeous retro design and comes in a variety of colors.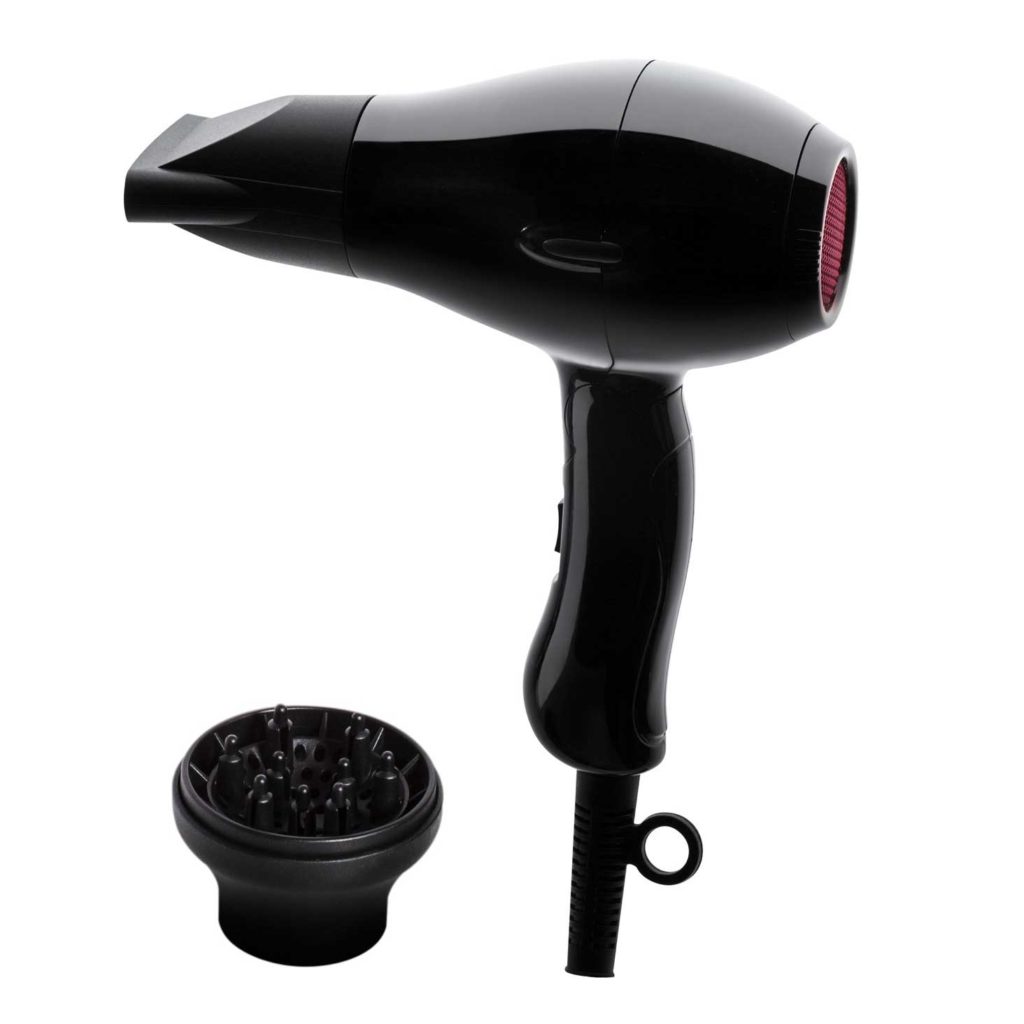 3. Elchim Dress Code Hair Dryer
Pros
– Ideal for all hair types

– Lightweight and ergonomic

– 2 speeds and 3 temperatures

– Has a cold air shot setting to fix your style in place

– Lifetime warranty with repair service
Cons
– May heat up too much

– May not be long lasting

– Fairly expensive
The Elchim Dress Code Hair Dryer is a sleek, lightweight product with quick drying capabilities. It is perfect for creating glossy locks which can be successfully and elegantly styled in a home environment. As a leading salon supplier, Elchim have designed their product to achieve professional results, allowing beauty practitioners and cosmetic enthusiasts alike to create perfectly styled looks.
What you need to know before buying an Elchim Hair Dryer
Why Choose an Elchim Hair Dryer?

 

Elchim has been at the forefront of the hair industry for over 50 years. Salons and stylists all over the world all credit Elchim as one of the best brands around. 

If you want a premium quality professional dryer, then an Elchim blow dryer is an essential tool. The dryers can cut drying time by 30% for all hair types. Plus, they are lightweight, aesthetically pleasing, and get rid of pesky frizzes and flyaways. 

Here are some of the features that make these Elchim hair dryers the best in the market right now: 

Materials

 

Elchim develops all its blow dryers in one of the fashion capitals of the world: Milan, Italy. All their products use ergonomic and lightweight materials to prevent achy arms while drying. They also provide infrared technology. The result is an innovative device that protects your lovely tresses from excess heat. 

From spending years in the beauty and fashion industry, Elchim knows that eliminating overheating hair is the key to healthy, shiny, locks. As such, they use materials that protect from heat damage. 

The Elchim Classic 2001, for example, consists of extremely resistant nylon and ceramic. The material enables maximum hair preservation. 

The Elchim 3900 Healthy Ionic Hair Dryer features resistant nylon and ionic and ceramic technology. The material takes extra care of your lovely locks and reduces drying time. This innovation poses less heat for the hair. 

The Elchim Dress Code Hair Dryer also boasts ceramic technology to preserve your hair's health. 

Whether you have a head of thick, thin, curly, straight, or anything in-between, any of these three Elchim dryers can cater to all your hair needs. Elchim ensures premium, top of the range materials that maintain top quality hair condition. 

The brand prides itself on expert craftsmanship and technologies that ensure the most professional and safest results for the hair. 

Functionality

All three dryers deliver on ergonomic shapes that maximize comfort and avoid tiring out the wrists. We bet all you thick-haired humans are happy about this! No more agonizing, achy arms to hold you back while drying! 

Each dryer also comes equipped with an instant cold air shot to fix the setting. Along with the trusty ionic and ceramic technology, these blow dryers preserve hair integrity and reduce drying time! 

The Classic 2001 Hair Dryer has two speed settings and five temperatures. It also uses high-pressure air compression technology. It is the fastest-drying device in Elchim's selection. The reduced front section of the dryer helps to improve the airflow. The design makes it especially ideal for thick, coarse hair that would usually become frizzy after drying with a standard, traditional dryer.  

The Elchim 3900 Healthy Ionic Hair Dryer comes with two airspeeds and three temperatures. This compact device is ideal for all hair but usually works best on thin and delicate hair types. It also has two concentrators, one for styling and one for brushing. 

The Dress Code by Elchim features two airspeeds and three temperature settings. It can straighten even the curliest of curls, and it works best with medium hair.

Power and Wattage

The brand uses powerful Italian engineered AC motors that ensure high-performance and robust streams.

The Elchim Classic 2001 has a high-performance heating element and a powerful 1,875 watt AC motor. The AC motor can withstand heavy use in professional salons. It requires less energy consumption, which means less time exposing your hair to unnecessary heat.  

The 3900 Healthy Ionic is an Elchim hairdryer possesses a 2400 Watt Italian AC Motor. It, too, has a professional AC motor made for a longer-lasting product and fast hairstyling results.  

The Dress Code hairdryer by Elchim also boasts a professional AC motor. With a power of 1600 W, it dries locks fast. It also emits fewer electromagnetic emissions and, compared to other dryers on the market, it consumes less power. In other words, the quicker it dries, the less energy it consumes, and the less it exposes your hair to damaging heat.  

Heat Settings

 

These three Elchim dryers all include multiple different heat and speed settings, allowing you the freedom to find a device made just for your hair type. You can adjust the temperature to a preferred heat or use different speeds to create a specific look you want. Having a dryer that gives you adjustable heat settings enables different options and lets you adhere to your hair type. 

For example, choose a low heat setting if you have fine, dyed, or slightly damaged hair. Lower heat levels will help prevent any existing heat damage or prevent any heat damage at all. 

If you have a head of thick and frizzy tresses, a higher temperature and faster speed are usually preferable, such as the ones you'll find with the 2001 Classic. These settings will allow you to dry hair faster. However, you can still use lower settings if you want to use as little heat as possible. 

To reduce the risk of heat damage, Elchim has innovated a far-infrared technology in their dryers. This technology protects the hair from overheating. The far-infrared maintains tresses in their current condition, accentuating its shine and keeping its nourishment. 

Whenever applying heat to your hair, it's always a good idea to use some form of heat protector spray, just for added protection.  

Special Features

 

The dryers are all Italian professional designs. Each one boasts a 9ft cord, making its accessibility that much easier. The sleek, lightweight construction makes these devices easy on the eye and aesthetically pleasing.  

Also, for some extra info on these products, Elchim has posted some handy YouTube videos. These videos show you how to recreate celebrity styles created with the dryers, give you beauty tips, and show you how to unbox the products.  

Conclusion

 

If you don't own an Elchim dryer - why on earth not? Everyone deserves to have fabulous hair, and our Elchim hair dryer reviews should give you peace of mind knowing that these products will provide you with the look you want and more!