3 Best Derma Rollers for 2022 Reviewed
You've probably heard all about the amazing benefits offered by derma rollers. You may even want to try one yourself to see if the hype is real. We are here to tell you that it is! It's no surprise that every day, more and more people are adding this unique tool to their skincare regime. 
Derma rollers offer several benefits, many of which we'll discuss later in this guide. They improve signs of aging, repair damaged skin, and can even stimulate hair growth. These small tools puncture the skin using the hundreds of microneedles attached. This encourages collagen production, which is responsible for skin elasticity. 
It's likely you've heard this treatment called "micro-needling." While it was once only heard about in salons, today, anyone can microneedle their skin at home! Not only will they save hundreds of dollars, but derma rollers are inexpensive, non-invasive, and easy to use. That is, only if you purchase a high-quality model. 
With the many options on the market, it can become difficult to find the right one for your skin. In this guide, we'll cover factors you need to consider before you invest in a derma roller. Because not all are made the same, it's important to know what to look for. 
Do derma rollers live up to the hype? Keep reading to find out!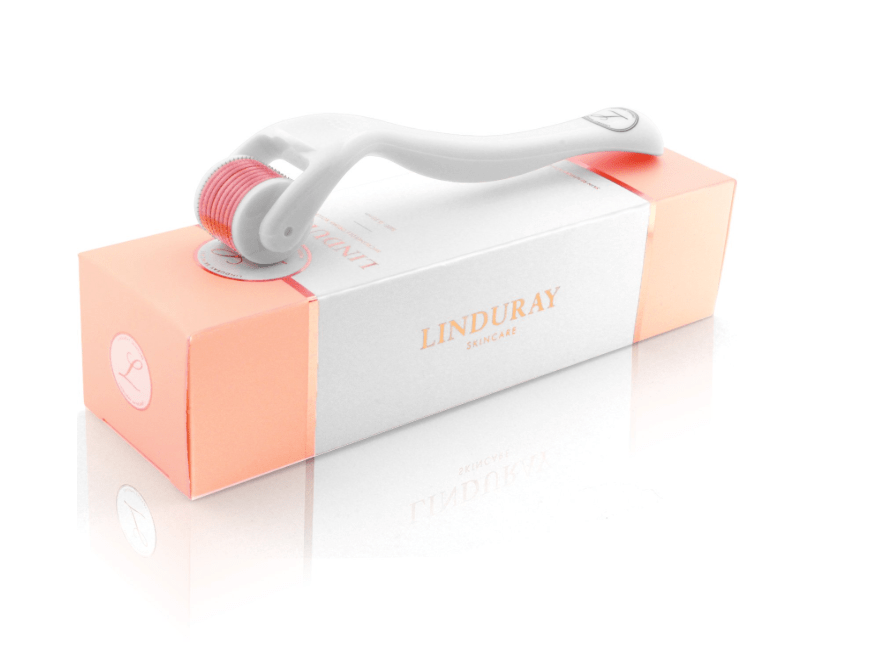 1. Linduray Skincare Derma Roller
Pros
– Powerful design 

– Anti-slip grip 

– Storage case included

– Comes with 3 free e-books 
Cons
– High demand (availability may be thin)
Microneedling is a popular treatment for people that want to treat wrinkles, fine lines, scarring, among other skin conditions. It used to be where one had to spend hundreds of dollars at a professional clinic to achieve these results. Today, you can take your skincare routine to new heights with Linduray's Skincare Microneedling Kit.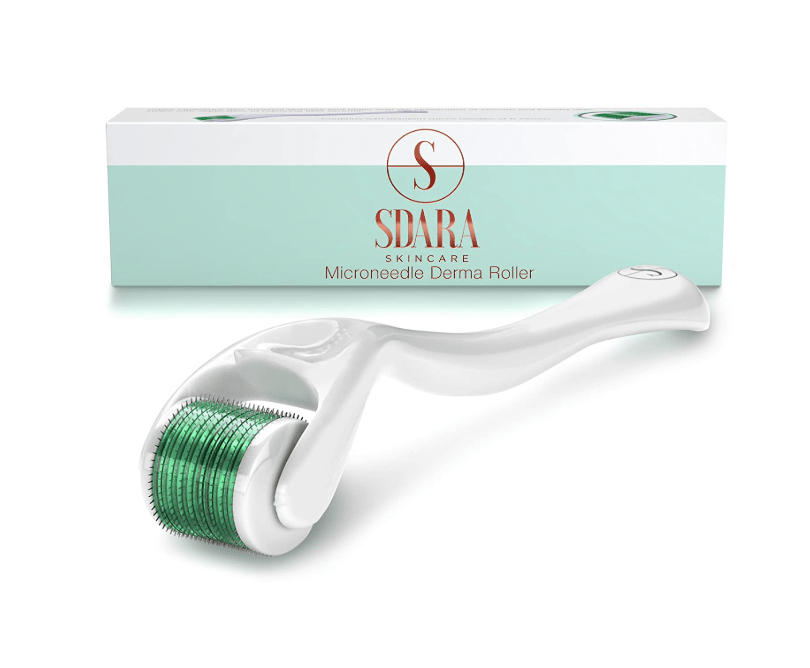 2. Sdara Skincare Derma Roller
Pros
– Made from durable titanium

– Esthetician recommended

– Over 200,000 happy customers 

– Storage case included
Cons
– Face and neck use only 

– In high-demand (availability may be thin)
Microdermabrasion can significantly improve the appearance of fine lines and wrinkles, acne scarring, sun damage, age spots, and more! It has become a popular way to treat skin, and with today's advancements, derma rollers are now available for purchase. This means you can derma roll your skin right from the comfort of your home!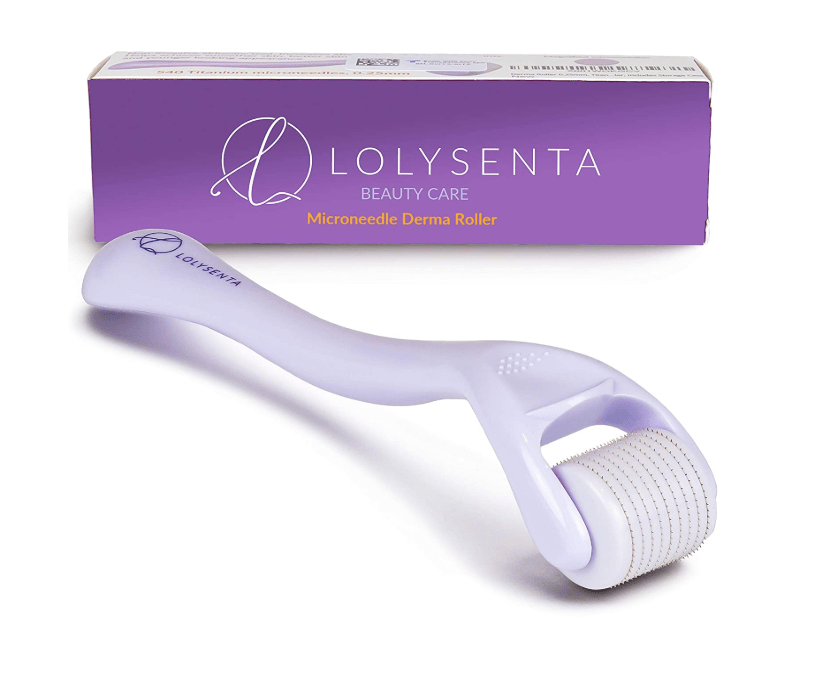 3. Lolysenta Derma Roller
Pros
– Unbeatable price 

– Suitable for all skin types

– Includes storage case and instructions 
Cons
– Some users claim needles are bent upon delivery
Derma rollers are used to promote the production of collagen. This is done by puncturing the skin with hundreds of tiny rotating needles, which then stimulates the skin and creates collagen (which is responsible for skin elasticity). Therefore, using a derma roller reduces the appearance of saggy skin, wrinkles, and in some cases, even stimulates hair growth. 
What to look for when buying a Derma Roller
What is a Derma Roller?

Before we jump into how to land the best derma roller for you, let's talk about what this tool is. 

A derma roller is a device composed of a rotating wheel filled with hundreds of tiny needles. It has a long handle that gives users control over how and where they use the roller. You could find a derma roller with needles as short as 0.25 mm or as long as 2.0 mm. Needle length depends on skin thickness. 

For large areas like the stomach, back, or thighs, you'll need longer needles. For your face, stick to a shorter size. Moreover, longer length needles are better suited for experienced, licensed professionals. If you're new to derma rolling, stick with a needle size of 0.25 mm. 

How to Find the Best Derma Roller 

With the many options currently circling the market, it can become difficult to find the right derma roller for you. There are a few things you want to consider before you make a final decision. Consider these 3 questions: 

What part of the body do you want to treat? 

 

Derma rollers can be used anywhere on the body. However, they are most often used on the face. A good rule of thumb is that for smaller areas, use a smaller derma roller and for larger areas, use a bigger one. Naturally, the larger rollers will have more needles and be able to target areas like your legs or stomach. 

Keep in mind that derma rolling cannot treat cellulite, large pores, or keloid scarring. Cellulite, for instance, occurs at a deeper level of the skin while keloid scarring is caused by too much collagen. This means that a derma roller may only make this worse! 

Derma rollers typically come in two types of materials: stainless steel or titanium. Which one is best? This depends on what's more important to you. Stainless steel needles are more naturally sterile; however, titanium needles are more durable because they're a stronger alloy. At the end of the day, both are great materials and will work wonders for your skin.  

What's the perfect needle length and thickness for me?

Before deciding on the roller for you, consider needle length and thickness, as well as the number of needles. Shorter needles (0.25 to 0.75 mm) are best for sensitive areas like the face. For areas where the skin is thicker, consider using a longer needle around 1.00 mm.

Now, the number of needles is equally important. Larger areas of skin require broader rollers with more needles; however, if you're targeting your face, use a small roller with fewer needles. This will make sure you don't overdo this process and lessen the chances of you getting to close to your eyes (which you should always avoid). 

And then, of course, you have handle size and length. Make sure you go with a model that's easy and comfortable to hold. It should easily fit in your hand and be easy to maneuver. A microneedling session can range anywhere from 5-15 minutes, so be sure you go with a light, comfortable option. 

The Benefits of Using a Derma Roller

You'll notice a difference in your skin almost immediately! Keep in mind after each treatment that your skin will be very red. This is normal. Once the redness has gone down, you'll start to notice these benefits as early as after the first use: 

Wrinkles and Fine Lines 

Derma rolling is a great solution to those stubborn wrinkles. This tool will help your skin naturally diminish their appearance by filling them as new elastin and collagen. The number of sessions you need depends on the severity of the wrinkles. Consider using a needle length of 0.5 to 1.5 mm when treating wrinkles.

Scars 

Since derma rolling stimulates collagen and elastin, your skin will repair itself and diminish the appearance of blemishes like scars. Microneedling helps fade and even eliminate acne scars. Because scar tissues are made from abnormal formation of collagen, derma rollers will break up old scar tissue and stimulate collagen and elastin production. 

For shallow acne scars, we recommend a 1.0 mm derma roller, while for deep scars, using a 1.5 mm is suggested.

Hair Loss

This one may come to you as a surprise! This treatment can promote hair growth by stimulating the scalp. Microneedling stimulates blood flow and produces extra hormones required to increase hair growth. Hair follicles will be strengthened, and hair will start to grow stronger than before. If you're looking for a solution to hair loss, derma rolling may just be the answer! 

Hyperpigmentation 

Hyperpigmentation occurs when your skin color is darker than normal. This happens when you have more melanin than necessary. You can repair hyperpigmentation through micro-needling. 

How this works is derma rolling sheds the top layer of skin and produces a normal melanocyte. This treatment is most effective if irregularities are closest to the skin's surface. If you have deeper layer issues, it will take more treatments before you see any results. 

For hyperpigmentation, consider using a needle length of 0.25 to 0.5 mm. 

Conclusion 

We hope this guide has gotten you one step closer to the best derma roller for you and your skin! Results are quick, pain-free, with short recovery time. If you're new to this treatment, start with one session a week, see how your skin reacts, and go from there.