If you are someone who loves casuals, then sneakers are probably your go-to when it comes to footwear. Whether it is a formal occasion or a casual one, you want to get ready without parting ways with your sneakers. But then sadly, sneakers are not what you can wear to work, right?
Wrong! When styled cleverly, sneakers can become a great way to make your work clothing interesting. If you seriously doubt sneakers' capability to enrich your work wardrobe, the read on the following. Below we have some of the most amazing Ways To Wear Sneakers in Work Routines. If you too feel what we feel, then check out these amazing Ways to Wear Wrapped Crop Top Outfits and make your style stand out. Have a look-
Ways To Wear Sneakers in Work Routines
Your fitted trousers are the best match for them

Image Source
Although there are many Ways To Wear Sneakers in Work Routines, the kind of chemistry they share with fitted trousers is simply unmatched. With a decent shirt in stripes, you can take your office fashion up a notch.
Have you tried your sneakers with your jumpsuits?

Image Source
There are hundreds of different Ways To Wear Sneakers in Work Routines, but the kind of elegance they ooze out when teamed with jumpsuits will leave you awestruck. Jumpsuits and sneakers both exude a casual feel. But strangely enough, when put together, they make an amazing office outfit along with minimal jewelry and the right hairstyle.
Overcoats are a big thumbs up

Image Source
If you want to wear sneakers, without really having to draw people's attention towards them, just slip into a nice solid colored overcoat. Camel coats are a big hit these days, you can try one for that super professional office look infused with a lot of casualness.
With chinos and blazers

Image Source
Casual outfits like chinos too can be paired with sneakers, without making the overall getup look too casual. Just make sure, you choose some decent color for the chinos, like khaki, brown or beige. With colors like pink and red, you have the risk of letting out an excessively casual feel.
Sneakers with a pencil dress

Image Source
Pencil dresses are a big office outfit favorite. They are mostly worn with pumps. But you can always choose to offer some twist to your pencil dress with a pair of sneakers. You will love the outcome, trust us!
Try them with a pair of black jeans and a white t-shirt

Image Source
Someone who is too apprehensive of trying out sneakers can go for a pair of black jeans teamed with a white t-shirt to complement their sneakers. You get a solemn look that also looks pretty relaxed. Great for any routine office day!
Team your pretty sneakers with your pantsuits

Image Source
Pantsuits are probably those boardroom outfits we all save for occasional wear. But when you have pretty sneakers to match with your pantsuits, you probably feel like wearing the latter every now and then.
Match your sneakers with a maxi skirt

Image Source
Maxi dresses have become the latest obsession for office-going women. But when you team them up with gladiators, t sandals or pumps, they radiate a casual look. For a formal appearance, perfect for any routine work day, team your maxi dresses with sneakers. Here we have some amazing Eye-Catching Shoulder Bag Outfits.
Sneakers teamed with an all-black outfit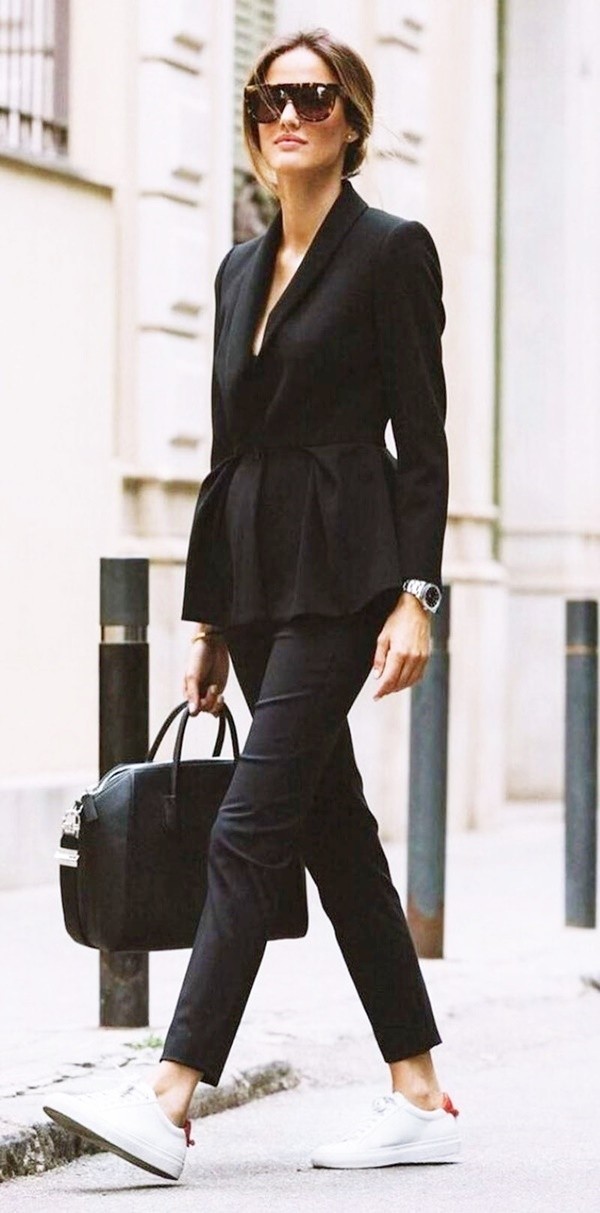 Image Source
A black outfit, comprising a black top/black shirt and a pair of black jeans/trousers/jeggings, can readily be paired with sneakers. The outfit looks office ready, without a speck of doubt!
When sneakers go insanely well with wide legged pants

Image Source
Wide-legged pants are a rage these days, especially among working women. But sometimes, finding the right shoes to pair with them becomes a challenge. In such a scenario, you can always trust your sneakers.

Image Source

Image Source

Image Source

Image Source

Image Source

Image Source

Image Source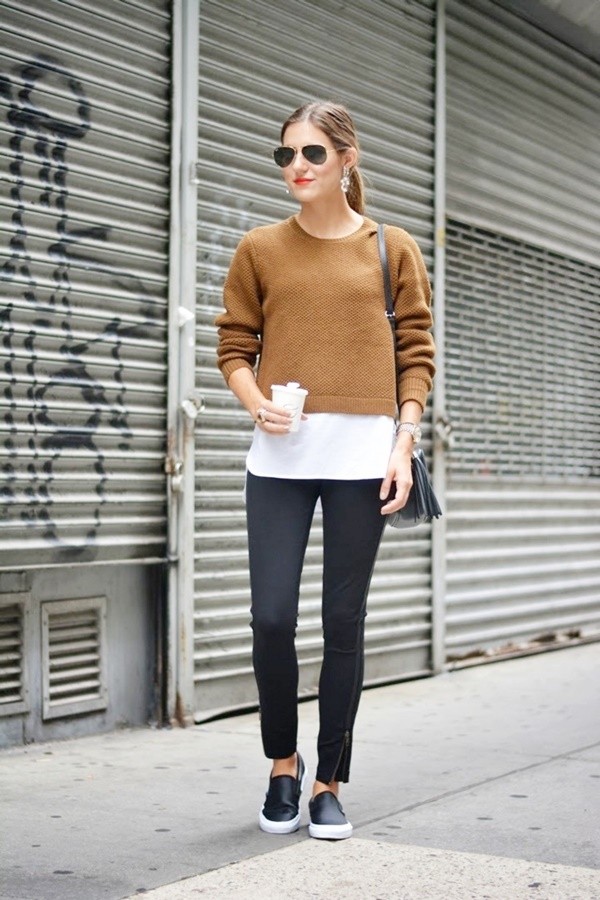 Image Source

Image Source

Image Source

Image Source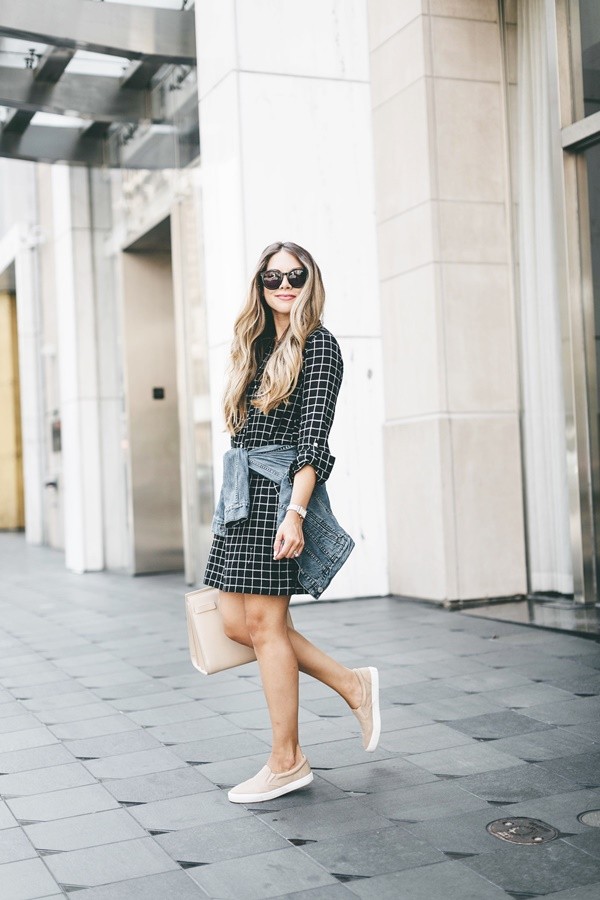 Image Source

Image Source

Image Source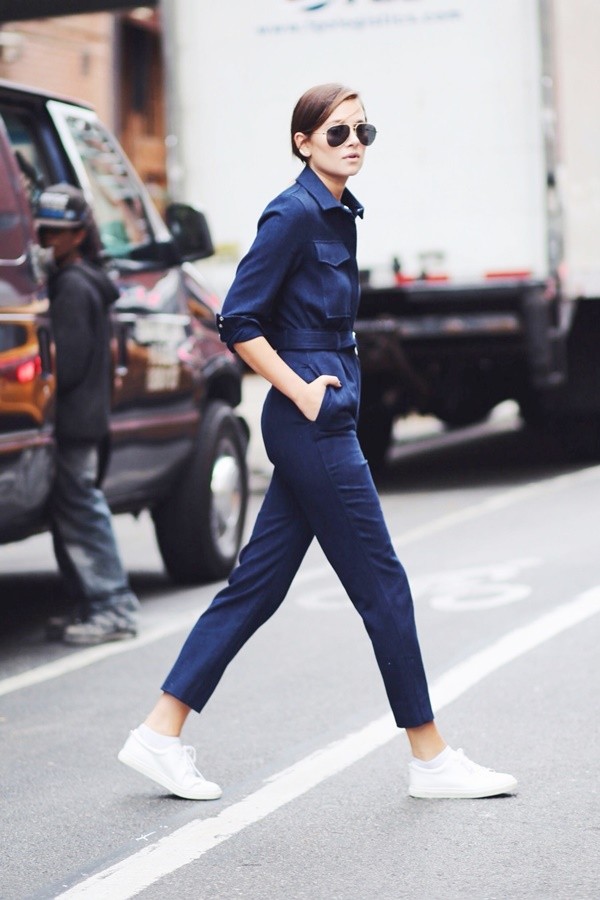 Image Source
Although there are many Ways To Wear Sneakers in Work Routines, there is something unique and special about the ways listed above. You can go for them absolutely without doubts and apprehensions. What more? They give you a totally different perspective on wearing sneakers. Here we present some Ways to Wear Your Black Leggings In Style. Have a look-