Ancient Greek Hairstyles have been a common style for events and costumes for quite some time now. They are popular because of their classy, fancy look that flatter most hair types. However, it can be difficult to find the right look for your event, so I have made it a little easier for you!
Here are my top 15 favorite Greek Hairstyles to show off in 2021. 
1. Giant Headpiece
Nothing screams Greek Goddess more than a giant gold headpiece to steal the show. This can be a great costume for Halloween or a Greek themed event. The headpiece can be as elaborate as you would like. Be sure to check out DIY videos on how to make your own with things around the house. You would be amazed at the transformations with some simple household items and gold paint. 
2. Flower Power
A grecian hairstyle that is often overlooked or given to other hairstyles more is adding flowers. Like the picture, this makes for an amazing photoshoot idea. Grab a white sheet and some bright colored flowers and you have the perfect props for a Greek themed photo op. This is also a great costume for Halloween or a costume party any time of the year.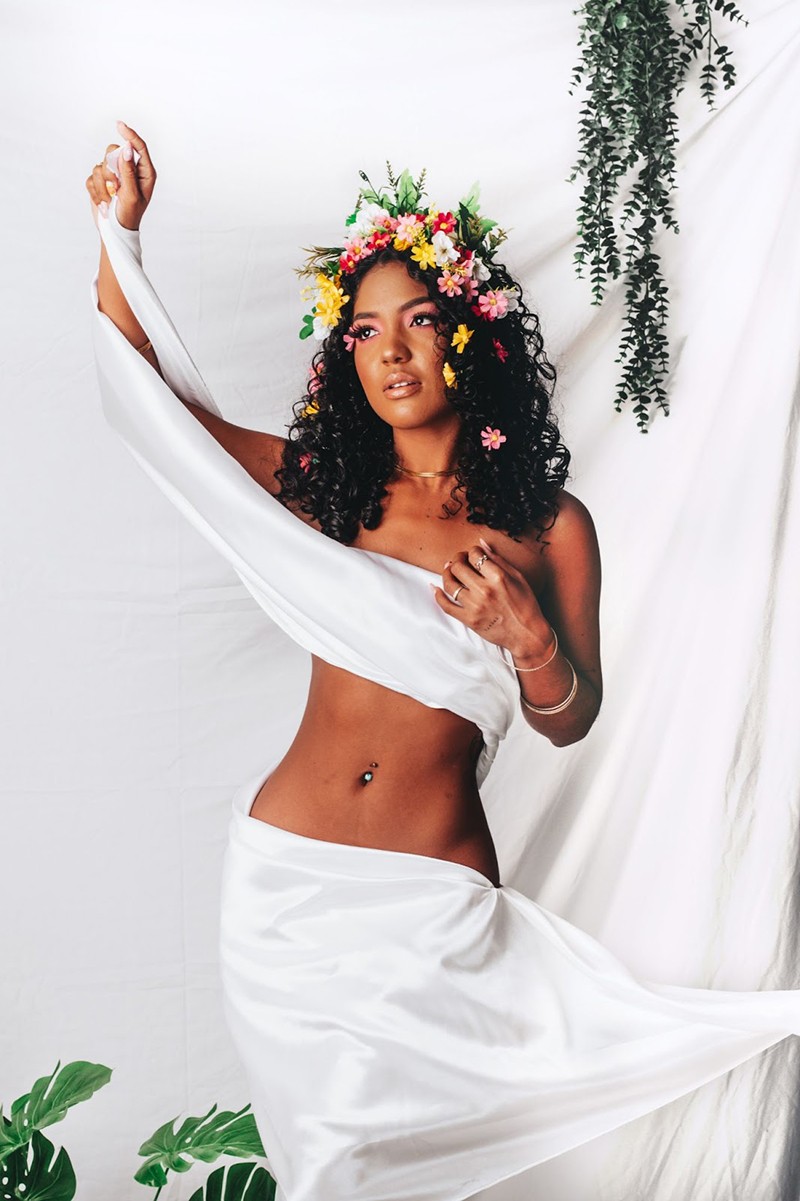 3. Accessories 
This look is perfect for weddings or major life events. While it does work for longer haircuts more, it can also be executed on shorter haircuts. You will need a statement piece accessory, preferably a large one that can cover most of your hair. Add a few twists and you have an elegant look that takes much less time than one might think. 
4. Twisted Ponytail 
This look is a guaranteed attention grabber, perfect for weddings. Start at the front of your head and twist your hair, adding some pieces as you go along. End in a ponytail with your favorite flower crown, and you are a Grecian Goddess. 
5. Simple Braid Half Up
If you are not especially gifted in french braiding, you can still pull off a Greek Haircut. Keep your hair long, add some curls, and make two simple braids. Wrap them around in the back with some bobby pins, and you have a quick Greek inspired hairstyle that is classy and fun.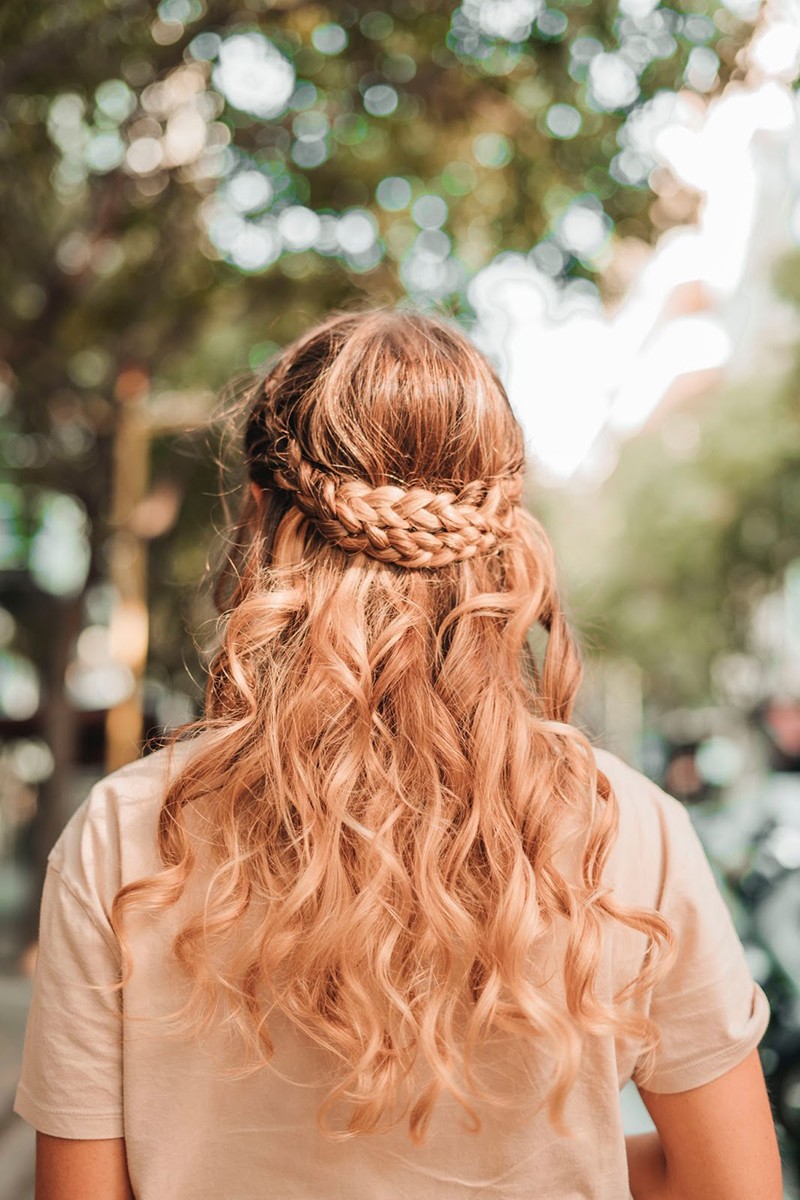 6. Curled Updo
This is a beautiful updo for prom, weddings, or just a fancy date night. Make sure to curl each piece of your hair and rely on lots of bobby pins to make this look happen. The flowers are a fun extra touch, but you can substitute them with any type of clips or bobby pins with a fun accent. 
7. Updo and Pony
This look is one of the more advanced Greek hairstyles, so if you are not a professional, it might be a better choice to find a stylist or talented friend to help make this look possible. Like most Grecian looks, this is a look that can be elevated with some fun pins sprinkled throughout. The fun thing about this type of look, is that no updo can be replicated, so be creative!
8. Classic Updo
This is one of the more familiar updo's. This look is known because it is timeless and elegant. Two things every woman wants to be on her big day. Add a fun gold hairpiece if you are not a big fan of the flowers or simply looking to spice it up. 
9. Big Braids
If you have thicker hair and love braids, this is the perfect hairstyle for you. Whether you are looking for a classic braid look, or willing to venture into fishtail or dutch braids, this look can adapt to any of those directions. Be sure to use quite a few bobby pins, as your thick braids will weigh down your hair and be more likely to fall. 
10. Waterfall Updo
Not a fan of the more structured updos? No problem. There are options for you as well! This look pairs well with curly hair, whether that be natural curls or styled. It also relies on lots of hair pins to hold it together. If you have highlights in your hair, this look does a great job accentuating them. Be sure to pull some pieces down to frame your face well. 
11. Long Braid
This style is a fun addition to the classic braid style. No matter what the occasion, this can be dressed up or down if needed. Add some fun details on top of the braid to keep things exciting. This also goes great with veils for weddings!
12. Simple Bun
A polished bun is another fun way to use Greek inspiration. This look relies on a show piece, or can be kept very casual without one depending on the occasion. Regardless, make sure to polish out your hair with a brush and hair spray after you have finished the look to prevent bumps or stray hairs. 
13. Half Up
If you aren't a fan of updo's try a classy half up look. Add some braids or a simple twist to bring in the grecian elements. This is also a look that does well when you pull down some face framing pieces. Add a barrette or fun hairpiece to hold the two sides together and you are all set!
14. To The Side
A side hairstyle is a great way to show off your long hair without letting your hair run completely free. This look does well with curls to create volume and shape to the hairstyle. You can use elastics to hold your hair together, or stick to loads of bobby pins to get the job done.  Like other Greek looks, add some accessories to create the busy look that Greek hairstyles are known for. 
15. Side by Side Comparison
Last but not least, following in the footsteps of Grecian statues, stick to simple buns with a few twists or none as all to truly embody their style. These women kept their hair back in effortless updos while still managing to make their hair a focal piece of their looks. Use this type of inspiration to be the focal piece of your event or party that you are attending. Grecian Goddesses are still lurking!
How Do You Do Greek Hairstyles?
 Greek hairstyles come in many forms, but the trick is patience, lots of gold accessories, and learning how to braid. When you have those three things mastered, you can execute all Grecian hairstyles. Most Greek hairstyles involve updos, so having longer hair will make executing the looks much easier. 
Final Thoughts
There are many more Grecian hairstyles that we could not cover in only 15 looks, but this is a great start if you are looking for inspiration on your next big event. Ancient Greek hairstyles are unmatched in their timeless beauty and appeal to all types of people. Hopefully this inspired you to work on your braiding and updos and give one a try!