Hello, Fashion-addicted ladies! Have you ever wondered how to take your style statement to the next level in winter? Are you looking for creative outfit ideas this winter? Do you love wearing warm and cozy outfits? Finally, the time has arrived to pull out all those sweaters you shoved into the back column of your closet last season. Undoubtedly, we can say that sweaters will always be a cold-weather staple, but finding new ways to style sweaters can sometimes feel a bit uninspired. However, this year – stylish ways to wear sweater dress outfit ideas are endless. Also, here we have some of the best Warm Street Style Outfits To Copy Right Now. All you need is to choose an appropriate pattern, style it in the best possible way that will make you stand out from the crowd. Believe us! With the right inspiration, your closet basics can feel fresh again.
From pairing unexpected prints to unique layering tricks, we're sure you will find out a new outfit idea for your favorite sweater from the below top 7 looks. Take a look.
Stylish Ways To Wear Sweater Dress Outfits
White Sweater Dress And Chunky Boots!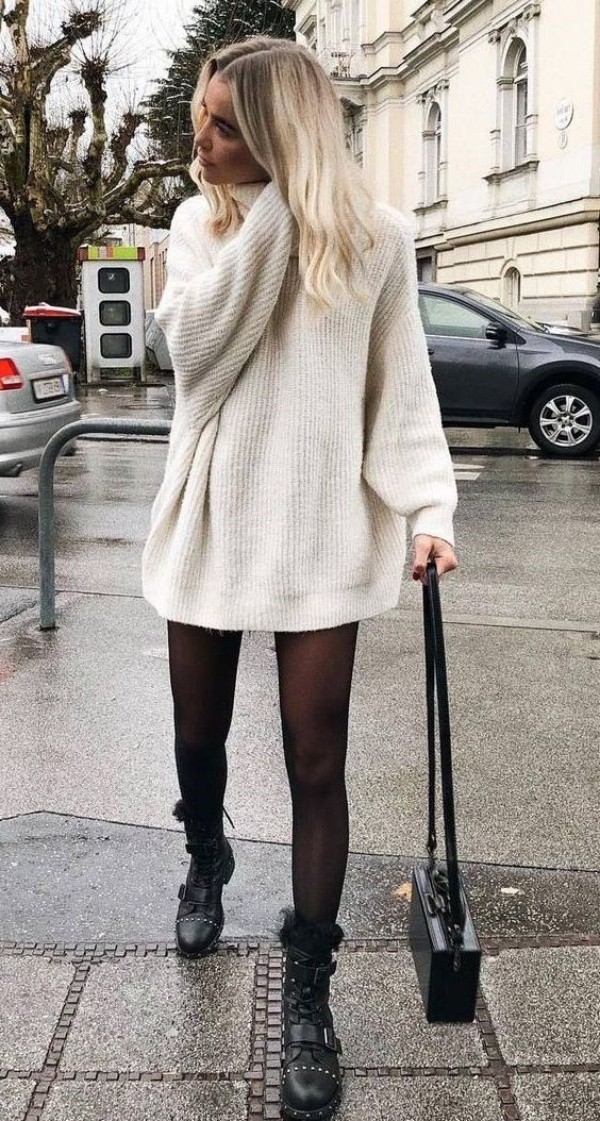 Image Source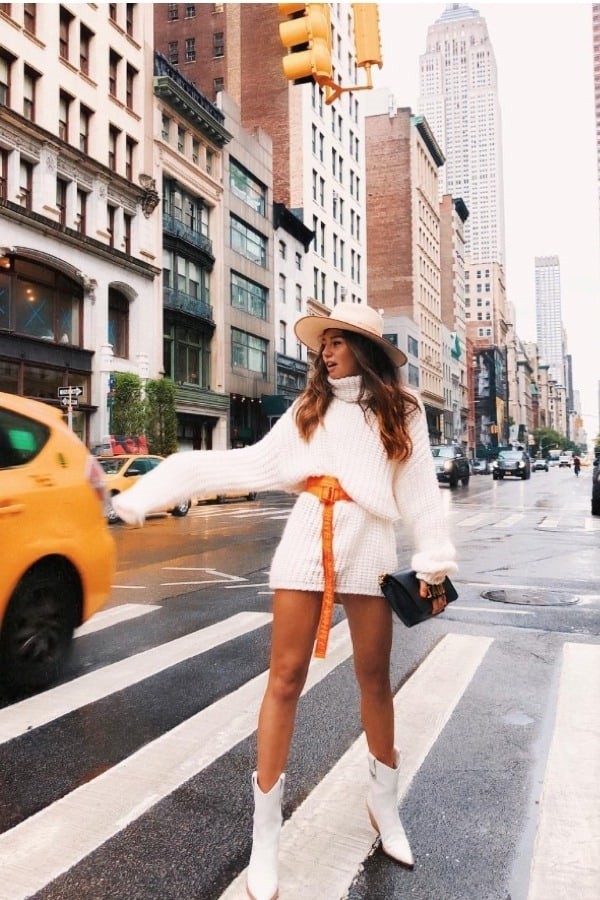 Image Source
Give this gorgeous winter look a must-try! Add some edgy touch to your overall simple outfit by pairing a white sweater dress with black tights and chunky boots in black leather. You can also carry a designer-look bag in a bold color to keep your look upscale.
Cable Knit Sweater And High Rise Jeans!

Image Source

Image Source
Winter dressing doesn't have to mean choosing between looking classy and being cold. Just grab your chunkiest cable knit sweater and style it with your favorite pair of high rinse jeans to stand out from the crowd. Add bright accessories to achieve a fashionable style.
Off The Shoulder Sweater And Check Patterned Skirt!

Image Source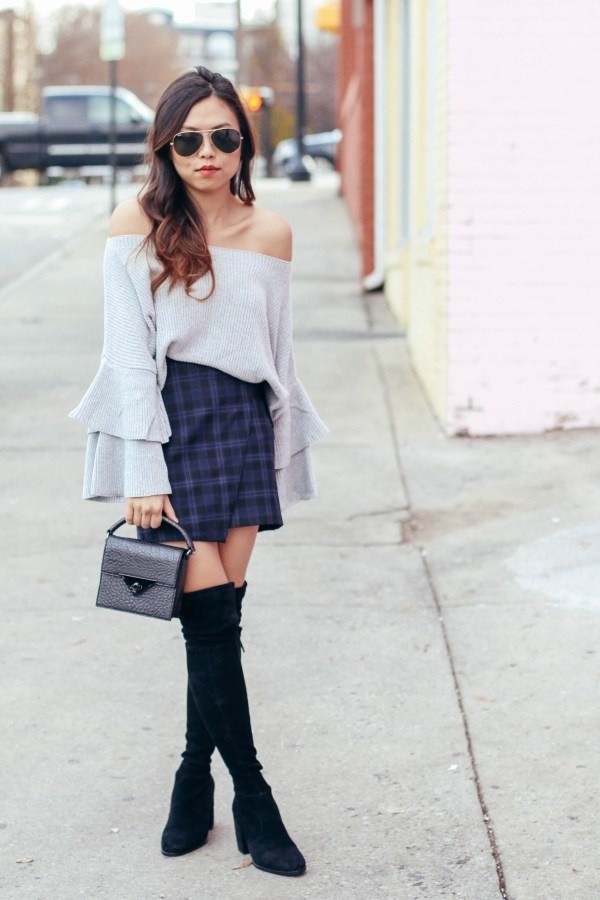 Image Source
Wearing sweaters is a sure shot way to stay warm in winters! When looking for sweater dress outfit ideas at the professional front, give the checkered skirt a must try with a trendy off the shoulder sweater. Add your favorite knee-high boots to keep up the modern look and throw a cute scarf to complete your outfit.
Sweater Dress With Ankle-Length Boots!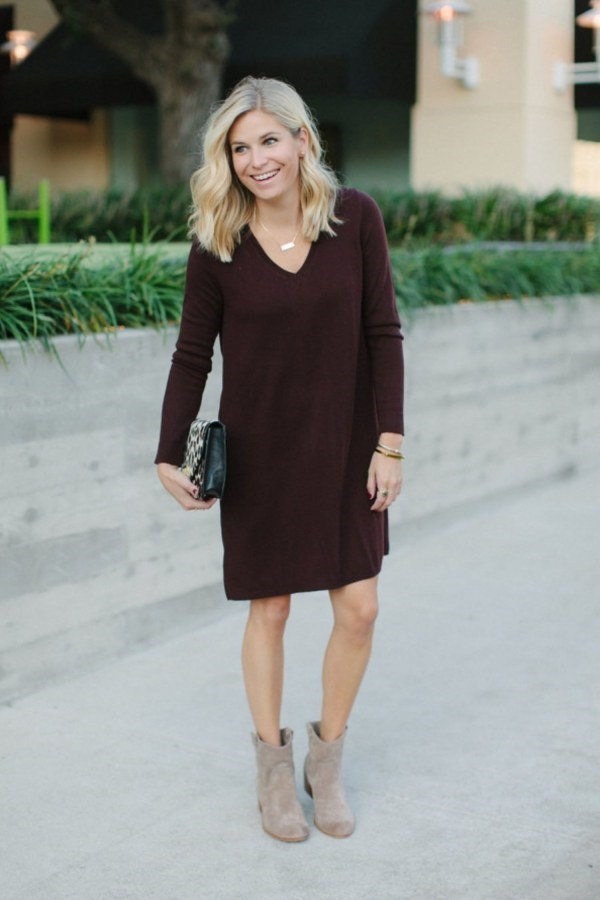 Image Source

Image Source
A pair of shiny ankle length boots are a great alternative to achieve a fashionable look. Yup, they look super-chic paired with a long sweater dress. If any doubt, wear them with a black sweater dress and you'll look sexy.
White Sweater Dress With A Black Leather Belt!

Image Source

Image Source
This might prove to be the sweetest winter outfit! Have you ever thought of updating your simple outfit by wearing a white sweater dress in black window print? Complete the look with a black leather belt and throw on a stylish scarf with confidence. This look is perfect for almost every occasion. Layer up in style and make your colleagues feel jealous of you. Here are some professional yet simple office outfit ideas for this winter you can try out.
Leather Jacket And Pullover Sweater!

Image Source

Image Source
You can have so much fun by pairing a grey pullover sweater with a brown leather jacket and matching boots. If you're looking for an easy option to pull off, we assure nothing can beat this stylish way to wear sweater dress outfits.
Cropped Sweater And High Waisted Jeans!

Image Source

Image Source
Now, if a killer look is what you're after, then nothing can beat a cropped sweater paired with high waisted jeans. To complete the look, add a pair of regular white sneakers and keep make-up simple to help your outfit stand out.

Image Source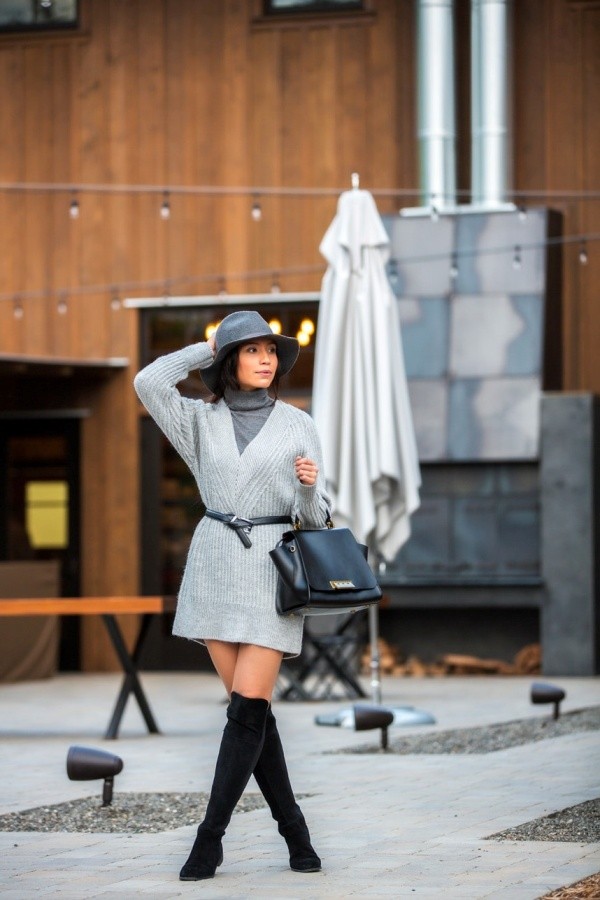 Image Source

Image Source

Image Source

Image Source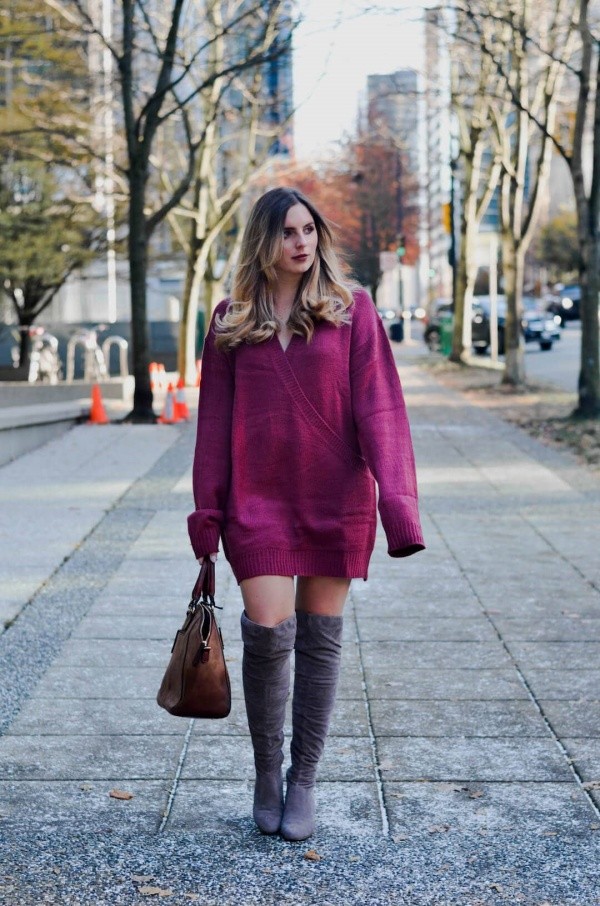 Image Source

Image Source

Image Source

Image Source

Image Source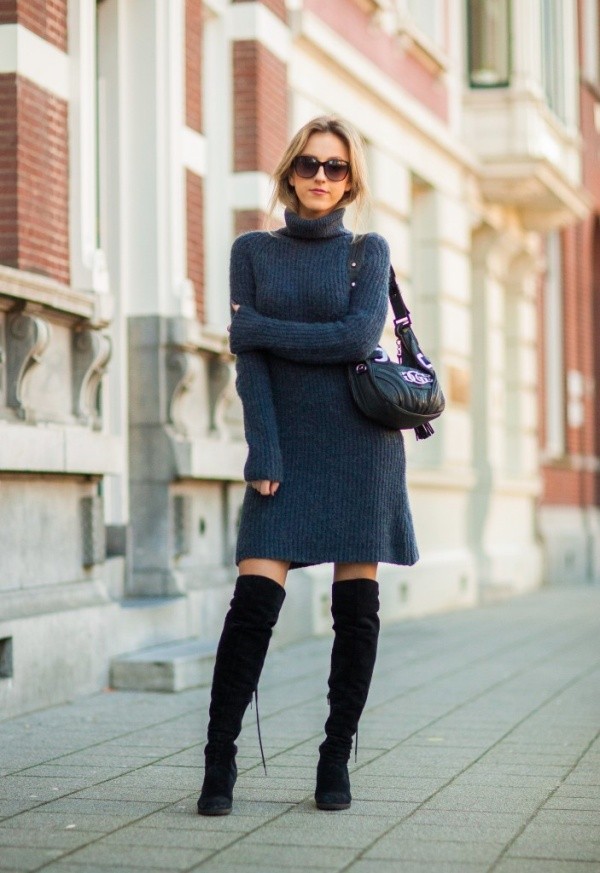 Image Source
At last, all these sweater dress outfit ideas are comfortable, easy and you don't need to be a fashion expert to create such a cute and modern dress outfit. Moreover, all you need is to style them perfectly so that your blazers become a subject of envy for your office colleagues. So, why wait? Here we present some Brilliant Office Outfit Ideas With Blazer and turn your style game on. The only suggestion to all you beautiful ladies is to make sure to wear a tight short below because many of these sweater dress outfits are tend to be super short.