Are you wondering whether you apply foundation or concealer first when doing your makeup? You've probably gotten varied responses, depending on the person you ask. Everyone has their own way of applying face products; however, there is a correct way to apply foundation and concealer.
If you're not getting the look you want, it may be due to applying these products in the incorrect order. So, what goes first: concealer or foundation? Read on to find out.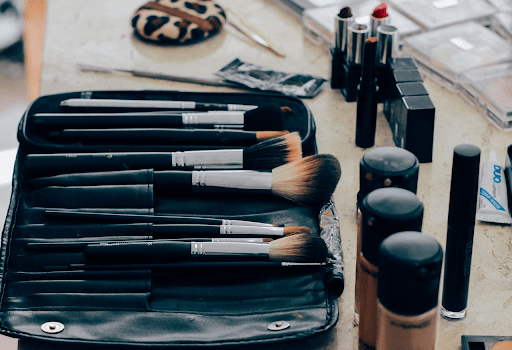 Concealer vs. Foundation: What's the Difference? 
Foundation is among the most popular beauty products. It evens out skin tone and works to create an even base for the rest of your makeup. The best foundation for you depends on your skin type, but generally, you'll have to choose between liquid, cream, or powder.
Here's a quick breakdown of each: 
Liquid.

This is the most common type and comes in different tones, formulas, and consistencies. There are options for dry skin, oily skin, combination skin – basically any skin type. You'll enjoy the weightless feel and blend-ability that liquid foundation brings.

 
Cream.

This type of product can be worn as either a foundation or concealer. The texture is a solid cream which makes it a bit more difficult to apply than liquid. This is great for those that need high coverage.

 
Powder.

This type comes in the form of pressed or loose powder. It is great for absorbing excess oil or setting your liquid foundation or concealer. If you're looking for buildable, mattifying coverage, opt for some powder foundation. 
Now, let's move on to concealer – a product meant to conceal. It's used to hide blemishes, dark spots and provide extra coverage to areas that need more attention. 
You can purchase concealer in liquid, cream, or powder forms. However, you can also purchase color-correcting concealer, which is meant to help neutralize areas of discoloration. We'll go over how to apply color-correcting concealers below. 
What Goes First: Concealer or Foundation? 
Understanding the role that each product plays will help you understand which goes first. You need to apply the foundation first and the concealer second. 
Think about a blank canvas. You're going to add the background base first and then begin to add in the details. This is how makeup works. The foundation is the base, and the concealer is part of the details. It's used to correct any spots or conceal under-eye bags. 
The reason we apply foundation first and then concealer is it allows you to use less product. After applying, you only need a few dabs of concealer. Also, if you follow this order, you prevent the foundation from wiping the concealer away. 
Note: The ONLY exception to this rule is if you're using a color-correcting concealer. Then, you'll want to apply before foundation to help neutralize areas of discoloration.
Step-by-Step Tutorial 
Now that you know which goes first let's talk about how to use both products when doing your makeup. 
1. Prime Your Skin
The first thing you want to do is prime your skin. Doing so will do a few things:

Hydrate skin

Tighten skin for a flawless foundation application 

Increase the lifespan of your makeup  
Wait a few seconds for the primer to dry and absorb. 
2. Color-Correct
If you're not using color-correct concealer, skip this step. 
If you are, apply it accordingly. To disguise dark circles or dark spots, use peach, bisque, or orange tones. The green shades help neutralize redness on the skin. The yellow hides age spots and broken capillaries. 
3. Bring Out the Foundation 
Apply foundation to your skin, whether it's liquid, cream, or powder. If you're using liquid foundation, a blending sponge will work great. For powder options, consider using a kabuki brush if you want sheer coverage or a sponge for medium to full coverage. For cream, a sponge, brush, or your fingers will work!

4. Conceal As Needed 
Finally, you can apply concealer. Go with a product that matches your foundation. The goal of concealer is to hide any outstanding imperfections. If you want to brighten your under-eye area, use a shade that's two tones lighter than your skin tone. Apply it in an upside-down triangle under your eyes.

You can use your fingers or an applicator to apply concealer. Some people find that using fingertips offers the best control around the eye area. If you're covering up blemishes, use a brush. 
Conclusion 
So, what goes first: concealer or foundation? The right answer is foundation! If you haven't been able to achieve an even application it may be because you're applying these products in the wrong order. Give it a try once more, but this time the right way!