So, you're ready for a new look and have decided on highlights. You call to schedule an appointment and are hit with the question, "Do you want partial or full?". You're left scratching your head, wondering what the difference is and if you made the right choice.
If this sounds like you, don't worry. The good news is you can always change your mind before your appointment. A good colorist will have no problem changing plans last minute. The most crucial part is that YOU are sure of your decision.
Partial vs full highlights – what is the difference, and which is best for you? We'll cover this and more here.
What are Partial Highlights?
Partial highlights, also known as half head highlights, is a technique where color is only placed on certain areas of the head. For instance, color may be placed around the face for a framing effect. Sometimes, partial highlights will consist of the entire top half of the hair or only the side sections. The look you go with is entirely up to you. However, the most important part to remember is that partial highlights only include specific areas (not the full head).
Benefits of Partial Highlights

Less expensive.

Half head highlights will cost less than a full service because you're dying less hair and, ultimately, using less product.

Less damage.

Your hair will experience less damage since you're bleaching fewer strands of hair.

More natural.

You won't get rid of your base color when getting half head highlights which offers a soft and natural look. Some people love placing them in the front area because it looks like the sun naturally lightened the hair.

Low maintenance.

New hair growth is less visible with partial highlights when compared to full ones. This means you won't require touch-ups as often.
Drawbacks of Partial Highlights 
Just like everything else, there are some downfalls. Two of the biggest drawbacks of partial highlights include:
They are only noticeable when hair is down. Most of the color disappears when you wear your hair up (like in a ponytail).

You cannot go "full blonde" since only part of your head has highlights, and the remaining hair is its natural color. If you are trying to lighten your hair thoroughly, consider full highlights.
Our Favorite Examples of Partial Highlights 
Need some inspiration? Consider the following 3 examples of partial highlights.
1. Golden Streaks  
 Notice how these highlights are only prominent in the top layer, yet they give hair lots of dimension. It seems like they are scattered throughout the head when in reality, they're only in a few sections.  The base is a natural brown, and when put up into a ponytail, most of the highlights will likely disappear.
These partial lights are a perfect example that you can add a drastic change to your hair without needing a full head of highlights. Plus, add some curls, and you're ready to slay the day!
2. Sunkissed Hair
Next up is this sunkissed look. Notice the lighter shades of colors – they really pop when they reflect against the sun. Soft and subtle, the lighter tones really mimic a natural sunkissed look! And, because some of the highlights are towards the front, it does a nice job brightening and framing the face.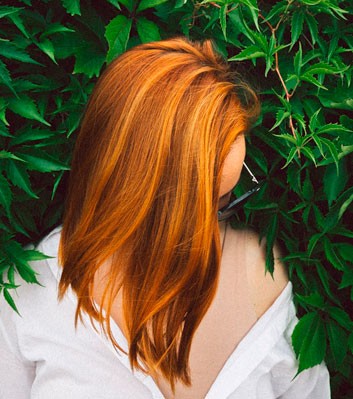 3. Caramel Highlights 
Notice how there are no highlights on the bottom layers of the hair. The hair is parted to the side showing off an uneven distribution of color. The variation of colors is stunning, and if you're going for a more symmetrical look, simply part the hair down the middle.

These partial highlights are caramel and blonde, however, you can mix and match as you'd like. We've seen it all from light pinks to platinum colors. You could also eventually work your way to a full head of highlights. This is the best way to go completely blonde with the least amount of damage (more on this later).
What are Full Highlights?
Full highlights wrap around the head. They are sometimes referred to as full hair highlights. We will go over some examples in just a bit, but with full hair lights, you're covering more area. Your colorist will highlight hair in the front, sides, back, and nape of the neck.
Benefits of Full Highlights
Offers a more dramatic change.

If you want to go from a dark color to a light one, this is a great way to incorporate light and dark tones without bleaching your hair all at once.

Endless possibilities.

Full highlights can look as natural or as dramatic as you want. You can get anything from subtle blonde highlights to colorful, vibrant ones.

Versatile hairstyles.

Whether you have your hair down or up, you'll still be able to see the highlights. Partial lights tend to hide when you put your hair up.
Drawbacks of Full Highlights 
Full highlights sound great, right? If this is the case, why doesn't everyone just go with them? Here are the 2 biggest drawbacks:
They are much more expensive than partial ones because you're covering larger sections of hair. 

This style is more damaging to your hair since you're bleaching more areas.
Our Favorite Examples of Full Highlights 
The possibilities are endless when it comes to full highlights. Here are just 3 ideas to consider:
1. Blonde Highlights 
If you want to make your way to blonde hair, full highlights are a less damaging way to go. Mix dark and light tones together. With time your colorist will lighten your hair until it's the color you want. Before you know it, you'll have a full head of blonde hair that looks and feels great!

2. Pastel Highlights 
Pastel colors are in, and we love this light purple mixed with grey look. Your colorist will weave the two colors together to create this beautiful hairstyle. You don't have to stick with these colors though. Talk to your stylist about color combinations for your skin tone.

3. Balayage 
Balayage is a highlighting technique that eliminates the use of foil. If you're going for a softer, more natural look, this is a great hairstyle to consider. Because regrowth lines are less noticeable, you'll require fewer touchups as opposed to highlights created using foil.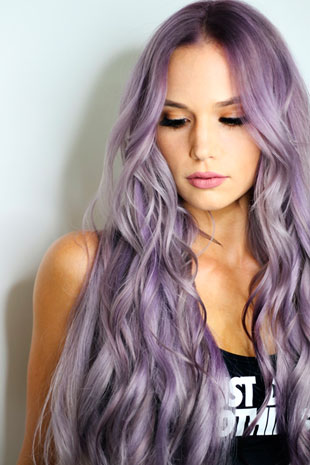 How to Choose Between Partial and Full Highlights 
Having trouble deciding between partial vs full highlights?
Partial highlights are great for those that don't have a lot of time, want to keep their hair in good health, don't want to see a lot of regrowth, or want a low maintenance style.
Full hair highlights are great for those that want to go from dark to light. For instance, if you want to go blonde, a full head of highlights can help you do this with the least amount of damage possible. Also, if you don't want your lights to hide when you put your hair up or in a braid, full highlights are for you.
Final Thoughts 
Your colorist can help you decide on the look that's best for you. Remember that you don't have to make a decision at the moment you schedule an appointment. A good stylist will be open to a full consultation before your appointment. However, after this guide, we hope you have a well enough understanding to decide which hairstyle is best for you.
Full or partial… the choice is yours!