As Valentine's Day approaches, we know what you're thinking? You must be looking for awesome Valentine Nail Art ideas, right! For fashionable ladies and girls, Valentine's Day is the most romantic time of the year. Yes, it is the perfect day to adore your fingertips with multiple shades of red, pink, white, lavender and more romantic colors to get into the romantic mood. Here we've come up with tons of lovely valentines day nail art ideas to make you look romantic and will help you to pick up your favorite nail art design. Remember, when everything has to be perfect this love month, so your nails are not to be excused. Also, here are the handpicked Pretty Nail Art Designs For Winter you must give a try. Whether you want to go out for a date with your special someone or planning a dinner with family and friends, we bet these Valentine Day nail art ideas would go with any type of outfit you choose to wear.  Scroll below, get inspired and brighten your day with these chic designs for the upcoming Valentine's Day.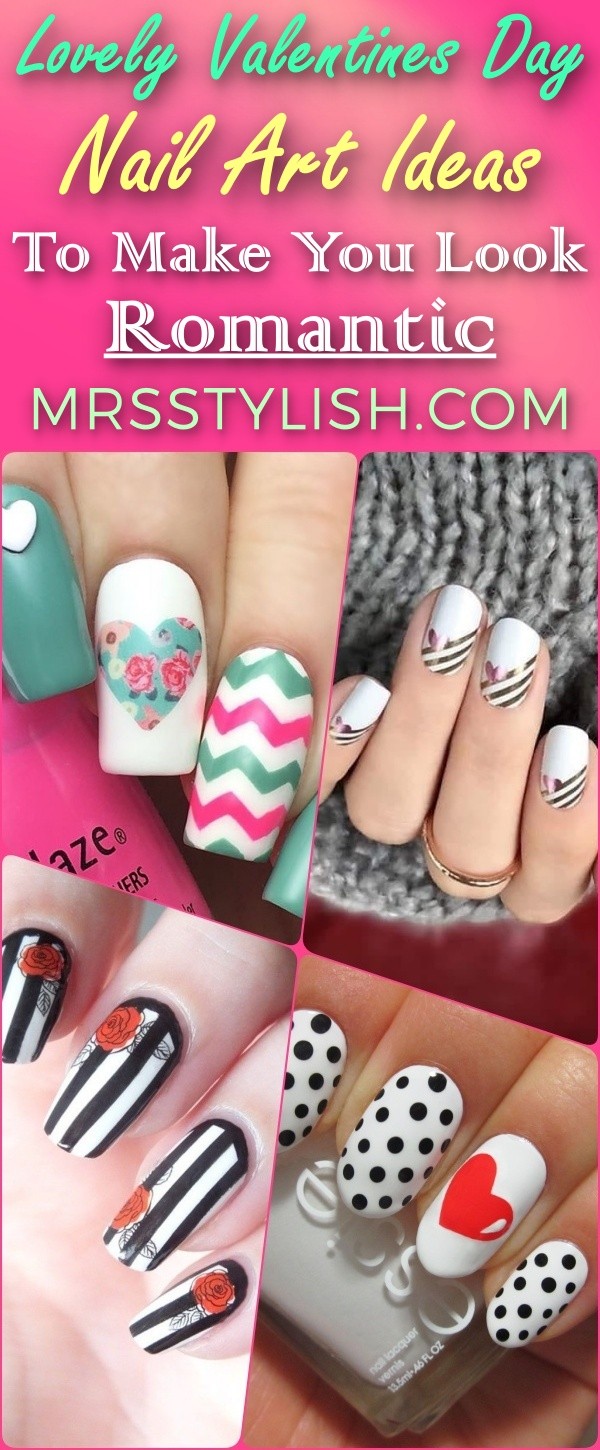 Lovely Valentines Day Nail Art Ideas To Make You Look Romantic
Pink Lines!
If you're a fan of lines, this one is for you. The nail design looks sweeter in baby pink shade. Simply add a strip of thin tape horizontally, then paint your nails with pink shade. Wait till it dries completely and removes the tape. Don't forget to apply a clear topcoat for a stunning effect.
Hearts And Flowers!
Everyone's favorite! Deck your nails with roses and hearts to look romantic and chic this Valentine Day. If you're having a date with boyfriend and you want your nails to look simply adorable, try these lovely valentines day nail art ideas that makes you look romantic.
Lipstick Marks!
Go beyond everyone's imagination! Try lipstick stains on your nails this Valentine to impress your partner. Apply nude shade as a base and create the shape of lips using a nail striper. Then, with the help of a dotting tool create the texture of the lipstick stain. Don't forget to seal it with a topcoat.
Dreamy Half Moons!
It looks tricky, but it's quite easy to create. Half-moon nail art design is intricate in look. Simply apply a base color on each nail and add on layers of pink or red with a slight curve to get half-moon effect. You can also sprinkle a bit of golden glitter.
Neutral Shine!
Get adorable nails with neutral shine nail art in a few minutes. Start with a sheer coat of nude color and allow it to dry. Layer different styles by applying glitter, then finish it off with white accents.
Polka Dots!
A flirty pink manicure is a perfect addition to your Valentine Day go-to-do list. This lovely valentines day nail art ideas makes you look romantic and proves to be an easy way to upgrade a pink manicure. Also, you can try out these Fall Inspired Matte Nail Art Designs. Have a look-
Emoji Kisses!
Undoubtedly, the kiss is the most popular way to express your love to your beloved on Valentine's Day! But, have you ever thought of getting emoji nails? Because kiss looks even better in cute micro prints. Whether you go for nail art pens or stickers, you can easily master this nail art.
Patterned Gradients!
If you want to give your nails an incredible look to impress the man of your life, go for pastel color patterned gradient nail design. Apply nice purple shade as a base and add swirls, circles and abstract floral designs over it. It's breathtaking and a must design to try this Valentine's Day.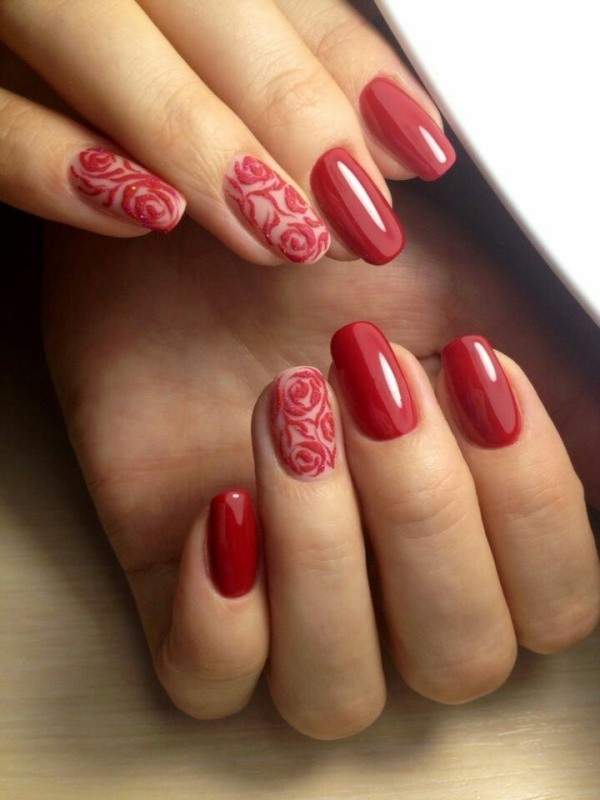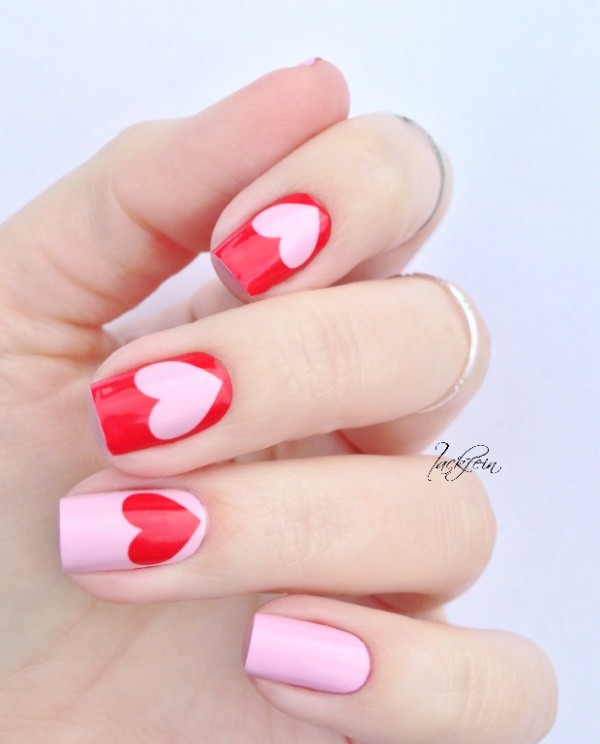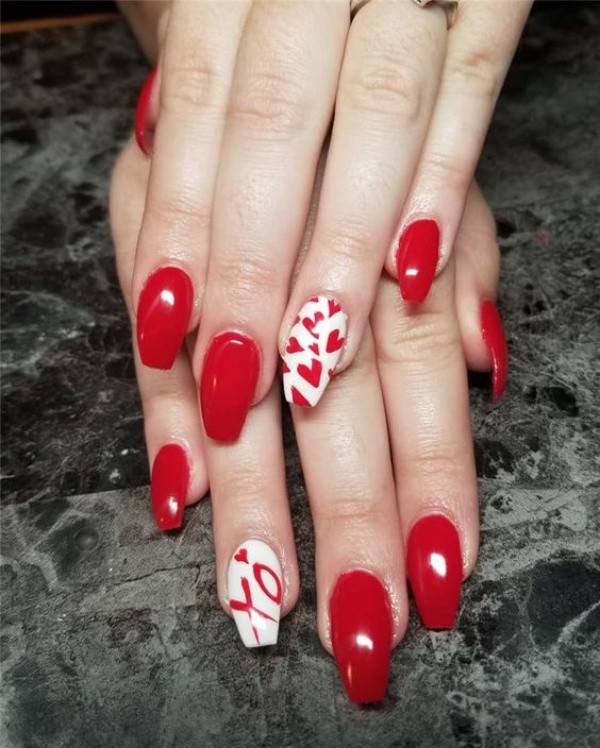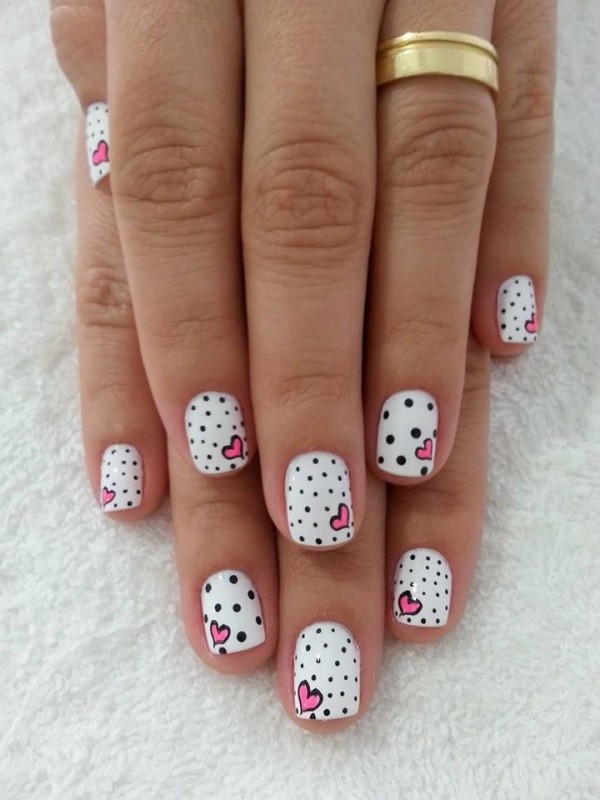 Life is so much fun, what you say? This Valentine's Day, we want you to look gorgeous and stunning with your creative nail designs, so these lovely valentines day nail art ideas to make you look romantic are perfect for both teens and pretty ladies. If you too love the ombre effect on nails then here are some Beautiful Ombre Nail Art Ideas To Copy This Year. Whether you're obsessed with pink shade or prefer going for an all-black ensemble on this big day, you'll surely spot your perfect match among our top picks.