Lavender hair is all the rage right now, and rightfully so! This color is breathtaking! I am convinced that anyone can rock lavender hair once they find the right shade and style to pair it with. Maybe you've never considered lavender hair for yourself, or you like the idea but don't know where to start? 
Don't you worry, there is a light at the end of the tunnel. I am here to help navigate the unknown. I am going to give you a few of those options that I find to have the best results for most people to help jumpstart your inspiration on your search for the perfect lavender look. Let's get to it! 
1. Ashy Lavender 
Likely one of the more common shades when it comes to lavender hair color, ashy lavender is popular for good reason. A big plus is that this shade works well with darker hair. We all love a good lavender hair with dark roots, and that works well with this option. While it still gives the beautiful lavender color overall, it's a muted down version that allows for more versatility in clothing and less show stopping for those who want a happy medium. 

It is mixed with ashy tones, meaning that it works best with those who favor cool tones rather than warm. However, it might be helpful to point out that most lavender shades are going to work better with cool tones. That being said, there is some hope for my warm tones ladies and gents. We'll get to that in a bit. 
As far as styling goes, this works beautifully with long hair, especially curled. It can also work with a medium length hairstyle. Stick to layer and keep the hair light and airy as much as possible to give a cohesive look. 
2. Bright and Bold
Are you the more daring of the bunch? Go all out and try a bright and bold lavender shade. This can work for any skin tone. However, if you have naturally darker hair, understand there will be a tad more upkeep to maintain the vibrancy of this look compared to more dimmed down options. 

While any lavender hair is going to be an eye catcher, remember that this is going to be the first thing people see when they look at you moving forward. If you are not a fan of the center of attention, or feel your personal style doesn't match a bold purple shade, then you might want to try one of the other hairstyles. 
This look can also work with any hair cut. However, I like to stick to bold, blunt cunts to match the theme of the vibrant color. This blunt bangs, a blunt bomb, or a simple long haircut with a clean edge to it. These will add the finishing touch to your look.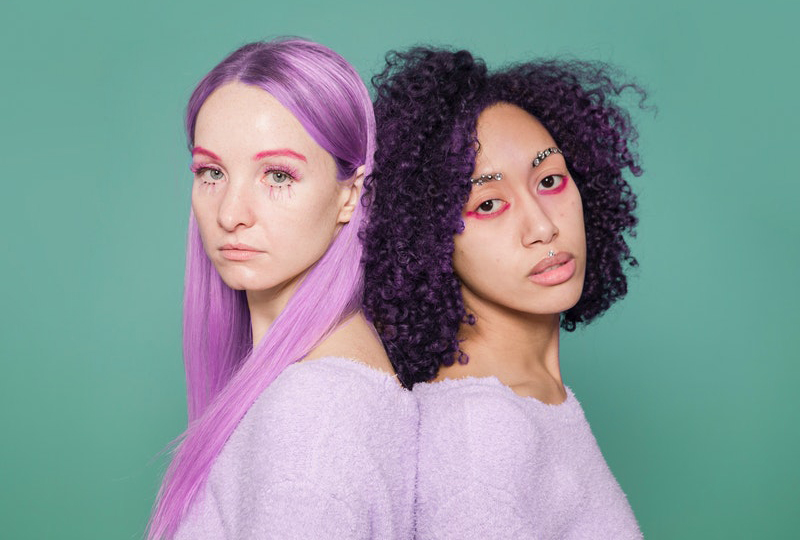 3. Short and Sweet
Another option for lavender hair is obsess worthy is a lavender pixie. This is a bit different than the other options as it is a drastic change in color and length if you are making the big chop for the first time. However, the definition of the pixie cut as you see below is elevated with the lighter, almost white highlights of the lavender. It truly is a match made in heaven. With this option, there is going to be more attention to detail in the highlights and lowlights, so be sure to find a talented colorist to have the results you want. 

Rocking a pixie cut is no small feat. Be prepared for daily styling, commitment to growing out process afterward, and finding the perfect pixie cut to match your face shape. However, once you commit, do your research, and take the leap, there is no doubt that you will enjoy rocking this breathtaking look. 
4. Lavender Ends
Do you have cold feet about committing to an entire head of lavender pastel hair? There are still some options for you. I am a sucker for a good lavender end look. This helps lower the risk if you aren't a huge fan, and takes less time and money to execute. After all, dying your hair can get quite pricey, so saving some cash is always a plus. 

This style is going to be scattered throughout your hair, or can be done to the entire head lower down. However, the second option moves more into an ombre look rather than a few lavender ends sprinkled in. You can also mix this with other hair colors if vibrancy isn't the issue. Mix in some pastel blue or pink for a rainbow pastel look that will be a jaw dropping look. 
This look more than the rest can work with any hair color and any skin tone. However, due to the need for more hair to dye the ends, it is not a style that is paired with shorter hair typically. Medium and long hair work the best to get the best results. Whichever look you decide, remember to have fun and make it your own!