Bangs are just one of those things that will always have a love-hate relationship with society. Had a rough week? Get bangs! Going through a breakup? Switch it up with some bangs. However, a few weeks later when the reality of styling bangs every day hits, we aren't as big of fans as we once thought. 
I have had my fair share of impulsive hair cuts, so I have mastered how to hide bangs when my look isn't doing it for me anymore. If this is where you're at, or maybe you are just wanting some versatility when it comes to your daily hairstyles, I have a few ways to hide bangs to share with you to provide some relief from your worry!
1. When in Doubt, Wear a Hat
While it might not be the most revolutionary option, hats can mask any bad hair day. From baseball caps, bucket hats, or even fedoras, there are loads of cute hairstyles for hats that will hide your bangs and get you out the door in just a few minutes. You can leave your hair down, try a messy bun, or a ponytail with some flare. 
Be sure to sweep your bangs back under the hat no matter which style you choose. You can part your bangs down the middle or sweep them all straight back. Certain hats will require different options, so experiment on finding a hat look for whatever event you're attending! 
2. Side Part
Another easy switch for hiding bangs is opting for a side part. This way, you can sweep your bangs with the rest of your hair as if it is intentional face-framing layers. Be sure to dry your hair this way if you choose this look. Forcing your hair to part another direction without wetting it will not workout well. This creates an awkward crease between the two parts. Do yourself a favor and stick to this option as soon as you step out of the shower!
3. Bobby Pins
There are countless ways to hide your bangs with bobby pins. You can twist your bangs and create a small detail in your look, or you can get creative and create entire designs with loads of bobby pins. Be sure to check out our article specifically highlighting all the bobby pin hairstyle options. Whichever look you decide, be sure to use the ridged side of the bobby pin faced down. I did not realize this until just a few years ago and it has completely transformed my bobby pins looks!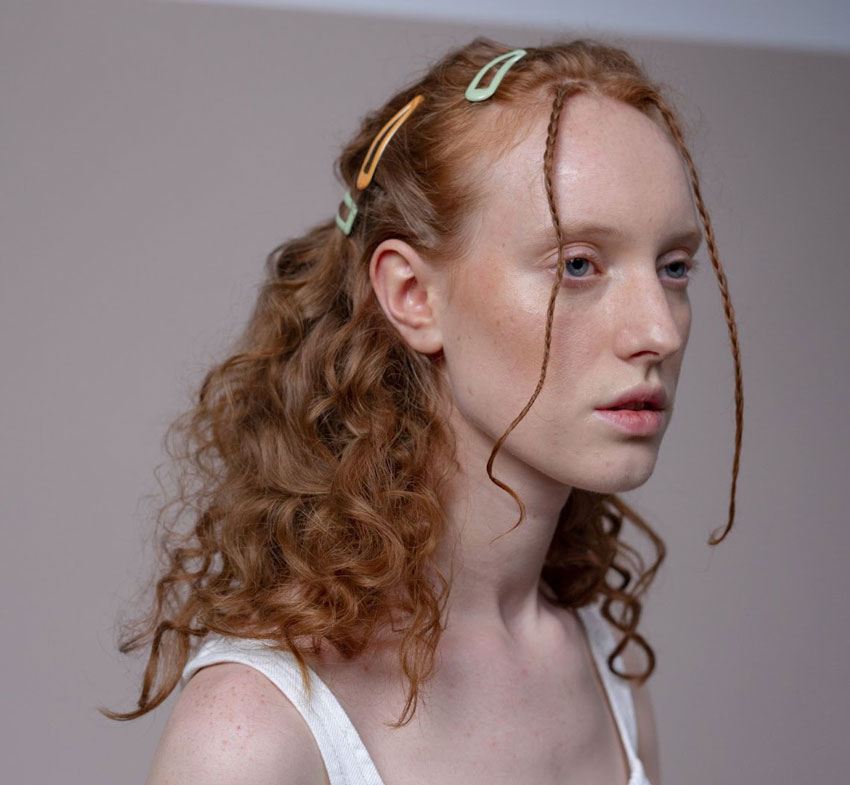 4. Headband
Lucky for us, headbands are back in style. This is a great look for those days where your bangs are not cooperating, you are in a rush, and you need something simple. Try a larger headband to hide your bangs better. I like to part my hair down the middle for this look to create evenness on both sides of my head under the headband. Think modern-day gossip girl. Blair would be so proud. 
5.Braids
When I go through my worst bang phases, braids are one of my best friends. Not only does it keep my hair out of my face, but it is easy, can look good for casual or dressed up days, and makes my hair have beautiful waves after the fact! You can do half up braids for your bangs only or try pigtail braids for a quick workout look that will keep your hair out of your eyes. 
Don't forget to switch up the type of braid also! French braid, dutch braid, or 4 and 5 strand braid each have their unique looks that will stand out. 
6. Half Up
Another look that seems to be my go-to is half up half down. Depending on the length of your bangs, you might be able to move the half up lower on your head. However, if you have short bangs, you may need to bring in reinforcements in the form of bobby pins, hair spray, or an Ariana Grande level high pony. 
You can leave your hair slightly parted or slick it straight back in the half-up look. You can also turn the pony into a top not if you are wanting to switch things up a bit. If you do choose a pony, you can grab a cute scrunchie or wrap your hair around the hair tie to elevate the look for a dressed-up outfit. Whichever option you decide, rock the look with confidence and give your best Ariana strut for the day ahead.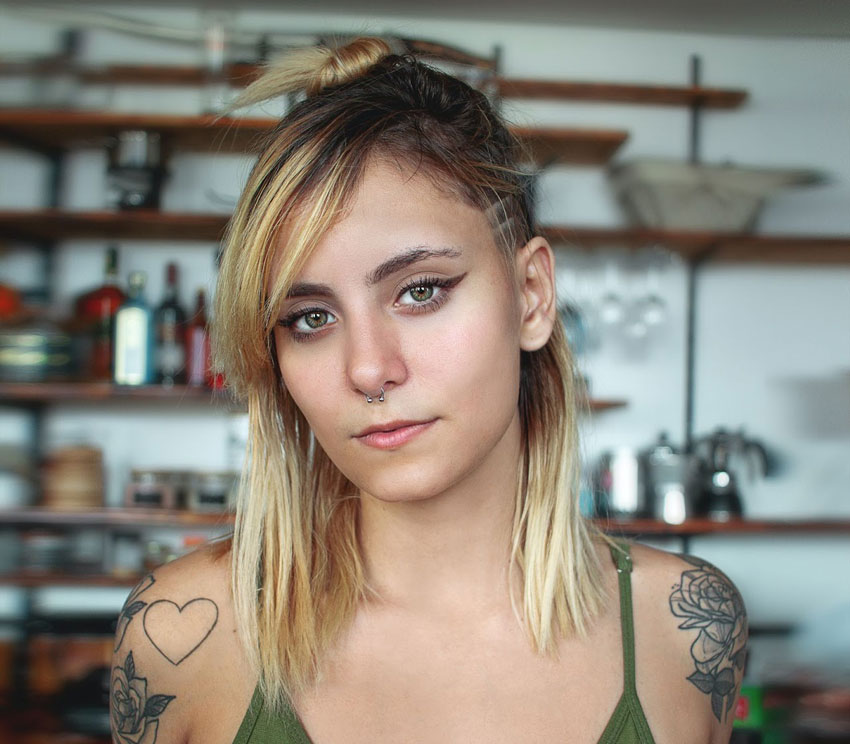 7. Slick it Back
Lastly, if none of the other options seem to be doing the trick, try grabbing the gel and slicking your hair back. This is a modern, more dressed up look, so you will need to really commit to making it work. Slick your hair back entirely with gel to give the wet look. This works best with your hair fully down. 
Be sure to find the correct gel for your hair type. If not, it can be a frizzy mess or even way too oily depending on which extreme you chose. Start with a small amount of gel and work your way up to make sure you aren't overdoing it.