In the past, the idea of a woman getting a fade would have been considered extremely controversial, but thankfully women are known to push back on controversy. Women's fades are a trend that have been around for a few years now, but like all hairstyles, there are new exciting versions each year.
 If you are a fan of fades, have had one for a while, or are looking to get one for the first time, I have some fun options for you to scour over! 2021 is the year of fun and fresh ideas, so our hair should be no different. Here are my top 15 picks for women's fades this year. 
1. Pixie Fade
Fades are fun for any hair style, but one of the most popular versions for women is the pixie fade. This is a gradual shave moving into the well known pixie look. While most might not even realize this is in fact a fade, this fade adds a lot to the look. It brings attention to the top of the head cut and allows for shapes to be created easier with a style. 
2. Mohawk Fade
Who doesn't love a mohawk? Mohawk fades are fun and edgy. Think Pink So What Era. Who didn't want to be on her level? Give the mohawk look a try if you are looking for something bold that can be an attention grabber no matter where you are. This look can also be styles still if you are looking for something versatile. Mohawk braids are always a yes in my book. 
3. Blunt Fade
A different take on women's fades is the blunt fade. This look is all about creating harsh lines with your hair, so if you are wanting something unusual and unique, this might be your match made in heaven. Blunt fades come in many shapes and sizes, but this specific version is one of my favorites of the options. 
4. Fade to long hair
Who said you had to leave your locks behind to join the fade club? It is possible to keep your long hair with a fade, there are fades underneath your long hair or on the sides. Regardless, be sure to expect a dramatic change is thickness. You are shaving a large chunk of your hair off after all, so I would suggest this look for thicker high types over thinner. 
5. One Side Fade
Whether you have long or short hair, a side fade can be the perfect asymmetrical touch to your new look. Contrary to complete shaving the hair, a fade on the side can meet your longer hair softer, giving for a look with better unity. It also grows up better since there is less of an awkward buzz phase for an entire half of your head. 
6. Design Fade
With so many talented barbers today, design fades are getting wilder by the day. This is an exciting addition to a fade for those ready to switch things up a bit. While talent is rampant, there are also some questionable design fades out there, so pick a barber wisely. Make sure you are confident in your design and trust the process. 
7. Close Shave Fade
A close shave fade can be scary for those who have never buzzed their head before. While it will grow back, be prepared for an unfamiliar feeling when you reach for the back of your head and there is not even a bit of hair there. However, when done correctly, close shave fades are a stunning look and an empowering hairstyle. 
8. The Chad Fade
We know you've met one. A conceited Chad repping this hairstyle. His luscious hair blinding girls to his not so voluminous personality. Unlike Chad, this look is a hit for women. It perfectly meshes masculine and feminine qualities while bringing a level of familiarity. Plus, how fun will it be to rub it in Chad's face that you look better with his haircut than he does? 
9. Short Hair Fade
Not a fan of longer hair? Go short! This is a great style for those not ready to make the full buzz or even those transitioning out of a buzz cut hairstyle. The fade can help make the awkward growing stage less awkward. This is also a rocker babe's haircut dream. Even if this is out of your comfort zone, tap into your adventurous side and give this look a try.  
10. Bowl Cut Fade
A personal favorite of mine. The bowl cut fade screams modern and fashion forward. Bowl cuts have gotten some bad reviews over the years, but bowl cuts on women are a totally different story. The bowl cut can be as long or short as you want it. Each of the looks are fun, fierce, and fantastic. 
11. Natural Curls Fade
For the natural curl ladies, fades are an amazing asset to accentuate your natural locks. Not only is this style able to shape your curls however you like, it is a lot less hair to worry about. Now you can enjoy your natural hair without as much pressure or upkeep on a day to day basis. 
12. Waves Fade
Another great style for natural hair babes. The waves look has been repped by men for years, and women are getting on board. This works great when a strong shape is formed at the nape of the neck to coincide with the waves. Be sure to speak with your barber on maintenance and producing the best waves for this look!
13. Straight Top Fade
This look might be the most unexpected from ladies, but I love this approach for women! While this obviously is for a specific type of hair, those that can make this look happen have a world of possibility when it comes to shape and volume. This can be subtle or a dramatic look depending on your personal style.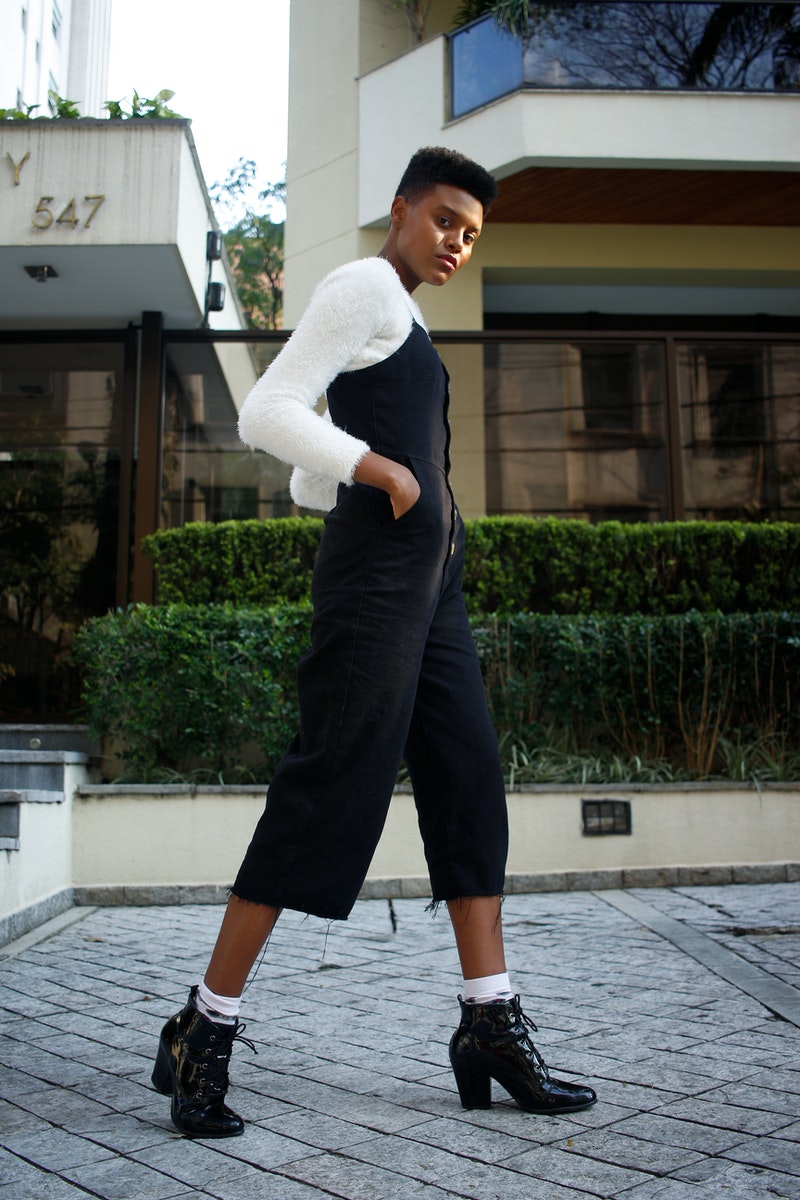 14. Spike Fade
This look can be executed a number of ways, but goth girls and rocker chicks are not the only ones this look can work for. While you babes are definitely included in the bunch, this look can be a daily style for the more conservative ladies as well. The trick is in your styling. Be sure to stick to what makes you feel your best, but don't be afraid to test the waters a bit and inch out of your comfort zone! 
15. Buzz Fade
Last but not least, the full buzz. This might seem very similar to a full shave, but adding a small hint of a fade can make a huge difference in the overall effect. This look is low maintenance on a day to day, but will quickly grow out. If this is the look you decide on, be sure to take this into consideration and prepare for haircuts often. 
Final Thoughts
Who knew there were so many ways to pull of a fade? I hope this expanded your horizons in the world of haircuts and excited a new look for you to try this year. It's about time we took the fade from the boys. Women do it best. 
Again there is a load of wiggle room with each of these styles, so don't be scared to mix and match. The perfect style for you might be somewhere in the middle. No matter what you decide, wear that fade with confidence knowing you are killing it!