3 Best Vanity Mirrors for 2022 Reviewed
Makeup is a powerful weapon that brings any look together. When properly applied, you'll walk out of your house feeling confident and ready to take on the day! However, it's often that high-quality cosmetics aren't enough to achieve the look you want. Sometimes you need a helping hand from a vanity mirror. 
A vanity or makeup mirror gives you proper lighting. This makes sure that your foundation isn't going to look super dark when you walk out the door. The worst thing is when our skin tone doesn't match that of our neck! This happens because indoor lighting tends to be darker than natural light. You may love how your makeup looks indoors, but when you walk out the door, it's a different story.
Along with the lighting, a makeup vanity mirror offers users a zoomed-in view of their skin. Many models have magnification options. For instance, a dual-sided mirror will be for an up-close reflection on one side and a normal one on the other. This means you'll be able to focus on the details. 
In this post, we'll share with you how to land an amazing vanity mirror. With the hundreds of options around, we help you narrow down your shopping decision with this guide.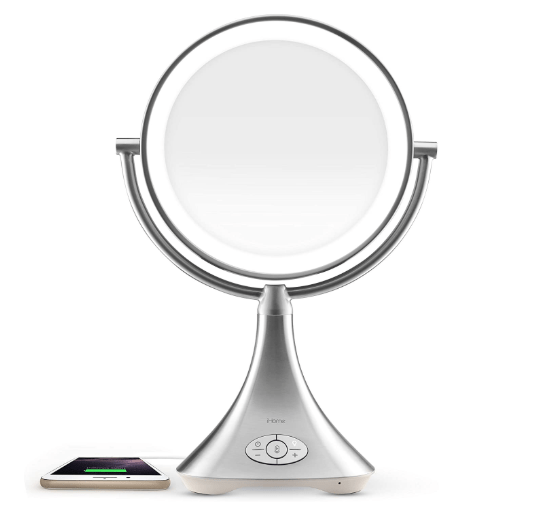 1. iHome All-In-One Mirror
Pros
-High/low light settings 

-Plays music via Bluetooth connection

-USB Charging port for phones

-Integrated speakerphone 
Vanity mirrors are amazing tools used for makeup, hair, skincare routines, among so much more. With hundreds of models on the market, it can be challenging to find one that does it all. Lucky for you, we've found a mirror just as functional as it is aesthetically pleasing, and it's brought forward by iHome.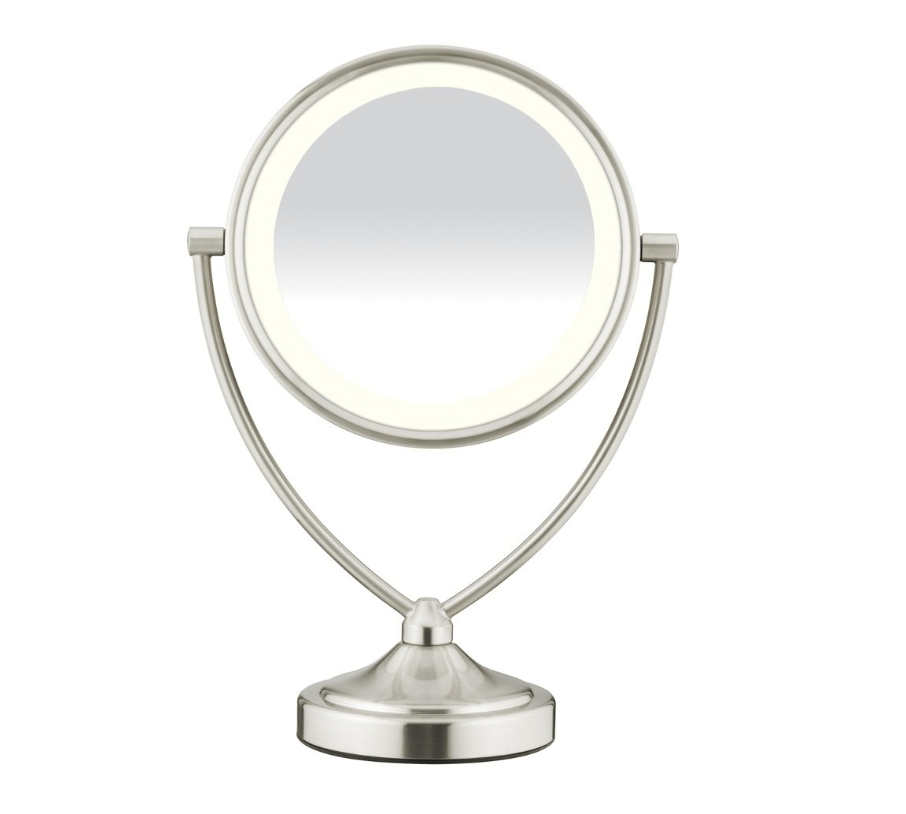 2. Conair Reflections Fluorescent Mirror
Pros
-360° rotating head 

-Two viewing magnifications 

-Fog-free viewing 

-Energy-saving fluorescent bulbs 
Cons
-Only has one light setting 

-Moderately expensive
Conair has been around since 1959. They sell hair accessories and styling tools – many of which are top sellers in the beauty industry. Among their innovative appliances, they have a line of vanity mirrors perfect for makeup artists and enthusiasts all in different colors and styles.
3. BESTOPE Makeup Mirror
Pros
-Wallet-friendly option 

-Designed with 21 LED bulbs 

-Portable and lightweight 

-Includes small tray table 
Cons
-Magnifying panels are small
Since BESTOPEs founding in 2013, this brand has been known for its professional cosmetics and accessories. They have grown to be a global brand, and we are here to shine some light on their line of vanity mirrors. If you're a makeup lover, you'll love the BESTOPE Makeup Vanity Mirror as it'll make your life easier, more interesting, and enjoyable! 
What to look for when buying a Vanity Mirror
What is a Vanity Mirror? 

A vanity mirror (often referred to as a makeup mirror) is meant to be used every day for personal grooming. Most of the time, they offer different magnifications. These close-up reflections make it ideal for treating problem areas, tweeze the eyebrows, or achieve that perfect winged liner. 

In short, a vanity mirror is designed for essential use, like doing your makeup, hair, or simply checking your appearance. Not only are they functional, but they can be very attractive. They come in different shapes, sizes, and styles to suit your home. Many of them also have lights to give you the best reflection possible. 

Benefits of Using a Vanity Mirror 

A vanity mirror offers several benefits. Here are 3:  

1. Better Lighting

Do you ever walk outside only to find that your foundation is too dark, but indoors it looked just fine? Perhaps you also notice that you missed a few hairs when tweezing your eyebrows, and you wish you had time to run back inside and fix them. 

This is because natural light will always give you a clearer view of your skin and makeup. The standard lighting in your bathroom does not offer this, and if we know one thing, you need great lighting to achieve a great makeup application. 

Light always matters when doing your makeup. With an LED vanity mirror, you're able to adjust light settings to daylight or night-time. This makes sure you're ready to go at any time of the day! 

2. Magnification 

Standard mirrors won't show you your blemishes or imperfections. If you wear glasses, you'll most likely need them on when applying lipstick! A lighted makeup mirror does the complete opposite. They offer magnifying features that zoom into your skin. With these tools, you're able to see every inch of your face clearly. 

This is also an excellent solution if you're tweezing your eyebrows. Pairing the magnification with the lighting, you'll be sure to get even the shortest of hairs. These beauty accessories are also great to have if you're trying out a new look. Perhaps you want to apply some bronzer or contour your face. This is made very difficult without proper lighting or magnification.

3. Portable and Easy to Use

The mirrors we've reviewed above are compact, which means you can easily travel with them. If you're getting ready at a friend's house or want to do your makeup in another area of your house, simply pick up your mirror and take it with you. With a quality mirror, you'll receive a natural, fog-free reflection that will make you more confident about your makeup. 

Do They Use Much Energy?

Vanity mirrors do not use much energy, especially if you go with an LED option. LED lighting consumes less energy than incandescent bulbs and also release less heat. While incandescent bulbs may release 90% of their energy as heat, LED ones only release 12% of their energy as heat. 

LED bulbs also last a very long time, so you'll be sure to enjoy your mirror for many years. If you are looking for a long-term energy-saving mirror, LED is the way to go! Not only will they save you time and energy, but they are good for the environment! 

What Features Should I Look For?

There are a few things you need to look for when shopping for a makeup mirror. Use this as a checklist to help narrow down your shopping decision: 

-Size.

First and foremost, how big do you need your mirror to be? You need on that's big enough to meet your requirements but will fit in nicely with your vanity.

-Price.

 Do you have a budget? There are plenty of wallet-friendly options on the market. Consider how much you're willing to spend and look for mirrors that fit your needs. 

-Shape.

 Know what shape you're looking for. This will help narrow down your buying decision. Do you want a circle, rectangle, or oval mirror? 

-Magnification.

 Vanity mirrors offer different magnifying options. The higher the magnification is, the smaller the field of view. 

-Portability.

 The last factor to consider is whether the mirror is portable. If you plan on always doing your makeup at home, this isn't necessary. However, it is nice to have the option of taking it with you when traveling or getting ready at a friend's place.

 

Conclusion

A makeup mirror is a useful addition to your beauty routine. It will make sure your makeup is spot on and make your personal grooming rituals easier. The best vanity mirror for you will reflect natural light, be functional, and attractive! Get your lighted vanity mirror today by checking out our top 3 options!