3 Best Rusk Hair Dryers for 2022 Reviewed
Shopping for the perfect hairdryer takes more than just checking the price. Many people fall for enticing sales pitches and adverts that promise the best technology, only to disappoint when used. 
When shopping for a perfect dryer, you want a product that can de-frizz curls, straighten waves, and dry your hair in minutes. You have to check the heating speed to avoid wasting time waiting for the dryer to attain the desired temperature. It's also crucial to check the design and functionality of your dryer. Go for something lightweight with a sleek design; it will look good among your other styling tools and make you feel more confident. 
However, finding these qualities in one dryer is easier said than done. Because there are so many models and brands, the options are overwhelming. Therefore, it's important to check reviews to know what other users think about the product before buying one. 
Although there are tons of hairdryer models in the market today, RUSK products have proven to be among the best. RUSK products are designed with precision and innovation. The brand wants to give you a dryer that lasts long and brings great results without damaging your hair. 
In this RUSK hair dryer review, we've compiled some important features that will help you make the right decision when shopping for its blow dryers.
1. Rusk Engineering Super Freak Professional Dryer
Pros
– Powerful and quiet motor 

– Multiple heat and speed options

– Lightweight 

– 2 concentrator nozzles included 
Cons
– More expensive than other options
While most hair dryers promise amazing results, nothing is more disappointing than one that does not live up to the hype. A great hair dryer needs temperature options and airflow. It also shouldn't sound like a weed eater.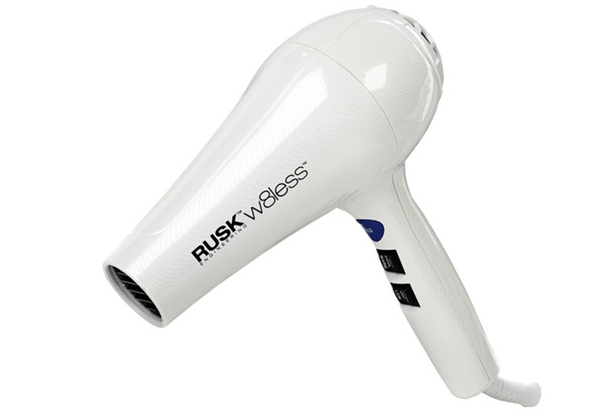 2. RUSK Engineering W8Less Professional Dryer
Pros
– Weighs less than 1lb
– Powerful
– Several heat and speed settings
– Far-infrared technology
– Advanced tech dries hair quickly and healthily
– Great for hair that takes longer to dry
– Inclusion of nozzle
Cons
– Some customer reviews question its value for money
If you have masses of thick hair, you probably dread 'hair wash day'. Settling down to the mammoth task of blow drying your hair, even after towel drying, can take up to an hour and involve a whole collection of products and tools. If this sounds like you – then you might want to take a look at the RUSK Engineering W8Less Professional hairdryer.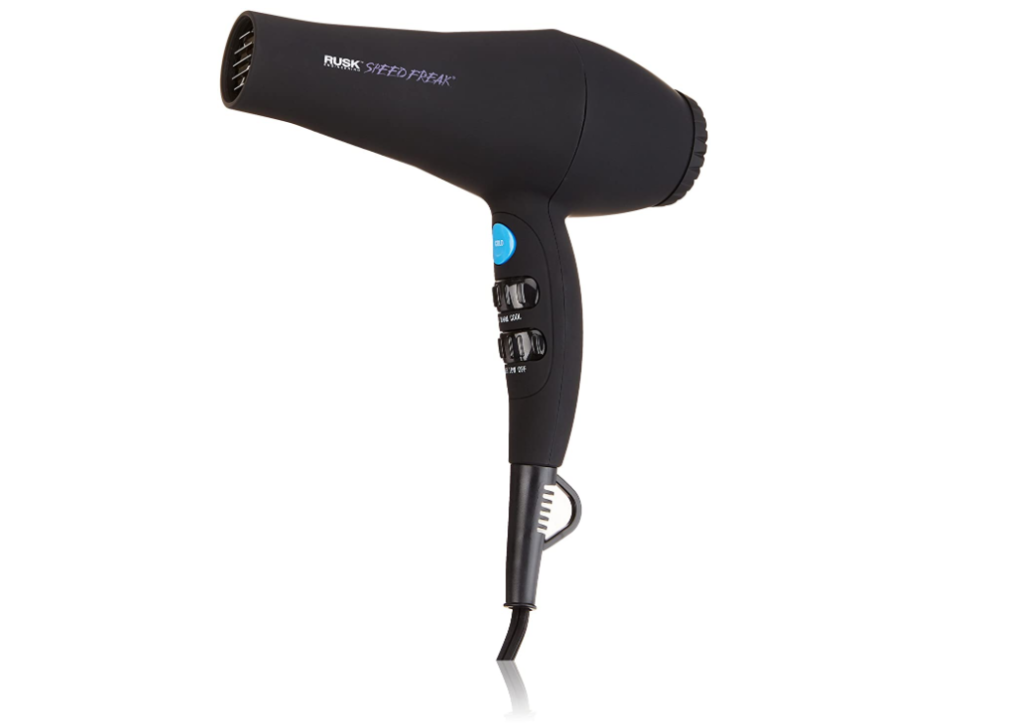 3. RUSK Engineering Speed Freak Professional 2000 Watt Dryer
Pros
– Sleek look (you can choose a pink or black product)

– Reduces drying time compared with other products

– Works well with hair of all textures, styles, and lengths

– Long cord
Cons
– Moderate price 

– Could be easier to adjust air flow
RUSK is a leading brand popular among professional stylists and amateurs alike. The RUSK Speed Freak Professional 2000 Watt Dryer helps you efficiently dry your hair so you can get where you need to go. Whether you're preparing for work or a night out on the town, this product will help you with your getting-ready routine. 
What you need to know before buying a Rusk Hair Dryer
Why Choose a RUSK Hair Dryer?

 

RUSK hair dryers provide salon-like results when drying hair after shampooing or conditioning. They come with the latest far-infrared technology to penetrate and dry hair inside out. You not only get a dryer that is comfortable to use but a product that also offers multiple features and satisfactory results. Some of the qualities that make RUSK hair dryers unique include: 

Materials

 

RUSK hair dryers' heating parts are coated with ceramic and tourmaline, which ensures heat is distributed consistently and gently when drying the hair. Here's what is so great about each: 

- When

ceramic

is used to coat the heating components, it helps the dryer detect the room temperature and regulate heat as required. This ensures the optimal amount of heat is produced during the drying process, which translates to faster drying and less damage to the hair. RUSK ceramic dryers reduce heat and speed up drying time.

- Tourmaline

is a semi-precious metal that is infused with ceramic to add more negative ions to the air, which makes it an upgrade from the traditional ionic technology. The negative ions produced by tourmaline trap moisture and eliminate frizz. This is the reason RUSK dryers make the hair shinier after drying or styling it. 

 

Functionality

 

RUSK dryers are ideal for any length, texture, or style or hair due to their wide range of uses. Whether you want to remove excess moisture, create volume, or make waves, these styling tools will give you the best results. 

The dryers heat fast and are ergonomically designed to dry your hair within a few minutes. The far-infrared rays produced penetrate the hair's outer cuticle to ensure it dries from the inside out. 

These products are professionally designed to offer comfort during use. The dryers are easy to hold, weigh less and come with a 9ft long power cord for extra convenience. They also come with multiple settings to help you tailor your blow dryer according to your hair type. The noise level is minimal, meaning you won't be distracting other people when styling or drying your hair. 

Whether you want to use a RUSK dryer for personal use or for working with clients, it will give you great service because it is so easy to use. 

Multiple heat settings 

When buying a hair dryer, you want a product that gives you the freedom to adjust the heat according to your hair type. For instance, thicker, denser hair requires the highest heat setting, while thin and fragile hair requires lower heat. 

All the products come with a cold button to ensure you get cool air to seal the cuticle and boost shine. A cool blast after blow drying gives your hair a great shine and helps set everything in place. 

RUSK dryers have seven heat and speed adjustable buttons. This makes it possible to increase or lower the strength of the wind. With these tools, you get multiple settings for any type of hair. Setting the heat is also not complicated; you will understand how the device operates within minutes. 

Wattage

 

The RUSK dryers have a wattage of 2000, which means more power and strength to dry your hair quickly. However, it's important ot know which wattage setting is right for you: 

- According to hair experts, people with easily damaged hair should go for a

high wattage

dryer with a minimum of 1800 watts. High wattage dryers are better because they require less heat to produce high strength wind.

- Low wattage

dryers, on the other hand, rely more on heat than air power. This makes them susceptible to burning out after using them for a given period. 

 

RUSK dryers have put these recommendations into effect by designing their products with a wattage of 2000. These products pack more wind power and don't easily burn out. This means less styling time and better drying. Your hair is also protected against the effects of excessive heat. 

Special features

 

 
- Sleek design

- The first thing you notice when you buy any RUSK blow dryer is its sleek and colorful design. These styling tools come in a variety of colors and shapes to capture the preference of every buyer. The manufacturer has put more emphasis on creating products that look and feel great. They also have a good grip to ensure you style your hair effortlessly.

- Powerful motor

- All the blow dryers come with a powerful motor that can produce high strength wind without requiring much heat.

Accessories

- Drying your hair without a nozzle attachment can make it frizzy. This is because when the air flows in all directions, it pushes the cuticle up. However, each RUSK dryer comes with a removable narrow nozzle. The nozzle is useful whenever you want to concentrate the airstream or focus on your roots for lift.

- Lightweight

- Weight is a major factor whenever you are buying a blow dryer. In case you are the kind of person who takes around 20 minutes drying and styling your hair, the last thing you need is a heavy tool. RUSK dryers weigh approximately 1 pound. This means you will not strain your hand when drying your hair. It also gives you an easier time when styling long hair. 

 

Conclusion

You don't have to go to work with wet or frizzy hair anymore! Having a RUSK dryer in your hair care arsenal will ensure you get quality results within the shortest time possible. These products are infused with ceramic and tourmaline to produce the perfect heating for healthy and shiny hair. Their lightweight and ergonomic design make hairstyling enjoyable and less of a hassle. 

Buy your RUSK dryer today to make your hair styling experience easier and better.