3 Best Remington Flat Irons for 2022 Reviewed
Did you know that hair straightening has been around since 1912? Individuals used two metal plates sandwiched between a center hinge that could be clamped and unclamped from the hair.
However, this device was dangerous because it was heated using fire. It could quickly burn and destroy the hair. 
Nowadays, flat irons are much safer thanks to advancements in technology! Since its a common practice to own a flat iron, people don't think about the origins of this hair styling technique. 
One of the industry leaders in the hairstyling product market is Remington. It's a reliable brand that makes innovative hair care tools accessible to everyone. Remington is well-known for its affordable products and the powerful technology 
For 80 years, the company has created practical tools that help people elevate their look and express their style through their hair. 
Remington believes that people should have the confidence to be themselves. The brand claims that its products can help people achieve this. 
One of its most popular categories of products is hair straighteners or flat irons. Remington flat irons are indisputably user-friendly. Read any Remington flat iron review, and you can tell they are good at what they do. 
These efficient tools are designed for easy heat adjustments and the ability to achieve different styles. Sometimes, they allow you to accomplish both straight and curly styles because of how the device is shaped. 
In this comprehensive guide, we'll share all the essential features and pros/cons of 3 flat iron models by Remington. Read on to find the best Remington flat iron for you.
TOP 3 Remington Flat Irons
1. Remington S8598S Smartpro Sensor Technology Flat Iron
Pros
– Attractive design

– 15 second heat-up time

– Oil infused plates for conditioning

– Easy-to-use

– Great value
Cons
– There may be a learning curve for some users when using it for the first time
The S8598S Flat Iron from Remington has quickly become a popular item for beauty and cosmetic enthusiasts from all over. This product is made with Smartpro Sensor technology, which gives it a wide array of exciting capabilities, including hair moisture monitoring and temperature control.
2. Remington Pro Pearl Ceramic Flat Iron
Pros
– Nine heat settings 

– 450 Fahrenheit salon level heat option

– Auto-shut off

– Heats in 15 seconds 

– Pearl-infused technology 
Cons
– Some reviews indicate durability issues
A great flat iron is a necessity for people who strive for a neat and smooth look. A flat iron that can be used to achieve waves, curls or straight hair is even better.  
Is the Remington S9520 Pro 2″ Pearl Ceramic Flat Iron one of those products?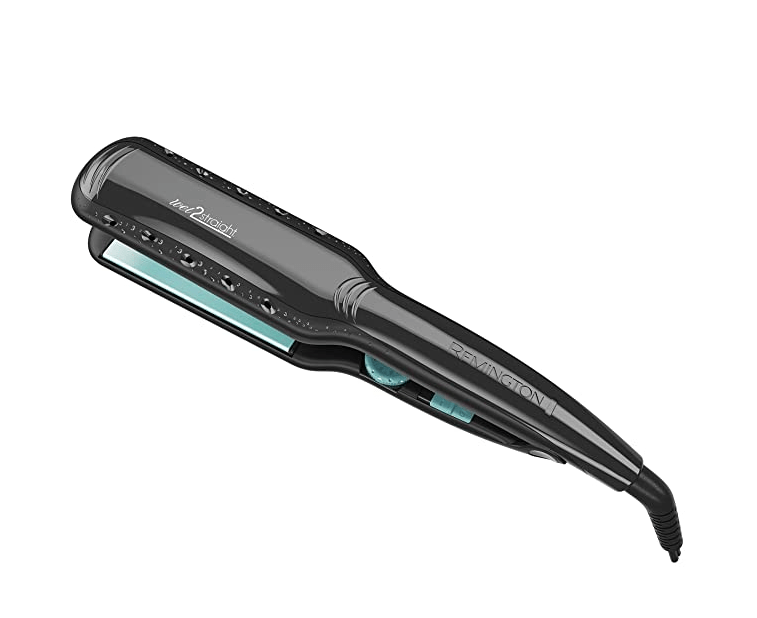 3. Remington Wet 2 Straight Flat Iron
Pros
– Ceramic Plates

– Steam Vents

– Wet 2 Dry Capabilities

– 30 Heat Settings

– Well Priced
Cons
– Must Be Plugged In

– Auto Shut Off After 60 Minutes
Remington continues to innovate when it comes to the world of hair care. In their latest line, one that focuses on Wet 2 Straight styling, the S7330A model stands out. 
The S7330A Wet 2 Straight Iron comes with an amazing 30 heat settings and can crank the heat to up 420 degrees, to give you beautifully sleek straight hair. In fact, with that much power, the Remington S7330A can take on any hair type or texture.
What you need to know before buying a Remington Flat Iron
Why Choose a Remington Flat Iron?

 

Flat irons are comprised of many different features that compliment certain hair textures and hair types. Depending on your unique mix of the two, one model may be better suited to you. 

There are several things to consider before choosing a flat iron. Here are some must-have's that Remington flat irons deliver on; 

Materials

 

You should choose the material of the flat iron you purchased based on your hair goals. Ceramic flat irons are suitable for people with fine hair that benefit from the heat-damage prevention features of the ionic plates. 

Ceramic flat irons are also known to be cost-effective. If you only plan to spend between $20 and $40 dollars, a ceramic or a ceramic coated flat iron would be the best pick for you. 

Titanium flat irons are high-heat conductors that work great when taming frizz of thick and textured hair. The titanium also resists corrosion.

The main difference between this type of flat iron and ceramic flat irons is that titanium is characteristically lightweight. Titanium straighteners are the best choice for people who struggle with frizz. 

Whatever material you choose, be cautious of products that contain formaldehyde. It evaporates and releases into the air when your flat iron reaches a high temperature. 

You may be inhaling that, which could cause lung issues. Always be cautious about the products you use and continue to make informed decisions. 

Power & Wattage

 

When you purchase a flat iron, one of the things you'll have to consider is what voltage you should choose. 

Dual voltage hair irons are perfect for travel. They work overseas as long as you have your adapter, and they can accept 110-120v, as well as 220-240v. 

If you are the type to bring your hair straightener everywhere you go, it's best to choose a model that can be used everywhere. 

Functionality

Flat irons should be equipped with a range of basic features. Remington flat irons use ionic technology to generate negative ions that keep frizz at bay. 

Remington flat irons also have adjustable temperature features. We'll touch on this a bit more later, but flat irons must allow you to control the heat so you can prevent damage to your hair. 

Heat Settings

 

Every Remington straightener is equipped with heat settings that make every product usable for people with different hair types. 

It's essential to take note of the difference between adjustable and fixed heat setting flat irons. 

Adjustable flat irons allow you to control the temperature so you can find what's best suited to your hair type. 

Some people choose to buy fixed heat setting flat irons because they plan only to straighten their hair. 

For example, fine or chemically treated hair can handle up to 300°. Healthy or medium-textured hair can handle from 300-380°, and curly, coarse, or thick hair can handle up to 350-450°. 

People in these groups might purchase a flat iron that only operates in one of those temperature ranges. 

If you have dry, brittle, or thin hair, it's best to avoid using heat altogether. If you do decide to style it occasionally, make sure you keep your flat iron on a low temperature. 

If you have thick hair that doesn't show any signs of damage, you should still be cautious when controlling the heat settings on your flat iron. 

You will need to use a higher temperature so you can straighten your hair correctly, but it may not be necessary to set your straightener to its max heat.  

Whatever your hair type is, Remington hair straightener tools feature various heat settings so you can achieve the hairstyle that best suits you without damaging your hair. 

Plate Size

 

The plates on a flat iron can vary in size from 0.5" to 2.5". The size that you choose to go with depends on what type of style you want to achieve. 

If you have shorter hair, a small plate size would be wiser because it will allow you to get closer to your roots. 

For long hair, a wider plate size would be more practical. Larger plates allow you to work quicker and prevent hand fatigue. These plates have a firm grip, which means they can straighten thick or coarse hair better. 

Special Features

 

Remington is continually releasing new models that feature new and exciting functionalities. Some models have features like almond oil infused plates, water moisture censoring technology, crushed pearl plates, and steam vents. 

Remington is an innovative brand with a unique line of products. You can easily browse their selection and find products catered to a diverse group of hair types. 

Verdict

 

Remington combines unique features to bring functional products to the market. At such an affordable price, we think you'll be more than impressed with the quality of every one of the company's products.  

If you consider things like crushed pearl plates, steam venting technology, water moisture sensors, and many other special features intriguing, then there are few reasons not to give one Remington products a try. 

Every flat iron is designed to distribute heat evenly so you can achieve a static- and frizz-free look every time. 

The devices are made from a lightweight body that does not tire you when you use the straightener for an extended period. If styling takes you a long time, you'll appreciate a lightweight flat iron.

You'll be impressed by the smooth and durable plates, ergonomic design, fast heating times, and more. These products are designed to straighten hair quickly without tugging at it or causing irreparable damage. 

We hope you found this Remington flat iron guide to be helpful! To check out some of our other guides, click here.