3 Best Paul Mitchell Flat Irons for 2022 Reviewed
Do you feel like you don't know how to style your hair? Have you been rocking that same messy bedhead all week? If you're getting bored with wearing your hair the same way every day, try giving yourself a makeover with a sleek, new hair style. You don't even have to run out to the salon!  
Flat irons are great tools to give yourself that glam new style you're looking for. They work by distributing heat through the hair evenly so your cuticles retain the moisture, giving you that supermodel shine. When you're shopping for your new flat iron, don't sacrifice your hair's health in the process. In order to save yourself the frustration of burnt out plates or flat irons that lose their heat, make sure to opt for a brand that promises the best quality.  
Paul Mitchell products are devoted to blending high quality materials with the latest innovative technologies to bring affordable, professional tools into the home of every beauty enthusiast. Because of this commitment to professional-grade quality, there's a flat iron available to compliment any hair type. Below, we've covered some of Paul Mitchell's best flat irons for 2020 so you can make the right purchase.
TOP 3 Paul Mitchell Flat Irons
1. Neuro Paul Mitchell Smooth Flat Iron
Pros
– Titanium material helps smooth hair

– Adjustable temperature controls

– Smartsense microchip for heat recovery

– Swivel cord for ease of use

– 1.25″ plate for quick styling

– Dual voltage for worldwide use
Cons
– Nothing – it has everything!
The Neuro Paul Mitchell Smooth flat iron is one of the best tools to smooth, curl, or even style beautiful waves. This 1.25″ high-quality flat iron is made of titanium and features several customizable controls to style every hair type effortlessly.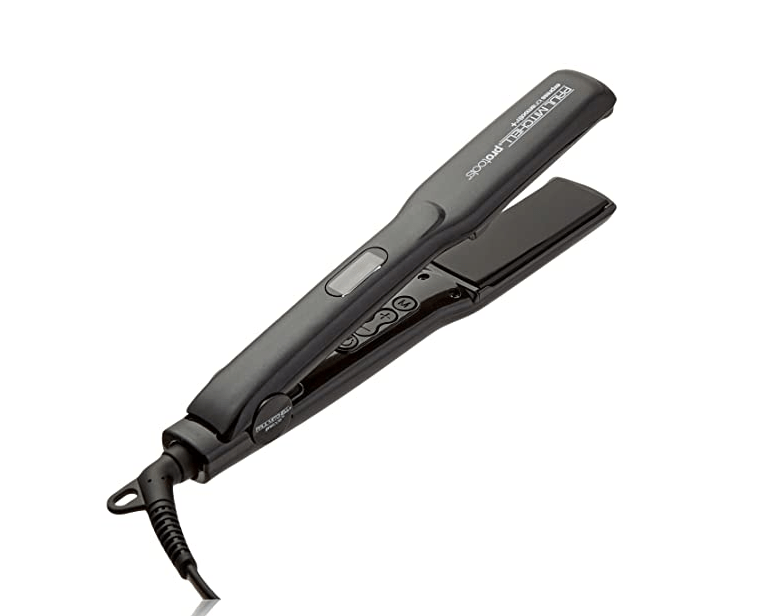 2. Paul Mitchell Pro Tools Express Ion Smooth+ Flat Iron
Pros
– Negative ions and infrared heat smooths hair quickly and gently

– Slim, wide plate design for covering optimal surface area

– Digital temperature control with LED screen

– High customer ratings
Cons
– High demand

– Higher price tag

– Some of the irons do not dry wet hair
Paul Mitchell Pro Tools are a part of the John Paul Mitchell Systems, a brand designing professional tools for stylists and beauty enthusiasts alike. The Paul Mitchell Smooth Flat Irons stay true to the Paul Mitchell promise of salon-quality products.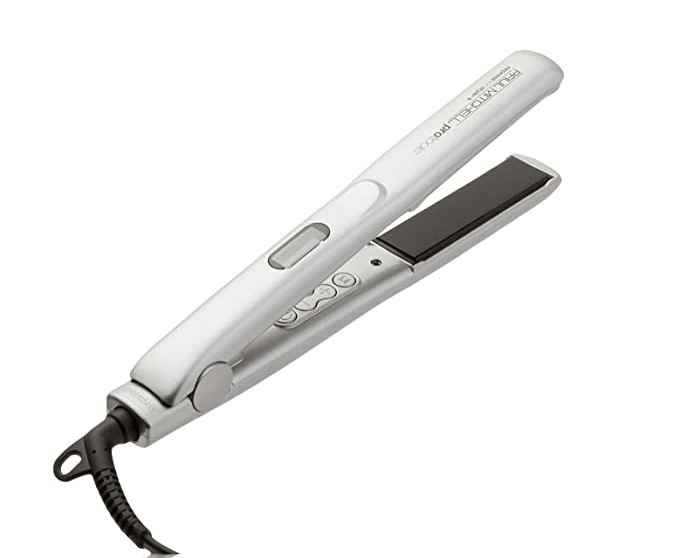 3. Paul Mitchell Pro Tools Express Ion Style+ Flat Iron
Pros
– Lightweight (1.3 pounds)

– Offers styling versatility due to ceramic plates

– Gives salon-quality shine and feel

– Heats within a few seconds

– Infrared technology to retain moisture and seal cuticle

– Provides even distribution of heat

– Great design

– One-hour auto shut-off for safety and saving energy

– Preset temperature button with LCD

– Grabs hair perfectly

– Long-lasting and ideal for home and professional hairstyling

– 9-foot electric cord for convenience 
Paul Mitchell Pro Tools Express Ion Style+ is a great tool whenever you want salon-like curls and waves. It incorporates infrared technology to give you quick and consistent results. You will get shiny, silky and frizz-free hair in a few minutes.
What you need to know before buying a Paul Mitchell Flat Iron
Why Choose a Paul Mitchell Flat Iron?

 

Materials

 

- Titanium plates

on the Paul Mitchell Nano Smooth flat iron deliver fast heat transfer to your hair for quick, superior results. Because metal is an excellent conductor for heat, these titanium plates heat up quickly and withstand a higher temperature than other materials. Titanium plates are great options for anyone trying to straighten thick, coarser hair. The high ionic distribution gives the extra glossy finish that thicker hair needs after applying heat.  

- Ceramic plates

featured on the Paul Mitchell Express Ion Style + and Express Ion Smooth + flat irons provide even heat damage to minimize the chance of hair damage. These ceramic plates are designed with beveled edges to allow for styling versatility, like using your flat iron to curl your ends.  

- Express Ion Complex

is a blend of certain volcanic minerals coating the ceramic plates that delivers conditioning, negatively charged ions. This cuts down on the frizz that occurs from the breakages that happen to your hair cuticle from heat damage and excess static.  

- The

Premium heaters

in the ceramic plates provide an even heat distribution with every pass through your hair to minimize hot spots. 

- Negative ions

emitted neutralize the charge in the hair that occurs from heat treatment. This reduces static and frizz and leaves you with long-lasting smooth locks and no more static flyaways. 

- Far Infrared Technology

makes sure your hair is evenly heating from the inside out. This protects the cuticle of your hair against long term heat damage. This leaves with you with a healthy shine, rather than dull, fried strands that are stripped of natural moisture. 

 

Functionality 

Paul Mitchell flat irons come in a variety of plate sizes to allow you to find the most efficient styling tool for your hair.  

The devices' beveled edges give you smooth, polished ends without that clunky plate mark that fries your ends. They also allow you to be more flexible with the way you use your flat iron. The floating plates can be used to get a wave pattern in your hair as well.  

Maintenance and Safety: To keep your flat iron clean and free from damage, take good care of it. To clean the flat iron plates, first unplug the iron and allow it to cool. Then, wipe the plates down with a clean cloth. Never use any chemicals on the hot irons plates because it may damage them and remove the protective coating!  

Power and Wattage

 

All Paul Mitchell flat irons are powered with dual voltage for worldwide use. Now all you have to worry about packing is the straightener. That's one less appliance you'll have to plug into an adapter and one less blown out electrical socket!  

These flat irons are powered through a 9 foot long swivel cord. That will save you the headache of finding an outlet compatible to your nearest mirror! With that much length, you'll be comfortable to style your hair wherever, standing up or sitting down!  

Always be sure to unplug your Paul Mitchell hair straightener after you are done using it!  

Heat Settings

 

The most vital feature of any flat iron comes down to it's heat technology and various settings. In order to be compatible with many hair textures and lengths, Paul Mitchell flat irons come with a variety of heat features, ranges, and warm up speeds: 

- The Express Ion Smooth + heats up to 350 F in only 60 seconds. It also features a heat recovery time of 5 seconds if you notice any bumps and need to do a quick touch up before you're out the door! 

- The Express Ion Style + heats up to 410 F in just 60 seconds. 

- The Nano Smooth heats up to 450 F in only 30 seconds. 

 

The Express Ion Smooth + features a SmartSense microchip for lightning-fast heat recovery and even fewer passes for smooth results. 

When considering what range of heat you need your flat iron equipped with, consider your hair type and these temperature thresholds: 

- Fragile, very fine, or color-treated hair should use between 250-290 degrees F

- Fine hair should use between 290-330 degrees F

- Medium, textured hair should use between 330-370 degrees F

- Thick, wavy hair should use between 370-410 degrees F

- Coarse, very thick, or curly hair should use between 410 degrees F 

 

Special Features

 

 
- Negative Ions and Far Infrared technology

to protect against long-term heat damage

- SmartSense microchip

for speedy heat-recovery for touch ups

- One-hour auto shut-off

comes in handy on those mornings when you're running out the door and have a forgetful moment! 

- Digital controls

for temperature using an

LCD display

make these flat irons more accessible to everyone! 

- Dual voltage for worldwide use 
- 9 foot power cord

for convenient use in any situation!  

 

Our Verdict

 

If you are looking to incorporate a new look in your rotation of hairstyles, try taking your hair to dramatic new lengths! Flat irons can be great tools for big transformations like a super sleek look opposite from your usual bounce. They also can be great for quick touch ups to tousled, air-dried hair.

No matter the reason or style, flat irons come in a variety of materials and qualities. If you're looking to get fast, glamorous results without compromising your hair's longevity, look no further than a Paul Mitchell straightener. The Neuro Smooth, Express Ion Style + and Smooth + models effectively combine negative ion technology with infrared heat and even, ceramic heat distribution to deliver safe, stylish, and healthy hair. 

Check the prices on these models today!