3 Best Parlux Hair Dryers for 2022 Reviewed
When it comes to its range of hairdryers, Parlux prides itself on its simplicity, elegance, and respect. 
These values don't just inform the visual design of its dryers, which feature symmetrical shapes and consist of high-quality recyclable (and durable) materials. These ideals also inform their performance. 
Parlux blow dryers feature a design and construction that supports energy-efficiency as much possible, drying your hair in record time and saving the waste of excess electricity. 
If a brand's eco-credentials matters to you, then Parlux outshines many of its competitors. This brand builds its dryers with respect for the planet in mind. But when all of its dryers are eco-friendly, how can you choose which exact model is the best blow dryer for your hair? 
Your hair texture and styling preferences, as well as how often you'll be using your dryer, will all influence your decision. But don't feel overwhelmed—in our buyers' guide, we've put together all the information you'll need to know to find the Parlux hair dryer that best suits your needs.
1. Parlux 3800 Eco-Friendly Ceramic Ionic Hair Dryer
Pros
– Lightweight

– Ergonomic handle

– Durable material

– Efficient drying process

– Award-winning
Cons
– Significant price tag

– Both cord and the dryer itself are petite
The Parlux 3800 Eco-Friendly Ceramic Ionic Hair Dryer is not your everyday blowdryer. Just when you think you've got your go-to heat drying tool, the Parlux 3800 hairdryer comes in to prove you wrong. This compact, lightweight item designed with energy-efficiency in mind is the perfect addition to any beauty regiment.
2. Parlux No.385 Ionic Hair dryer
Pros
– Lightweight and easy to transport

– Promotes healthy hair free from static

– Reduced noise

– Two speeds

– Four temperature settings

– Instant cold shot button

– Energy efficient

– Built from recyclable materials
The Parlux 385 Hair Dryer is a high quality hair styling tool that has received overwhelmingly positive reviews from consumers. You can use this dryer to style hair of all types and textures. It has the added benefit of being lightweight and extremely environmentally-friendly. As a result, it dries hair faster than most other hair dryers currently available on the market, meaning that it significantly reduces total energy consumption each time you use it.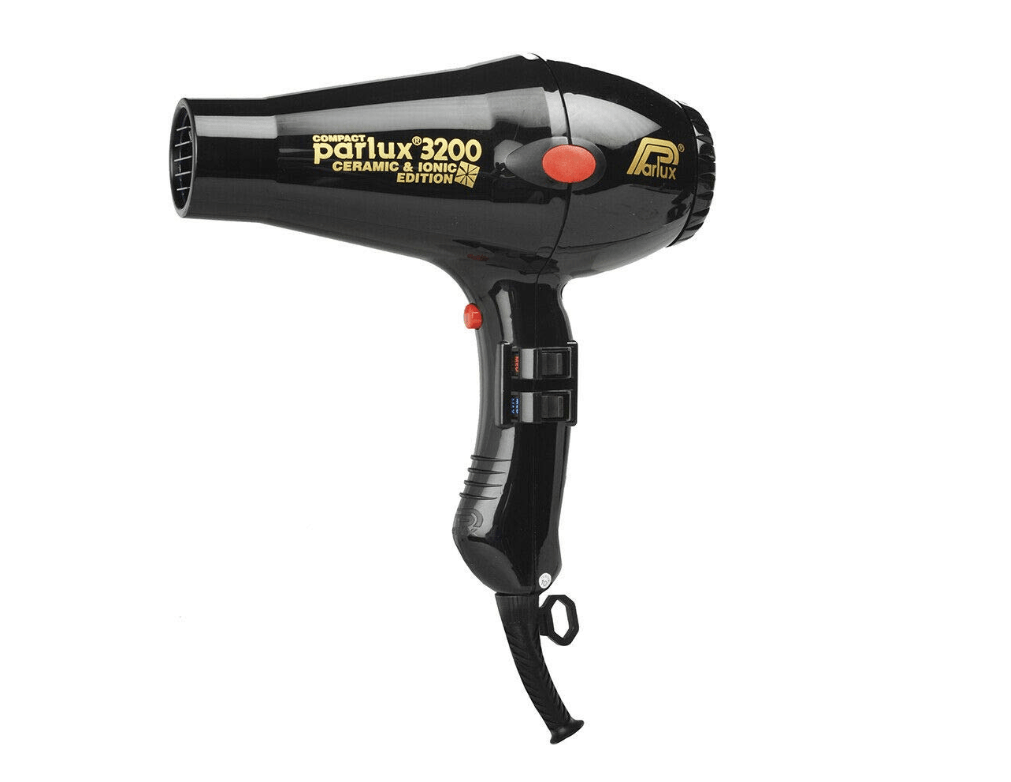 3. Parlux 3200 Ceramic Ionic Hair Dryer
Pros
– Two-speed settings to craft unique looks

– Thermal insulation to protect shelving

– Instant cold air operated by a microswitch

– Electronically balanced motor fan

– Safety thermostat so that you can maintain ideal drying temperature

– 2000 hour battery lifespan so you don't have to purchase another hairdryer right away

– 3-meter long cable so that you don't get caught up in the cord while drying your hair
Cons
– Product is not dual voltage, so you'll need an additional adaptor when traveling

– The hairdryer is a bit heavy at one and a half pounds, but works well and has a long lifespan
Parlux is a brand known for its innovative design. The Italian maker creates hairdryers that perform beautifully for professional hairstylists and users at home. With a global prestige, the Parlux 3200 Hair Dryer is among one of their most popular products. The salon tool combines a ceramic frame with extensive heat and speed settings to provide the optimal hair drying experience. 
What you need to know before buying a Parlux Hair Dryer
Why Choose a Parlux Hair Dryer?

 

Materials

 

Parlux selects the materials for its hair dryers based on two essential qualities: how durable they are and how easily the user can recycle them.  

Indeed, the brand is so confident in the strength of its materials that it describes the nozzle attachments of the Parlux Power-Lite Ionic and Ceramic Hair Dryer, the 3800 Eco-Friendly Ceramic Ionic Hair Dryer and the 3200 Ceramic Ionic Hair Dryer as 'unbreakable.' 

It's a bold claim, but many reviewers report that their Parlux blow dryers have withstood a variety of accidental drops, cracks, and knocks over the years. 

The durable plastic casings, designed to protect the internal components of the dryers, consist of recyclable materials to reduce the brand's environmental impact. 

Inside these Parlux hair dryers, ceramic and ionic technology helps to ensure the even distribution of heat throughout your hair, safely drying your hair from the inside out without causing damage. 

Not only does this stop the external structure of the hair from drying out before each strand has dried through, but it also helps to preserve hair's natural moisture. The result is hair that is healthy, soft, and shiny. 

Ceramic has been a popular choice within the hair industry for years—and Parlux swears by it. All of its hair dryers use non-metallic ceramic ionic technology. The material delivers frizz-fighting powers, making it one of the most prevalent in the industry. The negative ions produced by ceramic help to neutralize an excess of positive ions on your hair. The ion reduction helps to smooth flyaways, tame frizz, and reduce static. 

The Parlux hair dryers also contain an ion generating microchip within their mechanics. These consistently produce ions to optimize the devices' smoothing properties. 

Functionality

 

There's a reason why Parlux hair dryers are a firm favorite among hairstylists and salon owners. They don't just create impressive results—they also make the user experience as intuitive as possible. 

Are you fed up with bulky blow dryers that leave your wrist aching after ten minutes? As its name suggests, the Power-Lite Ionic and Ceramic Hair Dryer is a lightweight tool. Despite its lightweight construction, it will surprise you with its high power. 

Parlux made no compromises when it comes to its efficiency. It merely reduced the size of its internal compounds and motor to create a hairdryer with an incredible power of 2100 Watts. Not only that, but the whole thing weighs less than one pound! That's roughly half the weight of a conventional hairdryer. 

This lightweight but robust functionality means one thing: it is much more comfortable to hold for more extended periods.  

However, thanks to its quick-drying ability, you probably won't need to hold it for long. Many of its five-star reviewers on Amazon claim the Power-Lite enables them to dry their hair more efficiently than any other blowdryer they've used previously. With a guaranteed lifespan of 2,500 hours, you'll get years of usage out of yours. 

We've chosen these three Parlux hair dryers because of their user-friendly, lightweight design. The Power-Lite is the lightest. The 3200 and 3800 Ceramic and Ionic models certainly aren't weighing the group down, by any means. The 3200 weighs in at just 1.08 pounds, while the 3800 is the heaviest at 1.10 pounds. 

The hairdryers also feature an in-built silencer to reduce the level of noise during use. The reduction in noise pollution helps further Parlux's aim to respect the environment while making the dryer more user-friendly. 

This silencer is mainly to protect hairstylists, who could be using the tool on different clients for hours every day. However, it also makes the dryers more pleasant for you to use as an individual at home. 

Power and Wattage

 

- 3800 Eco-Friendly Ceramic Ionic Hair Dryer: 2100 Watts

- Power-Lite Ionic and Ceramic Hair Dryer: 1900 Watts

- 3200 Ceramic Ionic Hair Dryer: 2100 Watts

Although manufactured in Italy, Parlux's hair dryers are 110 V. The wattage means they only suit connectors in the United States and North America. They aren't dual voltage, so you'll only be able to use them outside these areas if you own a transformer.

Heat Settings

 

The 3200, 3800, and the Power-Lite all feature two speed settings (medium and max) and four different heat settings. The range means there's a temperature setting to suit most hair types, from fine and delicate to thick and coarse. 

An internal nickel-chrome heating element helps to control the heat settings. The mechanism helps to prevent overheating. A cold air microswitch (also known as an instant cold shot button) makes Parlux hair dryers perfect for cooling down and setting styles. 

Special Features

 

Parlux blow dryers boast a range of special features, all designed to make them safer to use and better for the environment: 

- 9 foot power cable:

The length of the hairdryers' power cable makes them very user-friendly. Unlike conventional 6 foot cables, these will enable you to plug in your dryer almost anywhere. At the same time, you can retain enough freedom of movement to reach every angle comfortably. 

- Two 'unbreakable' concentrator nozzles:

Parlux dryers arrive with two nozzle attachments. One is a wide nozzle to expand the flow of air (perfect for long, thick hair). The other is narrow, providing concentrated airflow to dry and style areas such as fringes. 

- Efficient K-Lamination engine

: Parlux uses a K-Lamination engine in all of its dryers, thanks to its long-lasting but lightweight motor. There is less friction in the K-Lamination than in most conventional engines, which means it can regulate (and prevent) overheating and ultimately use less energy. 

- Balanced design for comfortable grip

: The curved handle and evenly balanced nozzle mean these Parlux hair dryers are comfortable to hold. With a design that mirrors the contours of your hand, the easy-grip handle won't place additional strain on your wrist during use. You can use it for long periods at a time if necessary. 

 

Verdict

 

If you want an eco-friendly hair dryer that won't make you compromise on performance, choose a Parlux hair dryer. Lightweight, long-lasting, and powerful, these dryers will give you salon-worthy results that won't cost the earth.