4 Best NuMe Curling Wands for 2022 Reviewed
Curling wands seem to be all the hype since curling irons. The biggest difference between the two is that wands are clampless. This leads to crease-free curls, but more on the benefits later. 
The first step to owning a quality curling wand is knowing what to look for. This includes purchasing a tool that is easy to use, fits your price range, and, more importantly, is right for your hair type.
Today, we want to go over the top NuMe curling wands in 2021. This brand is a leader in the hot tools industry, so naturally, we wanted to see what all the hype was about. Keep reading to access 4 NuMe curling wand reviews along with how to narrow down the shopping decision.
This guide will go over 4 very popular NuMe curling wands. While they're all made from quality materials, they are each unique in their own ways. To find the right one for you, there are some features you need to consider.
Here, we'll go over these features to help you narrow down the shopping process and find the NuMe curling wand right for you.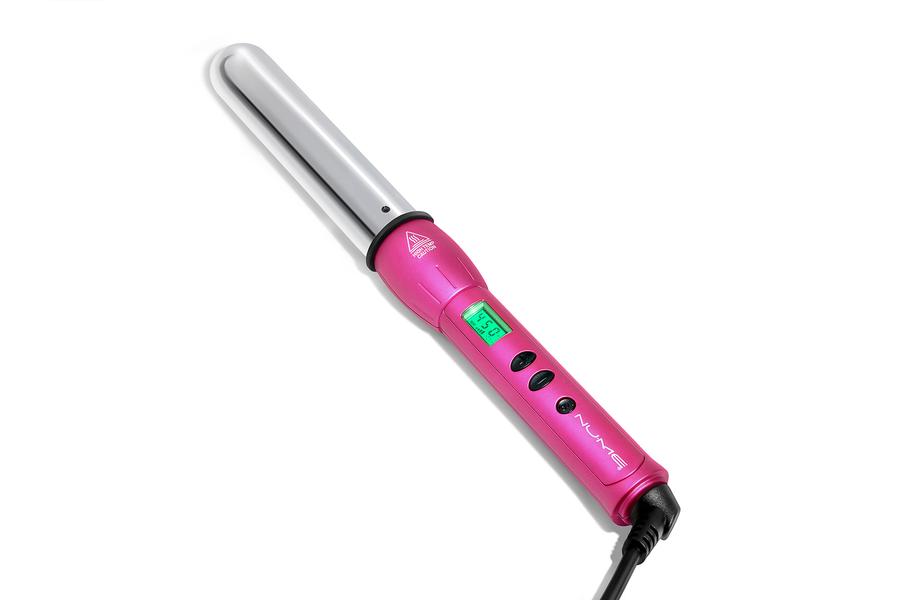 1. NuMe Magic Curling Wand
Pros
– Digital temperature display

– Great for all hair types

– Made from 100% titanium

– Long-lasting results
This curling wand offers ultra-smooth, effortless curls. The negative ion conditioning technology leads to shiny, frizz-free hair. Did I mention that it comes with a flexible 7-foot 8-inch cord?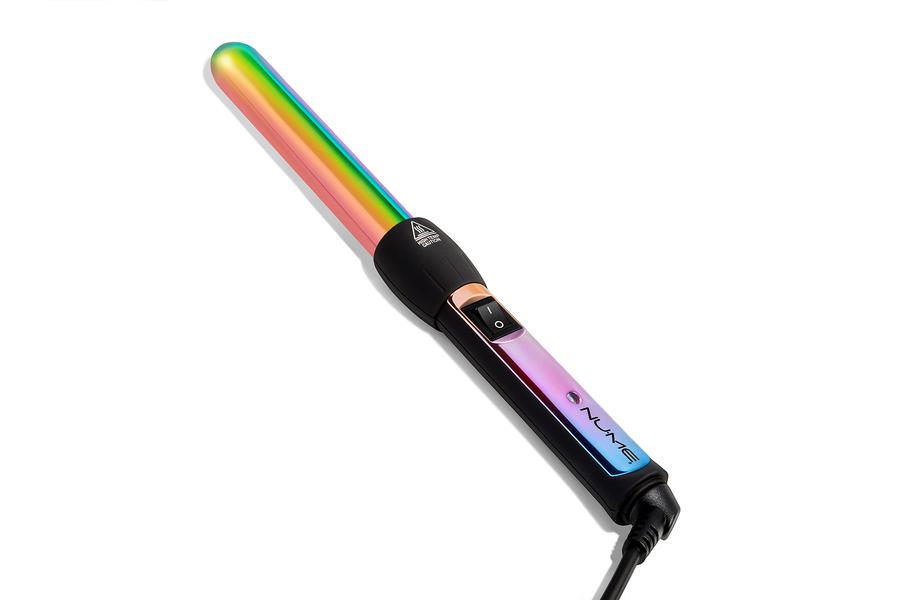 2. NuMe Love Wins Curling Wand
Pros
– 3 barrel size options

– Titanium barrel

– Beautiful rainbow color

– 1-year warranty
Cons
– Doesn't offer temperature controls
If you enjoy hassle-free hair experiences, this wand will excellently provide. Not only is it amazingly colorful and supportive of PRIDE, but it has the technology and innovation to support hair health and prevent damage.
3. NuMe Classic Curling Wand
Pros
– Lightweight 

– Clipless design 

– Rotating swivel power cord

– 6 Color Options

– Includes heat-resistant glove
Cons
– Doesn't offer interchangeable barrels

– Doesn't have an auto shut-off feature
I definitely would recommend this product for any person who struggles with frizzy hair and is looking to achieve silky curls with ease. I purchased the Mint Green color to go with the rest of my beauty accessories. However, it's also available in other colors like white, pink, or black.
4. NuMe Pentacle 2-in-1 Curling Wand
Pros
– 2-in-1 curling wand

– 100% tourmaline ceramic 

– Long and flexible cord 

– Reaches high temperature
Cons
– Bulky design 

– Requires learning curve
The key takeaway when reviewing the Pentacle Curling Wand is its 2-in-1 design. It was nice to switch from curls to waves in a matter of seconds. I will say this hot styling tool requires a bit of a learning curve but once you learn how to use it properly, styling will be a breeze.
What to Look For When Buying a NuMe Curling Wand 

Don't just go with the first (or cheapest) curling wand you come across. Doing so is a sure-fire way to damage your hair. Taking the time to do some research will ensure you land a quality hot styling tool that works wonders for your locks. 

Here are some things you need to keep in mind when browsing NuMe curling wands: 

Barrel Size 

The size of the barrel will determine the size of your curls. Do you want thin, tight curls or big, bouncy ones? Some wands come with interchangeable barrels offering more versatility when styling hair. 

If you have very thin hair, we recommend going with smaller barrels. Large barrels will create too loose of curls that won't last long on thin, flat hair. Now, if you have thick hair, consider a larger barrel since it will retain the shape nicely. 

Some barrels are also tapered. This means they get smaller as you near the bottom of the barrel. Others offer consistent thickness from start to finish. Tapered options tend to give more loose curls, where straight ones offer more defined spirals. 

The right one for you depends on the end look you're looking for and whether you have thin or thick hair. 

Material 

Tourmaline ceramic and titanium are some of the best materials you can go with when it comes to hot styling tools. They are the most popular and safest types of material. Fortunately for you, NuMe sells curling wands in both materials. 

Many hair professionals use titanium because of the lightweight and durability of this material. It can also hold high heat settings for longer periods of time, and it's ideal for thick hair types. Tourmaline is well-known for removing frizz and flyaways. It produces negative ions when heated. This gets rid of frizzy, unruly hair with minimum damage. 

Deciding on the material best for your hair is a great way to narrow down the shopping decision.

Cord Length 

NuMe is known for its generous cord lengths and 360 swivel features. Some cords are as long as 8 feet! This offers an easy way to style hair without worrying about the cord getting in the way or not reaching the outlet you need. 

Temperature Controls 

NuMe curling wands get very hot. Some can reach up to 410 degrees Fahrenheit. Always take a look at your curling wand's heat settings. Thick hair will be able to stand higher heats while thin hair needs a lower heat setting. 

Some NuMe models have adjustable heat that offers more flexibility. We noticed while using NuMe styling tools that the heat is maintained across the length of the barrel leading to consistent curls. Also, the heat-up times were extremely fast. This is perfect when you are in a time crunch. 

Benefits of Using a NuMe Curling Wand 

The biggest differentiator between curling wands and traditional curling irons is the barrel. Wands are typically clampless. This offers more natural waves with less of a crease. Some of these barrels are tapered, while others have the same thickness from top to bottom. 

NuMe curling wands are also lightweight and boast a long, flexible cord. Both factors are necessary for an easy hairstyling process. A light tool prevents your hand from getting tired, and the long, swivel cords make sure you don't get all tangled up while curling your locks. 

Finally, the last benefit we'll cover is the price of NuMe curling wands. These hot styling tools are very affordable, and NuMe runs sales throughout the year, so you're always guaranteed a good deal, especially considering the quality materials these tools are made from. 

Whatever your budget, there is a NuMe hot styling tool out there for you.

Which NuMe Curling Wand is Right For Me?

The right NuMe curling wand depends on your likes and needs. If you have very thin hair, you want to go with a tool that will let you adjust the temperature controls. If you struggle with frizzy, unruly hair, make sure to invest in a wand that combats frizz in the process of curling. 

If you're someone who is always in a hurry and tends to leave hot styling tools on, go with one that has an automatic shut-off feature. Lucky for you, NuMe wands are designed for all hair types, so you'll have a little problem selecting the best one for you. 

Conclusion 

We've reviewed 4 different curling wands, all made by NuMe. Be sure to check them out if you haven't done so already. Each is unique in terms of barrel size, color, material, weight, and cord length. Keeping the above in mind will make sure you land the curling wand that is right for you.