3 Best IPL Hair Removal Devices for 2022 Reviewed
Shaving, waxing, epilating, laser hair removal – there are so many different ways to get rid of unwanted hair. The question is, which method is the best one for you? 
Nowadays, many women are incorporating IPL systems into their beauty grooming routine. Effective and gentle, this hair removal method makes the process of getting rid of unwanted hair easy. Not to mention, it's less expensive, messy, and less painful than other methods around. 
You'll find that when compared to these other methods, IPL offers a more permanent solution for body hair. Removing hair on legs, underarms, or bikini area is pain-free, affordable, and doesn't leave a mess to clean up later! These devices have been on the market for many years now. They will zap away at your hair follicles and can be used right in your home! 
Unwanted hair is now a thing of the past, thanks to IPL devices. Use this buyers guide and our IPL hair removal reviews to land the best device for you! 
TOP 3 IPL Hair Removal Devices
1. Braun Silk Expert
Pros
-SensoAdapt technology prevents skin damage

-Hair reduction in only 4 weeks

-Sonic body exfoliater included
If you're tired of having to regularly shave, wax, or epilate your skin, it may be time to consider a more permanent hair removal method. IPL devices offer similar results to those of professional laser hair removal treatments at a much lower price.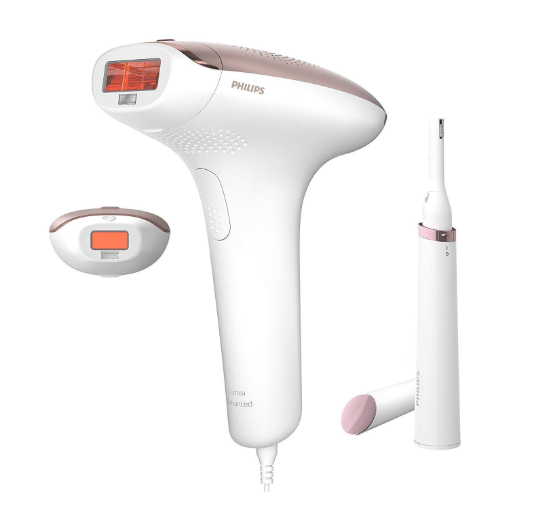 2. Bri921 Philips Lumea
Pros
-Long-lasting permanent results

-Reduces hair growth by 85%

-Facial trimmer included 
Getting rid of unwanted hair is now a thing in the past, thanks to the one and only Bri921 Philips Lumea IPL. A great alternative to shaving and waxing, this hair removal device offers up to 3 months of smooth skin. In only three treatments, users will enjoy a significant 85% of hair reduction.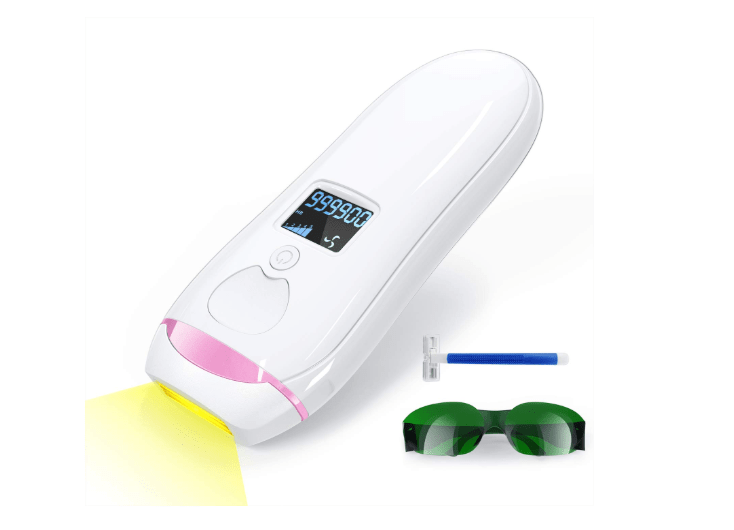 3. Lubex IPL Hair Removal Device
Pros
-Wallet-friendly option 

-Hair free skin after 8 weeks 

-Customer service available 24/7
The Lubex IPL hair removal device mimics expensive laser hair removal treatments, and we must say it does a great job! With this small gadget, anyone can enjoy a quick and comfortable hair removal treatment right at home. Not only is this handheld device affordable, but it offers fast and permanent results. 
What to look for when buying an IPL Hair Removal Device
What is IPL Hair Removal?

IPL (Intense Pulsed Light) devices are used to offer anyone a safe and effective hair removal. These devices use a strong, intense beam of light that targets dark pigment around hair follicles. The dark pigment is very dense at the hair root and absorbs the light pulse from the IPL machine. The heat energy delivered damages the hair follicle and reduces hair regrowth. 

IPL laser hair removal is an effective and permanent hair reduction solution for all body hair types. Please note that this hair removal method isn't for everyone. It's only suitable for those who have dark hair and fair skin. Since these systems target dark pigmentation, there has to be a contrast between hair color and skin pigment. 

What are the Differences Between IPL Hair Removal and Laser Hair Removal?

IPL and laser hair removal have a few significant differences, the main one being the type of light used. IPL uses a broadband pulsed light source while laser consists of a monochromatic coherent light source. Both methods target skin pigment and melanin within the hair follicle. 

Other differences include: 

-IPL is more affordable.

These small machines can be used from the comfort of your home. It's a one-time purchase as opposed to several visits to a salon. 

-IPL is more convenient.

With an IPL device, you don't have to move your schedule around to attend your salon appointment. You can remove hair anywhere, anytime.

-IPL is more comfortable.

Hair removal done in the privacy of your home is ten times for comfortable than going to a salon. 

In short, an IPL hair removal machine is made for anyone to use at home. Laser hair removal requires a skilled and trained laser operative. It's true that IPL takes longer to see results than with laser; however, at the end of the day, results will be very similar. IPL has the advantage that it's less expensive and can be used from the comfort of one's home.

Are IPL Devices Safe to Use at Home? 

Yes, IPL devices are safe for at home use. They are designed by dermatologists to offer a safe, convenient, fast, and effective way to remove unwanted hair. The best IPL hair removal devices will use simple controls that absolutely anyone can navigate. 

Any quality model is also designed with a skin contact sensor that makes sure the very intense light being emitted is released only when the sensor makes sure the light window is fully covered. Without this sensor, users run the risk of causing serious damage to the eyes.

How Do Personal IPL Devices Compare to Salon Treatments?

IPL devices compare to professional salon treatments in a few ways. Let us break it down for you. 

Design

Both IPL and salon treatment devices aim to do the same thing: remove hair. The main difference between the two is the size and complexity of the machine used. Salon treatment devices are usually more powerful and complex; therefore, they require a professional to use it. IPL machines are smaller and designed to be safe for at home use.

Results

You will achieve faster results if you go to a salon because of the size and power of the laser hair removal device. An at-home IPL device is much smaller with simpler controls. This handheld device is designed with the general public in mind. As long as they read user instructions, anyone can operate this device. 

Cost 

Hand in hand, faster results mean a more expensive option that an IPL device. Keep in mind that these machines must be operated by a trained, knowledgeable professional, adding to the final cost of laser hair removal. It will always be cheaper to use an IPL device versus seeking a salon treatment. 

All in all, you'll get amazing results from both an at-home device or professional treatment – the deciding factor for most people is the price! 

What Features Should I Look For in an IPL Machine? 

With dozens of IPL machines on the market, it can be difficult to find the best one for you. Before you purchase an IPL system, consider the following features: 

-Skin Contact Sensor.

IPL devices emit very intense light. A skin contact sensor makes sure the light window is completely covered before releasing the light flash. This is vital to protect your eyes from this bright light. 

-Skin Tone Detection.

To avoid skin damage, skin tone detectors will only activate when it senses a suitable skin tone. Some devices are even able to set the right light intensity for your skin tone. These are more popular since they're more advanced.

-Attachment Caps.

These caps are used for smaller areas like the bikini line, facial area, or underarms. Their purpose is to offer precise body hair removal in specific areas.

-Light Intensity.

You need a device that lets you adjust the light intensity. This will ensure the safe operation of this machine on your skin. You can change the settings depending on the treatment area, skin type, or sensitivity. 

-Single Flash Mode.

Single flash treatment modes give off one single flash when you click a button. This mode is ideal for small areas like the underarms, face, or knees.

-Multi Flash Mode.

Then you have the multi-flash mode, which releases more than one flash in a row. This option is great for larger areas like the back of your legs.

Before you invest in an IPL device, you need to ensure it has the features you need. The more advanced ones on the market will offer all the above features resulting in a safer to use, more effective device. 

Conclusion 

Hair removal at home is less expensive and more comfortable than going to a salon. Surprisingly, you'll be able to achieve similar results with an IPL hair removal device. Doing this yourself will save you quite a bit of money! It will take longer than going to a professional salon; however, because of the huge difference in pricing, it's worth it for a lot of people. 

An IPL device offers a great way to get rid of body hair. Whether you're looking for a more permanent solution than shaving, waxing, or epilating, this is a suitable method for you!