3 Best HSI Flat Irons for 2022 Reviewed
Choosing the right hair flat iron can be daunting – there are so many – but with HSI hair straighteners you can't go wrong. Leaders in hair styling tool design, HSI Professional pride themselves in conveying salon-quality hair styling products, tools, and treatments to you for your home hair-care routine. HSI Professional is recognized internationally and you can get their products from around in the world. 
Made in the USA with the best resources, HSI's products are designed to repair, revitalize, and add extra health and vigor to your hair. The products are created with advanced modern technology to provide the best hair care. HSI Professional is also a brand that provides salon quality at affordable prices. 
HSI is constantly updating its product line to be in line with what their customers want. The brand's hair straighteners are designed to reduce common problems such as hair frizz, dryness, dullness, and styling that doesn't last. HSI's styling tools are durable, easy to use, a pleasure to travel with, and they are designed to create long-lasting results.   
TOP 3 Best HSI Flat Irons
1. HSI Professional Ceramic Tourmaline Ionic Flat Iron
Pros
– Salon-grade

– Easy to use

– Comes with 5ml travel-sized argan oil leave-in conditioner

– Adjustability

– Optional protection plan
Cons
– Some users report frizzy hair shortly after ironing it
Hair trends come and go, but straight and shiny hair is a classic beauty staple that will never go out of style. While some of the flat irons on the market are well-made and functional, others are known to burn hair and not deliver a professional straightened look.
2. HSI PROFESSIONAL GLIDER
Pros
– Evenly distributes heat so you spend less time straightening and more time enjoying life

– 110/220 dual voltage for travelers

 – Adjustable temperature range from 140 to 450 degrees Fahrenheit
Cons
– Nothing! – works for any hair-straightening occasion 
The HSI Professional Glider is a salon ready hair straightener that creates dramatic results for even the frizziest hair. With minimal effort, the flat iron straightens, flips, and curls all hair types. The product is suited to work with a variety of products used in salons or at home.
The product is from the company HSI Professional, which has been in the hair care industry for many years. The particular model under review today is the Ceramic Tourmaline Ionic Flat Iron Hair Straightener. Without further ado, here is the 2020 complete review.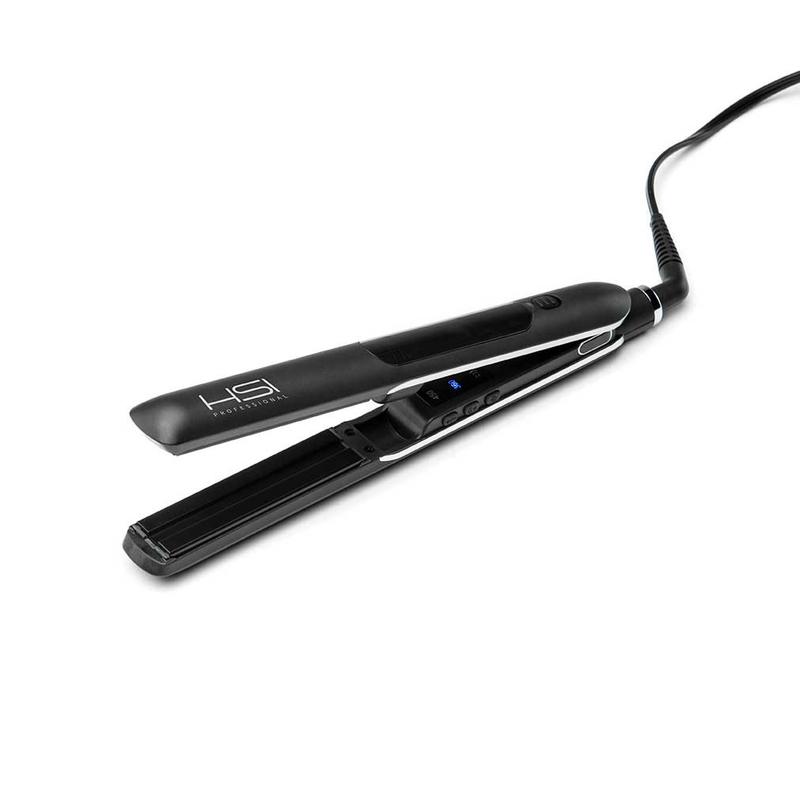 3. HSI Professional Ceramic Glider Flat Iron
Pros
– High-quality design 

– Ionic ceramic tourmaline-coated plates

– Reduces frizz and static

– Built for durability and lasting results

– Comes with HSI's Argan Oil Liquid

– Comes with an Argan Oil Hair Treatment sample
Cons
– Only

two heat settings either 360°F or 450°F
HSI Professional prides itself upon delivering salon-grade styling appliances to stylists all over the globe. Their tools are all subject to stress-testing to ensure their robust design and enduring results.
What you need to know before buying an HSI Flat Iron
Why Choose an HSI Flat Iron?

 

Beauty and hair care enthusiasts will find that HSI Professional hair straighteners are a trustworthy and effective hair styling option. The hair straighteners are heavy-duty and leave you with long-lasting style results.

HSI certainly do not cut any corners when it comes to their products. Their flat irons are created with quality resources, are user-friendly, have enough power to do the job without damaging your hair, and come with a delightful array of special features and extras. 

The hair straighteners normally also come with a one year warranty. So even if something does go wrong you can rest assured that you will not have to spend money out of pocket to sort out any problems during the guarantee period. 

If you are seeking a quality hair straightener and a product that can do the job, HSI Professional Flat Irons are worth their salt. 

Materials

 

HSI Professional uses a variety of novel materials to create that sleek hair look that never goes out of style. The product designs are aesthetically pleasing and look very professional on your dressing tabletop. 

One of the most remarkable material features of the HSI flat irons is the Tourmaline crystal ion and ceramic plates. These boast eight micro sensors to monitor temperature, which reduces hair damage and leaves a very smooth finish. 

The plates themselves, as well as the casing of the iron, are designed to be tough and long-lasting. 

Functionality

 

HSI flat irons are recommended for being easy to use as well as doing the job quickly. All the HSI products are therefore great for an on-the-go lifestyle, which most of us live nowadays. 

Several of the HIS hair straighteners have more than one function. The flat irons with multiple functions can flip, straighten, or curl your hair in a jiffy. There are loads to choose from so that you can find the perfect product for your needs. 

Some of the other pros of the HSI flat iron functionality include: 

- At normally about one pound in weight, an HSI hair straightener is light, making for easy and convenient travel plus no more arm ache when styling your mane.

- Quick and simple to use.

- Wide range of temperature (140 to 450 degrees Fahrenheit) to get the perfect setting for your type of hair.  

- Leaves hair shiny, straight, and looking hydrated.

- Heats up quickly (in about one minute) to eliminate wasting time while waiting for the tool to heat.

- It does not smoke when used like other irons.

- The irons sport several advanced technological features to get the best results (check out the special features section below for more).

- The flat irons feature user-friendly no-tangle cords.

 

Power and Wattage

 

You will find that the HSI Professional range comes with just the right amount of heating power to do the job. You won't have to wait long for the flat irons to heat up – just a few seconds. 

A fantastic feature is that most of the HSI Professional flat irons come with 110/220 World Wide Dual Voltage. This means that you can use it anywhere you go, locally or internationally. What a pleasure. 

Heat Settings

 

Many of the HSI flat irons, such as the HSI Professional Tourmaline have wide temperature ranges so you can choose exactly the right setting. The adjustable temperature settings can range from 140 to 450 degrees Fahrenheit. 

The hair straighteners also feature advanced technology for thermal protection and heat balance. 

Special Features

 

HSI Professional spoil their buyers with their special features. With each and every product there is something surprising to look forward to when you open up the box. 

Hair Treatments Included

 

Many of the HSI products come with hair treatments. Most of the styling tools include an Argan oil treatment to stop your hair from drying out. Known for its properties to boost hair health, the Argan oil treatment contains vitamins A, B, C, and D. 

Extra Accessories

 

Many of the HSI flat irons come with a few extra bits and pieces when you buy one. For example, the Glider Ceramic Flat Iron and other straighteners come with a style guide packed with tips on styles you can achieve, a heat-resistant glove to stop you from burning your fingers when styling, and an Argan oil hair treatment specially designed by HSI. 

The flat iron also comes with a beautiful silk drawstring case to protect it when traveling.

Other special features of the HSI flat iron line include: 

- Several products have a no tangle, 360-degree swivel cord.

- Many products additionally have an extra cord extension so you can reach most plug points.

- Some of the products feature Tourmaline crystal ion and ceramic plates to yield the silkiest of finishes.

- Eight micro-sensors are present in the Tourmaline crystal ion and ceramic irons to constantly monitor the temperature and stop the damage of your hair. This blend produces negative ions, which allow small molecules of water into each hair strand to minimize static and frizz.

- Heat balance and thermal protection technology.

- Some products have a built-in steam feature. This emits steam that adds extra moisture to your hair. The Argan oil treatments that are usually included in the purchase can be used with this feature by adding it into the steamer component on top of the flat iron.

- The irons have adjustable heating so you can get the temp just right to get rid of the frizz.

- Most of the flat iron widths are suitable for bangs as well as any other hair length.

- HSI flat irons often have curved edges so that more flexibility can be achieved. 

 

For exact specs and features, you can research those of a particular model of HSI Professional hair straightener. 

Final Thoughts

 

If you are looking for quality, efficacy, and a product that is a pleasure to use, then you definitely should consider a flat iron from HSI Professional. 

Read through our full-length HSI flat irons reviews for item specifications, more details, and to buy your own!