3 Best Hot Tools Curling Irons for 2022 Reviewed
The hair wizards at Hot Tools believe that 'everyone deserves beautiful.' Its wide range of curling irons contains something that will turn everybody's hair dreams into a reality. From spiral curling irons to traditional barrel tongs, Hot Tools caters to all hair types—and can create nearly any style. 
But choosing the perfect curling iron can be hard when there's so much choice out there. The tool you need will depend on what you're looking to create and the texture of your natural hair. 
In the US, women are spending more and more money on hair-styling appliances every year. Choose your Hot Tools iron carefully, and you'll acquire a one-time purchase that could last you as long as a decade. 
Are you still feeling overwhelmed? We've put together all the information you'll need to find the best Hot Tools curling iron. Your hair is your crowning glory—and it's never been in safer hands.
TOP 3 Hot Tools Curling Irons
1. Hot Tools Professional 24k Gold Curling Iron
Pros
– Sleek and simple appearance

– Easy to use

– Quick heat-up time

– Suitable for any hair thickness
Cons
– Somewhat expensive

– Occasionally not a smooth glide
The Hot Tools Professional 24k Gold Curling Iron with an Extra-Long Barrel is a hairdresser's dream. A professional-grade tool, this Hot Tools gold curling iron heats up quickly and works on nearly any type of hair. With an extra-long barrel, this device will have you creating perfect curls that last all day long.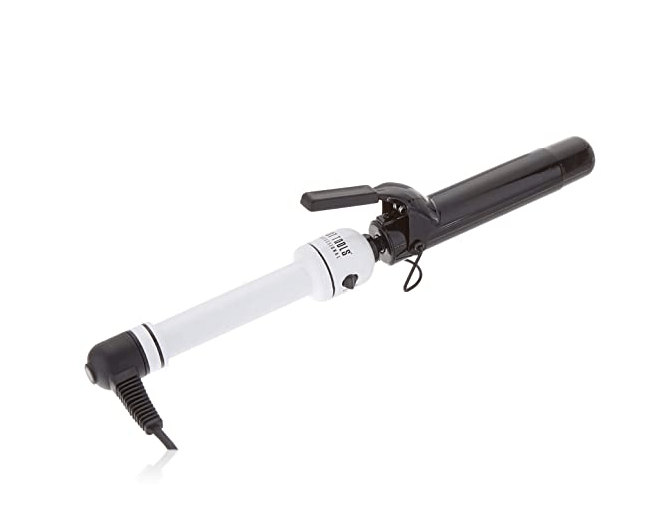 2. Hot Tools Professional Nano Ceramic Curling Iron
Pros
– Full, long-lasting waves

– Heats up quickly

– Comfortable to hold/use

– Gentle on damaged hair

– 8-ft cord
The Hot Tools ceramic curling iron has been making waves—in the styling market and the gorgeous locks of fans everywhere. It promises fuller, long-lasting waves and shinier curls for beauty enthusiasts. With temperatures ranging between 280 and 450 degrees, the Hot Tools professional curling iron looks to bring salon-quality treatment to users, whatever their needs and preferences. It consistently creates full, tousled waves, bound to make users stand out from the crowd.
3. Hot Tools Signature Gold Curling Iron
Pros
– Allows for heat up to 430 degrees

– Heats up to max setting in just thirty seconds

– Appropriate for use on all hair types

– Six-foot cord length

– Stylish design
Cons
– Some customers reported that the high heat settings were damaging to their hair.
The Hot Tools 1 Inch Curling Iron features powerful heat settings that offer long-lasting results. The temperature settings go all the way up to 430 (only recommended for thicker hair), so you have full control over your style. Hot Tools has created a product that delivers, without a bank-breaking price tag.
What you need to know before buying a Hot Tools Curling Iron
Why Choose a Hot Tools Curling Iron?

 

Materials  

Hot Tools prides itself on using only the highest quality materials in its curling irons. Its barrels and plates feel the full benefits of ceramic, titanium, or even 24 karat gold! 

Yes, you read that right—the Professional 24k Gold Extra-Long Barrel Curling Iron has a 24k gold styling surface. The gold coating makes it easily the most beautiful Hot Tools curling iron of the three we've reviewed in this guide. 

Gold is an excellent conductor of heat, which means this curling iron doesn't just add some enviable sparkle to your styling routine. It also will provide perfectly even heat distribution. The results are consistent curls, free of frizz and long-lasting. And you thought gold was just for your jewelry box! 

The Hot Tools 1-inch Signature Series Gold Curling Iron might not be 24 karats. However, that doesn't mean you should overlook its potential. Its gold-plated titanium iron uses Hot Tools' signature gold technology. This tool can achieve gorgeous curls that are quick to create, yet slow to drop out, enabling the perfect hair all day long. If you're after something that will style in no time and render results that last up to 24 hours, this tool could be for you. 

Alternatively, perhaps you swear by ceramic? Ceramic boasts incredible frizz-fighting properties. As such, it has been a prevalent coating for hair straightener plates and curling irons (such as the Hot Tools Professional Nano Ceramic Curling Iron) for years. Ceramic produces negative ions, which can neutralize the positive ions produced by your hair. The results are sleek, glossy, and completely frizz-free locks. 

Functionality

 

Hot Tools is one of the most innovative hair-styling companies in the market. The company launched the 'CurlBar' iron a couple of years ago, which featured a handle angled at 90 degrees to its plates. Hot Tools has been at the forefront of smart ergonomic design.

The brand doesn't just think about how beautiful their tools will make your hair look. They also consider how comfortable their irons will be to use and how comprehensive their settings are. 

When it comes to choosing a curling iron online, it can be hard to get a feel for its functionality. After all, you can't hold it in your hand like you would at the store. 

Also, don't forget that using a curling iron is pretty labor-intensive, particularly if you've got thick hair and want to use your curler often. It's no surprise to learn that hairdressers are at risk of suffering Repetitive Strain Injury (RSI). 

You want to pick the best Hot Tools curling iron based on functionality. Your wrist will thank you as well as your hair. 

The products reviewed here all made the list because they feature tangle-free swivel cords. This functionality will mean you can finally wave goodbye to sore wrists forever. Fully rotational for ease of handling, these irons will be able to curl every section of your hair without you having to twist into uncomfortable positions to reach the back of your head. 

All three of the items in our Hot Tools curling iron reviews come with a generous cable that's a minimum of 6 foot long. With longer cables, you gain freedom of movement while styling your gorgeous locks. Also, keep an eye out for soft-touch handles—they ensure a comfortable grip and improved styling experience. 

With the emphasis on functionality, you can tell that Hot Tools is serious when they say 'built by professionals, for professionals.' 

Power and Wattage

 

 

- Professional Nano Ceramic Curling Iron: 110 Volts

- 1-inch Signature Series Gold Curling Iron: 110 Volts

- Professional 24k Gold Extra-Long Barrel Curling Iron: 110 Volts (85 Watts) 

 

None of Hot Tools' curling irons is dual voltage. This wattage means users won't be able to enjoy them outside of the United States or North America without using a transformer. 

Heat Settings

 

One of Hot Tools' unique selling points is its use of its patented Pulse Technology, which as the brand claims, 'Gets hot... Stays hot.' 

The company designed its innovative Pulse Technology to ensure that the curling iron maintains a constant temperature throughout each use. Internal sensors detect when the temperature of the barrel has dropped even slightly. From there, they send out pulses of heat to bring it back up to the desired setting. 

The Pulse Technology ensures that you can style all of your hair at the same temperature. You get the benefit of even and consistent curls. 

When using a curling iron, the temperature you'll need will depend on the texture of your hair. For example, if you have thin hair that damages easily, you should use a much lower temperature than somebody with coarse, thick hair. 

All of Hot Tools' curling irons offer users a wide range of heat settings, from 280 to 430 degrees Celsius. This range leaves you free to choose your styling tool based on the material of the barrel and the full range of Hot Tools curling iron sizes. You won't feel restricted to the irons that offer a specific temperature range. 

Hot Tools suggests using 280 degrees for fragile hair, 330 degrees for normal hair, 380 degrees for wavy hair, and 430 for thick hair. 

Special Features

 

Hot Tools has added a variety of unique features to its range of curling irons, making them safe and intuitive to use: 

- Rheostat temperature control dial

. Having to change the temperature of your curling iron by pressing a button is a risky business—it can be easy to knock the button without realizing it, resulting in inconsistent heat applied to your hair. Hot Tools devices feature a temperature dial, which is simple to control and almost impossible to change accidentally during use.

- Foldaway Safety Stand.

Look for an iron with an in-built safety stand that can unfold while your device is cooling.

- Rotating Tip.

A rotating tip at the end of the curling iron will enable you to wrap your hair even quicker, safely speeding up the styling process.

 

 

 

If you're looking for long-lasting curls that are easy to achieve, choose a Hot Tools curling iron. Its state of the art technology will style your hair safely, smoothly and beautifully.