3 Best Hot Rollers for 2022 Reviewed
Hot rollers have been in practice for a long time, and because of their benefits, there is no sign of them going anywhere. They are fantastic tools packed with several benefits like volumizing hair, minimizing heat damage, and styling hair in a matter of minutes. No doubts, beautiful curls are made possible with hot rollers, but are they worth the money? 
In this buyer's guide, we'll discuss the ins and outs of hair rollers and how they will work wonders for your locks. Because not all sets are made the same, it's important to know what to look for before deciding on an option. Keep reading to learn more about the best hot rollers in 2020.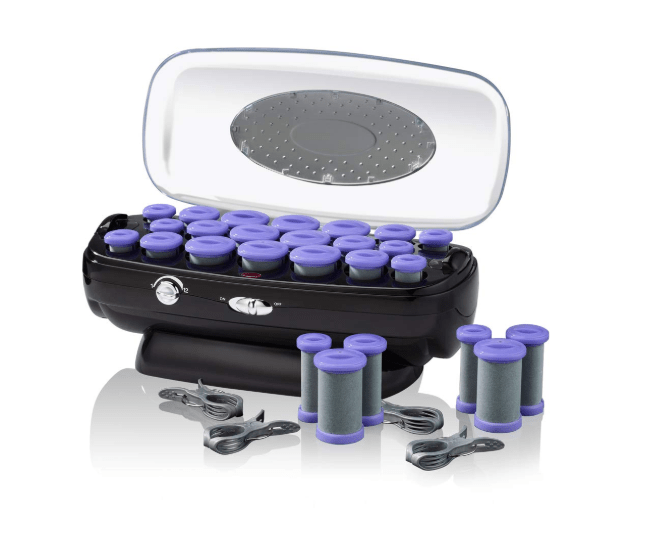 1. INFINITIPRO Flocked Rollers
Pros
-Rollers heat up in 2 minutes 

-Anti-static feature reduces frizz

-3 roller sizes (small, medium, & large)

-Retractable cord
Cons
-Rollers are on the heavy side 
The INFINITIPRO by Conair Flocked Rollers is designed to offer gorgeous curls in a matter of minutes. It's great for all hair types (long, short, curly, straight), comes in 3 different sizes, and offers 12 temperature settings. With a quick heat-up time of 2 minutes, the rollers are ready for use. Once they're in the hair, all it takes is 10-15 minutes to style hair (sometimes not even that long)! 
2. Remington Ionic Hot Rollers
Pros
-Anti-frizz technology 

-Offers incredible dimension and volume 

-Exclusive Wax Core provides long-lasting curls

-Budget-friendly option 
Cons
-J Clips quality could improve 
Remington has been around for several years offering hair products for all types of hair. The Remington Ionic Conditioning Hair Setter includes 20 velvety rollers with three different sizes mixed in. Users will enjoy sizes of ¾", 1", and 1 ¼" rollers. Each size is color-coded, so you'll know exactly what roller you're picking up. For a stronger hold and less creasing, there are 20 exclusive J clips included. 
3. Conair Xtreme Hot Rollers
Pros
-Wallet-friendly 

-85-second heat uptime

-Jumbo wire clips included
Conair is popular for its personal care products, including hair essentials like straighteners and curling irons. They are sellers of high-quality hot roller systems, in particular, their Conair Xtreme Instant Heat Rollers. This set comes with 12 ceramic flocked rollers of two sizes. There are four super jumbo rollers included (1 3/4") and eight jumbo rollers (1/2"). 
What to look for when buying a Hot Roller
What Are Hot Rollers?

Hot rollers are styling tools used to add volume to limp strands of hair. Their purpose is to curl strands in a safe, easy way. These rollers will offer an effortless-looking texture and are less damaging when compared to curling irons. Less heat means less damage, and who doesn't want that?  

Can All Hair Types Use Hot Rollers?

Yes! Hot rollers are great for all hair types from curly to straight. Whether you have short, long, thick, or thin hair, you'll achieve gorgeous bouncy curls with these styling tools! The best hot rollers for thick hair normally include jumbo and super jumbo roller sizes with strong clips to hold in place. The best hot rollers for fine hair are ceramic infused. These are gentle on each strand while achieving smooth and silky waves.  

Remember that these styling tools aren't meant to straighten, so if you have very curly hair, smooth it out first before using the hot rollers. Depending on your hair type, you could also consider adding some mousse to add texture. 

For stronger holds, leave the rollers longer than normal (usually 30 minutes does the trick). Hundreds of women rave about the voluminous curls brought forward by these small tools. So regardless of whether you have long, short, fine, or thick hair, hot rollers will work for you! 

How Do I Prep My Hair for Hot Rollers?

Prepping your hair for hot rollers is easy (and important!). You always want to start with smooth, dry hair. If you wash your hair before using, just be sure it's at least 90% dry. The rollers will dry it the remaining 10% while styling.

After drying, create a side part and section hair evenly. Once you've done this, you're ready to place hot rollers in place. Be sure to always read instructions for your specific set since they vary slightly depending on the brand and type of roller being used. 

How to use hair rollers? Directions may vary slighting depending on the set you go with, but for the most part, you need to smooth out and section hair, wind the hot roller upward and use a clip to hold them in place. After about 20 minutes, remove clips/rollers and enjoy beautiful curls!

How Long Should I Keep Hot Rollers in For?

You need to keep hair curlers in place until they cool completely. This can be anywhere from 10 to 20 minutes. Women with short hair usually only leave in for ten minutes, while others with longer hair may leave it in for 30! It all depends on your personal preferences. 

What Are The Benefits of Using Hot Rollers? 

Here are the top 5 benefits of investing in a hot roller set for yourself: 

1. Beautiful Curls in Minutes 

Hot rollers give absolutely anyone gorgeously styled hair in minutes. Whether you're getting ready for work or preparing for a night out on the town, they are the perfect solution. 

These styling tools take 30-90 seconds to heat up, and once they're set in hair, only 5-10 minutes for curls to set. Some people like to leave them in longer (up to 30 minutes) for strong curls. Simply pop them into the hair and do your makeup or watch some tv while you wait! 

2. Say Goodbye to Burns! 

The benefits of hot rollers go beyond flawless curls in record time. Because of the low heat and cooling design of these styling tools, you don't have to worry about you burning yourself in the process of using it. This means you can say goodbye to those hot iron curling wands for good!

Adding on to this point, heat is a big contributor to hair damage. When compared to other curling styling tools, hot rollers use the least amount of heat, which means they'll cause the least damage. Of course, you need to know how to use hot rollers to reap all their benefits! Make sure you read the instructions fully before using it. 

3. Hot Rollers are Affordable 

No one wants to spend hundreds of dollars on a hair styling tool. With hot rollers, you don't have to! You can get some as low as $20. Of course, rollers that offer anti-frizz features or different sizes come at higher prices. At the end of the day, hot rollers will not break your wallet. They're a budget-friendly way to achieve beautiful locks. 

4. Adds Volume to Hair 

If you want to add some volume to your hair, consider hot rollers. This is very beneficial, especially for women with fine hair. These tools sit more closely to your tips than other styling tools, making it more effective when adding volume. So, if you want a more voluminous look, hot rollers offer a healthy solution. Many of them have anti-frizz technology that smooths out hair while curling it.

5. Long-Lasting Curls

If you've had past experiences where curls only stay in for a few hours, you need to invest in a good set of hot rollers. Pair this with a nice setting hairspray, and you're all set! Different types of rollers differ in size and features. While some people prefer small curls, others like big, loose ones. If you have very straight hair, leave hot rollers in for a stronghold for 25-30 minutes. 

Factors to Consider

Here are a few elements you need to familiarize yourself with before investing in a roller set: 

-Size. First things first, you want to decide on roller size and the type of curls you want. Bigger rollers offer more natural, loose curls while smaller ones make curls tighter.
-Amount. Next up is the amount of rollers in a set. You want o make sure you purchase a full set of hot rollers, which consist of 8 to 16 and sometimes even more! The amount you need depends on how much hair you have and thickness levels. 
-Material. There are different types of materials to choose from when purchasing a roller set. Take ceramic-infused rollers, for example. While the heat levels aren't invasive, they do a nice job achieving silky smooth hair. You also have wax and plastic options to choose from. 
 

Conclusion 

Don't just buy the first set of hot rollers you come across. Compare the different models on the market to land the best set for your hair. Be sure to check out our top selections when it comes down to the best hair rollers in 2020! You won't be disappointed with any of those hot picks.