3 Best GHD Flat Irons for 2022 Reviewed
GHD is a UK-based company created to revolutionize the way that women style their hair. The business released the first styler in 2001 to bridge salon quality with the comfort of staying at home. After seeing initial success, GHD continued expanding its line of products to include professional brushes, hair straighteners and dryers, and GHD styling products. 
The company works with salons around the world, from the United States to Hong Kong, providing businesses with professional quality straighteners and hair tools. Whether you are an individual or a hair salon, our GHD flat iron guide can lead you in the right direction if you're thinking about investing in one. 
This guide will go over all aspects of GHD hair straighteners, using three of the most popular devices as examples so that your styling tool shopping experience goes as smoothly as possible.
1. GHD IV Styler Ceramic Flat Iron
Pros
– World-famous, trusted brand used in salons across the globe
– Advanced technology
– Multi-styling capabilities
– Automatic shutdown after an hour of inactivity
– Sensors that calculate hair porosity – kinder to hair
Cons
– Most expensive product on our list
– This exact product can only be shipped within the US (though other GHD products can be bought worldwide)
With its luxe gold plates and multiple awards to its name (from the likes of Company Magazine, InStyle and CoolBrands), this flat iron is instantly associated with premium functionality and being a worthwhile expenditure. But in the wrong hands, a truly professional tool like this can spell disaster for your hair. Salon-trained stylists obviously know how to handle heat on different hair types; but everyday women buying straighteners often neglect to research the proper use for their hair.
The GD IV Styler reaches scorching temperatures of above 350°F – obviously this would burn your skin to a crisp if you were to touch it, so we need to apply the same precautions to our hair. Just because you can't feel it, doesn't mean huge amounts of heat damage isn't being done to your tresses. It's recommended that you drastically reduce this top temperature (even use less than 200°F if your hair is fine or almost-straight anyway), and coat your hair with protective spray before use.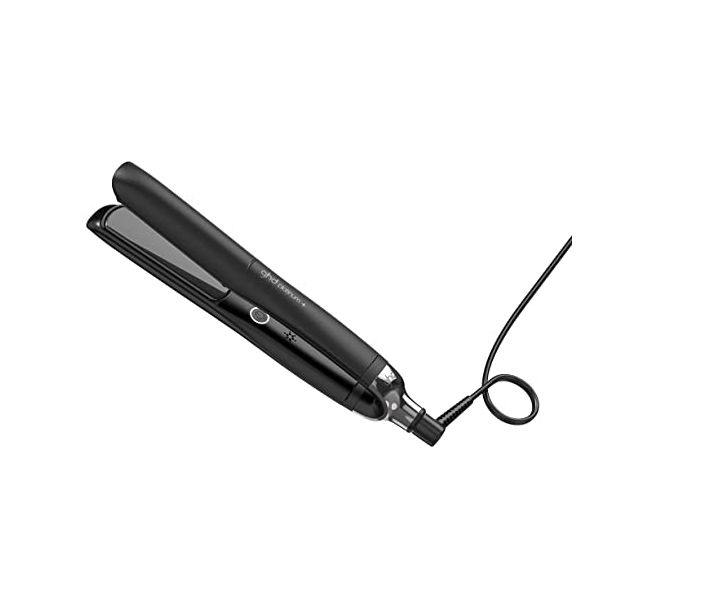 2. GHD Platinum+ Professional Performance Flat Iron
Pros
– Predictive Heat Setting

– Ergonomic Design

– Ultrazone Technology

– Protective Plate Guard
Every beauty enthusiast knows a quality flat iron is key to making sure you can achieve that smooth, luscious, silky straight hair. With so many models on the market to choose from, it's easy to settle for the cheapest option rather than researching what's right for you. While affordability is important in all of your beauty purchases, don't sacrifice quality in the process. It's worth it to invest in a high quality flat iron like the ghd Platinum.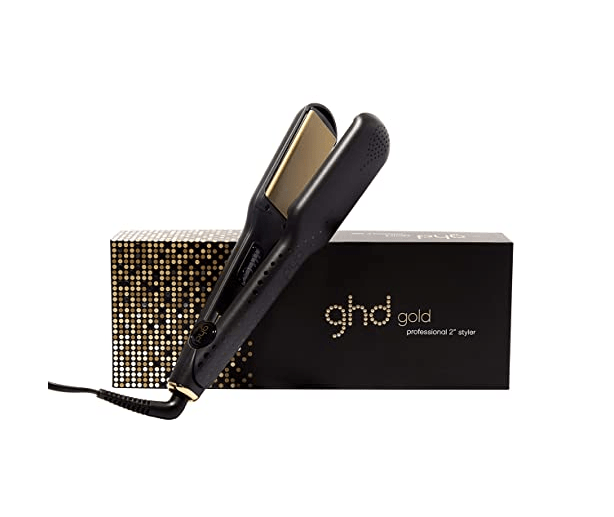 3. GHD Max Styler Flat Iron
Pros
– Consistently maintains optimal temperature of 365 degrees Fahrenheit

– Even distribution of heat thanks to advanced ceramic heat technology

– Smooth floating plates are wide, allowing you to easily style large sections of hair at once

– Heats up in just 30 seconds

– Safety feature: goes into sleep mode after 30 minutes of non-use

– Protective plate guard

– Universal voltage

– Broad rounded barrel is perfect for styling longer hair with ease
Cons
– Moderate price tag

– Designed specifically for longer hair
The ghd gold Max Styler uses advanced ceramic heat technology to deliver salon quality styling and smooth, shiny hair. Its wide, smooth plates make it perfect for longer hair types and taming frizz.
What you need to know before buying a GHD Flat Iron
Why choose a GHD Flat Iron?

 

A GHD Flat Iron is a reliable option for a variety of reasons. First and foremost, GHD designs its products to give salon-quality results. Second, the company's hair straighteners are easy to use and do not require an aesthetician license. Another perk is that every tool comes with a warranty, and you can choose if you want it to extend for two, three years or five years.  

With a GHD flat iron, the top-notch elements speak for themselves. Your hair straightening experience will never be the same. Now let us get into the details of what GHD straighteners include, from their materials to special features! 

Materials

 

All GHD flat irons have ceramic plates that are floating. Because of the float mechanism, your hair won't get snagged in the straightener. The width of GHD plates varies depending on whether you choose a max, travel size, or regular straightener.  

The GHD Platinum+ Professional Performance Styler utilizes contoured black ceramic floating plates to craft healthy and sleek hairstyles. The ceramic material helps make hair straightening more accessible for non-professionals. The plates are also 1 inch wide, and precision milled, so separating chunks is necessary for the optimal experience. 

The GHD Max Styler, on the other hand, has golden ceramic floating plates that have a width of 2 inches. Because of the bigger plates, the device allows you to straighten more of your hair at once. Those with curly hair benefit from more width as it helps keep their locks tangle-free. 

In general, GHD cable cords are 8.8 feet or more, so that you don't need to worry about getting jumbled up or being unable to reach portions of your hair. 

Functionality

 

You can use the GHD flat iron to not only straighten your hair but also to create curls and waves. For best results, make sure that straighten each strand slowly for 8 to 10 seconds before moving on. The cable is 8.8 feet so that you can take the GHD flat iron anywhere with you in the bathroom and still use it.   

With the slim and rounded barrel of the Classic straightener, you can create curls and waves in your locks. The styling tool works for a variety of hair types, no matter how thick, thin, or messy. The company recommends placing the straightener close to the roots and move gently to the tip with one uninterrupted motion.  

The rounded barrel of the Platinum+ straightener is thicker than the Classic, but you can still create curls and waves with relative ease. Unlike other models, the Platinum+ focuses on helping you crafting healthy and smooth hairstyles. Again, you'll find the most success by placing the straightener close to the roots and move gently to the tip with one uninterrupted motion.  

You can use the Max GHD flat iron to tame thick and curly locks without creating extensive damage. The company recommends using slow strokes on each strand of hair to get maximum straightening benefits. The GHD device works adequately for those who have kinky hair because the ceramic plates glide smoothly.  

Power and Wattage

 

Because the company has offices in multiple countries, the cord does not need an adaptor. If you buy the product from the US, you'll receive a US-based power cord, whereas, if you buy the product in Hong Kong, you'll receive a HK-based power cord. The GHD hair straightener has a universal voltage feature, so travelers don't have to worry about adjusting their wattage.  

Because of the universal feature, GHD straighteners run on both 110 and 220/440 volts. You can run the styling tools at either 50 or 60 cycles depending on the power level you want. You don't have to press a button or buy a separate electrical adaptor you can plug in your device in whatever country you visit and use it. You will need to purchase a plug-in adaptor, however, since GHD flat irons come with a standard US two-prong plugs.  

The flat irons heat up quickly and stay at a consistent heat, so you do not have to worry about your styling becoming uneven.  

Heat settings

 

You have a couple of options among GHD straighteners for heat settings. You can choose between Ultra-Zone Heating, Ceramic Heat Technology, and Dual-Zone Technology. The heat-up time for all GHD devices is 30 seconds so that you don't have to sit around and wait for your styling tool to be functional. 

The Platinum+ GHD flat iron adapts as you are straightening your hair to provide optimal styling temperatures with Ultra Zone technology, which leads to 70% less breakage and 2x more color protection. The device uses predictive technology to ensure a constant temperature of 365 degrees Fahrenheit.  

All GHD flat irons have a single heat setting for the optimal temperature at 365 degrees Fahrenheit. The technology used is ceramic heating plates to maintain the temperature without damaging your hair. The ceramic plates manage their heat evenly so that, as long as your locks are between the two clamps, each strand receives the same treatment.  

Special features

 

All GHD straighteners include universal voltage so that you can bring your tool wherever you are traveling with no need for electrical adaptors. The automatic shut off feature puts the flat iron into sleep mode after 30 minutes of inactivity.  

The GHD Platinum hair straightener utilizes smart technology to predict the settings you'll need to complete your look. The design is sleek and comes in a variety of colors, including rose gold, scarlet, black, and white. The Platinum+ has dimensions that are 11 x 1.6 x 1.8 inches, and the device weighs only 1 pound.  

The GHD Platinum has a wishbone hinge to ensure that the plates are precisely aligned. The heat-up time is 20 seconds, and the device has a heat-resistant plate guard to protect shelves and cabinets after styling.  

The Max styler utilizes tri-zone technology to maintain consistent heat through the straightening process. The heat-resistant protective guard protects shelves and cabinets from a hot GHD flat iron. After 30 minutes of non-use, the device will turn itself off.

Conclusion

 

Buy a GHD flat iron today to elevate your hairstyling experience to the next level!