3 Best Epilators for 2022 Reviewed
The art of epilating is quickly becoming one of the most popular hairs removal options. Competing with shaving, tweezing, and waxing, it is often that epilating comes out on top. This new form of hair removal offers quick and safe hair removal that lasts for weeks! However, with the many models on the market, it can be difficult to find the best one.
Deciding on the best epilator for your skin depends on your needs. Use these epilator reviews to learn more about which factors to consider before investing in this hair removal device.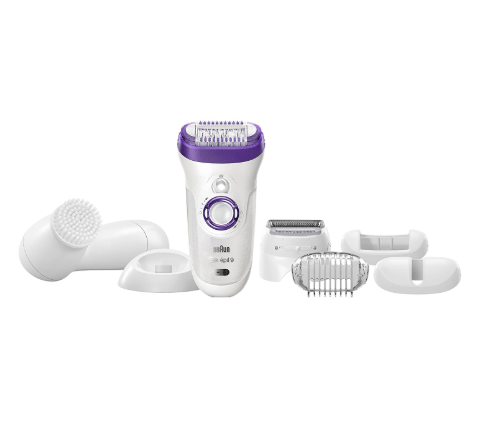 1. Braun Silk Epil 9 Epilator
Pros
-100% waterproof 

-Long- lasting battery life 

-Exfoliation facial brush included 

-MicroGrip and SmartLight technology 

-40% wider epilation head than previous models
The Silk Epil 9 is Braun's most precise and fastest epilator. It comes with several attachments and a bonus item: a cleansing and exfoliating facial brush. It completes your beauty routine by offering amazing face exfoliation. This skincare tool is also 100% waterproof and comfortable to use in the shower.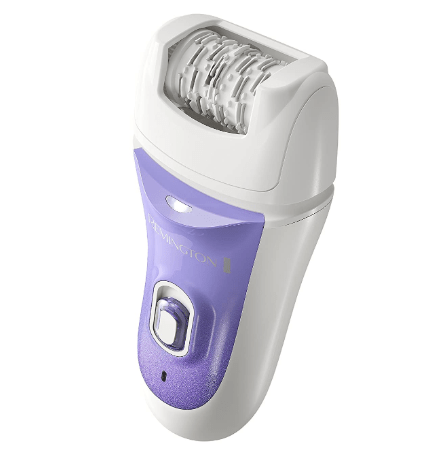 2. Remington Deluxe Epilator
Pros
-Hair-free for 6 weeks 

-100% Waterproof 

-Budget-friendly option 

-Massaging and precision cap is included 
Cons
-Takes about 4 hours to fully charge 
Enjoy hair-free skin for up to six weeks with the Remington Smooth and Silky Deluxe Epilator. Designed with 40 tweezers, you can expect quick results and an easy cleanup option. A wet and dry, cordless model, you can use this epilator anywhere, anytime!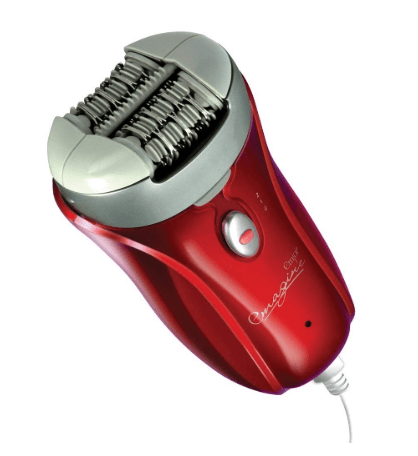 3. Emjoi AP-18 Emagine Epilator
Pros
-Patented glide technology for all hair types

-Designed with 72 tweezer heads 

-Works as a facial epilator 
The Emjoi AP-18 Emagine Epilator is truly one of a kind. It features 72 tweezer heads, an exclusive technology that prevents ingrown hair, and offers user-friendly operation. Its patented Glide Technology helps lift hairs to effectively remove them from the root. Because of several tweezers and designs, users can remove hair quickly and safely right at home. 
What to look for when buying an Epilator
What is an Epilator? 

An epilator is a portable, handheld device that works like an electric shaver. It has a rotating head of tweezers that traps and pulls hair from the root. This action is completed in a matter of seconds. It pulls the hairs extremely fast as you glide it across the skin. 

How Does an Epilator Work?

An epilator works like a tweezer, expect it's much faster. This electrical device is composed of tweezers and a rotating head. It can grasp multiple hairs all at once and pull them out simultaneously. The way epilators pull out hairs is similar to waxing, except they don't require wax and are portable tools. 

Is Epilating Painful?

Plucking hair from the skin will always result in some degree of pain. Unfortunately, epilators are no exception! Think of it like tweezing. You'll experience some discomfort and minor pain when tweezing your eyebrows or upper lips. However, with an epilator, you're able to target larger areas like your legs and epilate in seconds! 

To make this process as enjoyable as possible, most epilators come with speed settings. This will allow you to choose a speed you're comfortable with. Please note that epilating will be most painful the first time you try it. From here, you'll hardly experience any pain! 

What are the Benefits of Epilating? 

You may be asking yourself, "If epilating is painful, why would I try it?" There are many benefits brought forward by epilating that will make it worth the discomfort. The results are well worth it! You'll achieve smooth skin for longer periods when compared to shaving. Epilating pulls the hair from the root, while shaving just removes it from the ends. 

Additional benefits include: 

-Smooth, hair-free legs for up to 6 weeks

-Hair grows back finer and softer 

-Regular use will reduce or completely stop hair growth

-Prevents stubble and bleeding nicks caused by shaving

 

It's the same concept brought forward by waxing, but many people prefer epilation over waxing because it's less expensive, mess-free, and cause less irritation than waxing. 

How Long Does Epilating Last? 

Epilating can last up to 6 weeks. To achieve long-lasting results and get the most out of epilating, consider these helpful tips: 

-To prevent ingrown hairs, exfoliating your skin before epilating.

-The process of epilating works better when the hair is short. Trim hair or shave three days before using an epilator. 

-Epilate your skin at night because your skin may be red and need some rest. In the morning, the redness will be gone. 

-To reduce pain and discomfort, hold your skin taut while you epilate. 

-Always, always, always, keep this device at a 90-degree angle to your skin when using.

-Don't push this tool into your skin. Let it glide the opposite direction of hair growth using circular motions. 

-When epilating, you want to be sure you move slowly. Otherwise, you risk hair being broken at the surface as opposed to the root. 

-After using, disinfect your epilator. 

 

The biggest drawback to epilating is the discomfort. The pain will lessen drastically after the first use. Because of its long-lasting results, several users look past this initial pain and have said goodbye to razors, tweezers, and wax! 

Features to Consider When Buying an Epilator 

There are several features you want to keep in mind before you decide on one epilator. For starters, you need to keep price, noise, and speed settings in mind. Models with more features and speed settings will cost more. As of the noise, most epilators are loud, which means you won't epilate too discreetly! 

The best epilator for face, legs, bikini area, and underarms depends on a few factors. For instance: 

Target Body Area

There are epilators designed for different areas of the body. You can use this tool on your legs, arms, pubic area, and even your face. Not all epilators are recommended for facial hair. However, there are some tools made, especially for facial hair.  

If you want an epilator to use on face hairs, make sure the device you go with states that you can use it on your face. Not all epilators are safe for face use. If you want one specifically for your face, go with a facial epilator. 

Consequently, there are epilators designed for coarser hair like bikini or pubic hair. These tools are designed with more tweezer heads and stronger motors. Before buying an epilator, ask yourself which body part you're targeting and go from there.

Wet or Dry Option 

Epilating works best on dry skin. However, there are models that can be used in the shower. They are known as wet and dry epilators. Most of the time, wet models cost more than dry ones. The benefit of wet epilators is that they make the process less painful. Naturally, warm water will soothe the skin and help it relax. 

The downfalls of wet options are they don't always grab all the hair because hair tends to stick to skin. Some wet epilators work underwater. This means you can completely submerge them underwater. Hair tends to lift when underwater, so this will make the epilating process easier. 

Note that using an epilator underwater drains battery life faster than dry epilators. This is something you want to consider before investing in a wet and dry model. 

Corded or Battery Operated 

While some epilators run on batteries, others are corded or rechargeable. The one best for you depends on a few factors:

-Battery operated epilators are the most affordable options, but you'll need to replace the batteries once they run out. 

-A corded option is more powerful than a cordless epilator. Cordless models tend to lose power throughout the session. Corded models offer consistent power from start to finish. 

-If you invest in a wet and dry cordless epilator, you'll have to purchase a new device once the battery runs out. 

-On average, these tools last five years; however, cordless ones will last longer.

 

The best epilators on the market aren't necessarily corded or cordless. It depends on one's personal preference. 

Amount of Tweezers 

Every model comes with a different number of tweezers. You can find some epilators with one tweezer and others with up to 60! The amount of tweezers you need depends on what you're looking for. If you want sessions to be very quick and are targeting coarse hair types, go with more tweezers. Keep in mind that the more tweezers, the more painful sessions will be. 

Conclusion

Epilation leaves the skin feeling soft with long-lasting results. Hair won't start growing back until about the 4th week. Many users have found that results last as long as six weeks, and some share that hair grows back finer and softer. Whether you want soft legs, underarms, or an epilator for face, any of the reviewed models will be great.

The biggest drawback of these tools is the initial discomfort users will feel. If they can get past their first session and improve their technique, epilation is likely to become their favorite hair removal technique!