5 Best Curling Irons for 2022 Reviewed
If you weren't born with luscious locks, there's a way to recreate that look with the magic of a curling iron. And make no mistake: these products weren't just made for people with straight hair. Even people with wavy hair who want to add more of a curl to their looks benefit from having a hair curler. But since there are so many out there, which one do you pick? Don't worry. We've done the research for you.  
We've gathered a mix of information ranging from material and function to size, wattage, and heat. The amount of heat is important, especially for the thickness of your hair. We also found special features that you would never think about but are a benefit.  
It's valid to point out that curling irons are meant for hair, no matter the gender. So, whoever you are, if you're looking for curls, we invite you to unabashedly check out these reviews.  
Without further ado, below you'll find the 5 best curling irons money can buy for that fabulous, curly look you once thought only movie sets could create. 
1. T3 Twirl Trio Interchangeable Curling Iron
Pros
– Multi-Tools in one

– Adjustable heat settings

– 1 hour auto shut-off
If you use a traditional curling iron, you probably experience frustration. No matter what the cut or style, the curls never seem to hold. It seems like it always takes multiple sizes of curlers to get the natural, curly shape throughout your layers.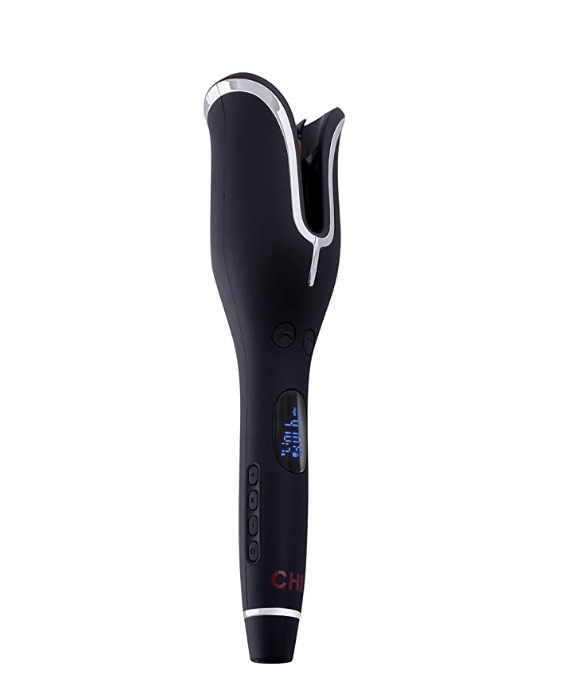 2. CHI Spin n Curl Curling Iron
Pros
– Reduces frizz and static

– Enhances shine

– Allows for one-handed curling

– Suitable for use on all hair types and textures

– Customizable temperature

– Minimizes heat damage

– Dual voltage (110/220)

– Tangle protection
Cons
– Can only curl small portions of hair at a time so may take longer to curl thicker hair
The CHI Spin n Curl is a leading hair styling tool made to help everyone achieve stunning, natural curls. It is a great option for use on all hair types and textures. The product is manufactured by CHI HAIRCARE, a US-based company made up of professional hairdressers. This means that buyers will have the peace of mind that hair and styling experts are behind the product!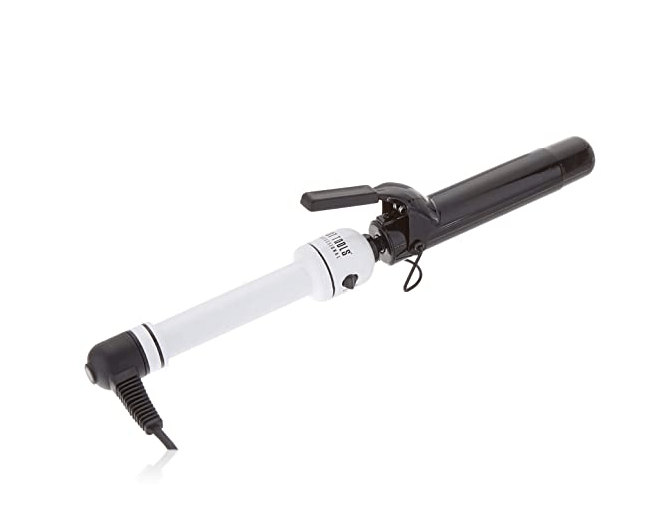 3. Hot Tools Professional Nano Ceramic Curling Iron
Pros
– Full, long-lasting waves

– Heats up quickly

– Comfortable to hold/use

– Gentle on damaged hair

– 8-ft cord
The Hot Tools ceramic curling iron has been making waves—in the styling market and the gorgeous locks of fans everywhere. It promises fuller, long-lasting waves and shinier curls for beauty enthusiasts. With temperatures ranging between 280 and 450 degrees, the Hot Tools professional curling iron looks to bring salon-quality treatment to users, whatever their needs and preferences. It consistently creates full, tousled waves, bound to make users stand out from the crowd.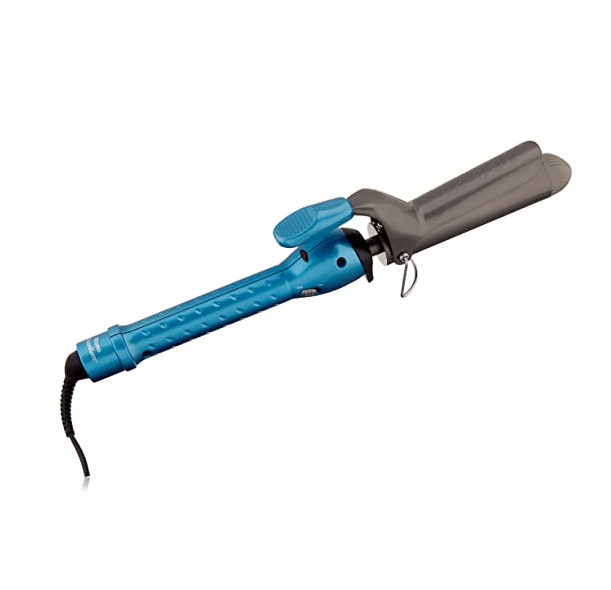 4. BaBylissPRO Nano Titanium Spring Curling Iron
Pros
– 50 heat settings

– Reaches up to 450° Fahrenheit!

– Includes Turbo Heat button which boosts heat in a pinch

– 8-foot tangle-free swivel cord

– Sol-Gel nano titanium/ceramic barrel

– Utilizes far-infrared heat from inside the barrel to heat hair
Cons
– Needs a converter for international travel, as the wattage is the standard USA 110V

– Price runs between $40-$50

– Comes in one color option, dual black/gray
The BaBylissPRO Nano Titanium Spring Curling Iron is perfect for creating big waves and textured curls on any hair type. Its 50 settings with temperatures up to 450° Fahrenheit makes it an exceptionally versatile curling iron. With its 8-foot swivel cord, it's easy to plug the iron in wherever you are.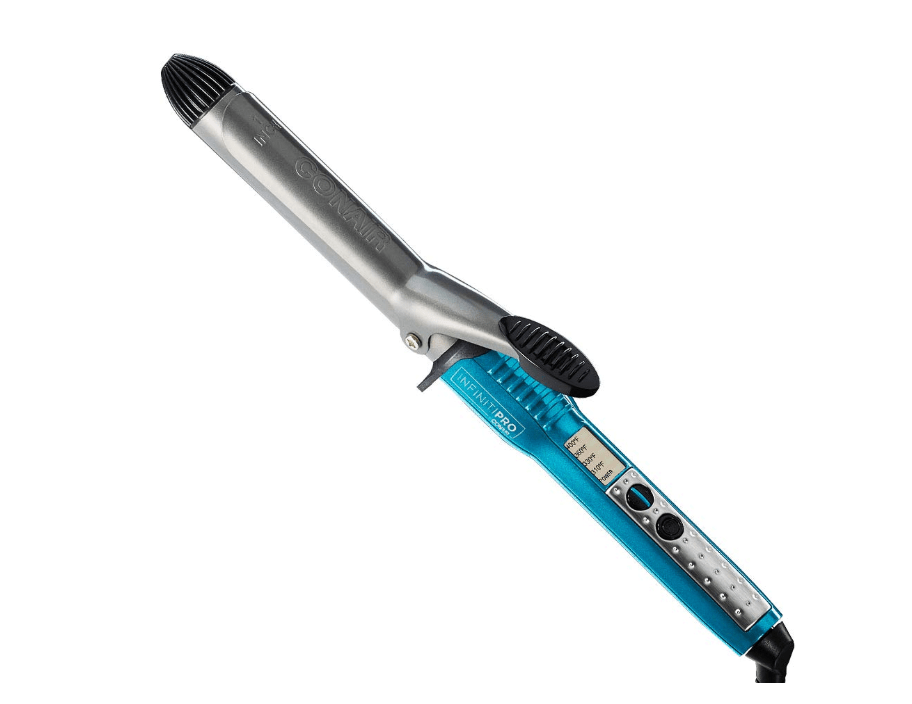 5. Conair INFINITIPRO Nano Curling Iron
Pros
– Nanotechnology reduces frizz

– Built-in heat protection

– Ceramic barrel panels create even heat distribution

– Heats up in just thirty seconds
Cons
– Some customer's reported functionality issues with the barrel clamp
The Conair Infiniti Pro Curling Iron provides salon level quality at an affordable price. The tourmaline ceramic used along the heated barrel means that you get full heat distribution every time you use it. This minimizes the damage that comes from heat spots. It also arrives with a built-in protective shield to prevent excessive frizz that can sometimes arise from high-heat styling tools.
What to look for when buying a Curling Iron
What to consider when buying a curling iron?

 

Materials

 

When you're ready to purchase, you'll see a variety of materials come up on your search, such as:  

- Ceramic 

- Titanium 

- Metal 

- Gold  

You're rightfully wondering which is the best curling iron for you. Turns out, each composition has its benefits. The ones you will notice come up the most are Ceramic and Titanium, so we have concentrated on those.  

Ceramic irons have become the norm, and this is because ceramic heats evenly, giving your hair a smooth and uniform look. Also, ceramic irons will usually have different settings, which allows you to control the temperature to what you need. Ceramic is a good idea especially if you have thinner hair because you're able to adjust the settings to your desired level of heat.  

Titanium irons are exciting because of the amount of heat they can put out. Especially for those with thick hair, titanium irons give out the heat to shape those curls. As ceramic, titanium also heats the barrel evenly. The advantage of titanium is the speed in which the curling surface will heat. We're talking seconds, so expect it while you're getting used to it and be safe. Titanium is also lighter, so the product will be lightweight for you.  

In either case, be sure to clean your barrel. Especially if you're using hair protecting products while curling, the barrel will get sticky, and it won't work as well as it should.  

Functionality  

Is the wand comfortable? Does it get in the way of doing your hair? Are the buttons in the way? 

One of the more important aspects of functionality has to do with the wand. Specifically, does it get hot? If it does, that's no good. You want the heat to be on the barrel, not your hand! It's difficult and dare we say, annoying when you're doing your hair and have to keep putting the wand down because it's hot. This is a product with poor functionality.  

Look to ensure the wand is heat resistant or, at the very least, that the manufacturer speaks to the fact that the wand doesn't heat up.  

Another aspect of functionality are the buttons. If the design is such that you'll be pushing the buttons, thus changing the settings as you curl, then this is a poor design. What you want is a wand whose buttons are simple and out of the way. Sometimes, the buttons may be on the length of the wand, but they don't press easily while you're at work.  

Power and Wattage

 

Knowing the wattage of your hair curling iron is important because this is the amount of power the device consumes. If you're unable to find the wattage, you can ask the manufacturer. Especially if you live in an older house or if your breakers tend to go out, the wattage of your device is a good thing to know.  

There's also voltage, which some countries are at 220 Volts and some at 110 Volts. A quick online search will help you determine which voltage your country is in. In some cases, devices already come fit for dual voltage, but the specs will say it. Don't ever assume your iron is of dual voltage. If it's not, you won't only fry your device; you may do internal damage to your electric wiring.  

If you travel a bunch, looking for a dual voltage product is an excellent idea. That way, you can do away with converters and simply apply the country's outlet adaptor. Also, travel curling irons tend to come in smaller sizes intentionally for the convenience of packing.  

Heat Settings

Nowadays, curling irons get hot! We're talking the heat settings get in the 400s °F. First, be safe. Second, know your hair type.  

If you know you have thin or fragile hair, you likely don't need anything that goes up that high. Or, if it comes with high-heat settings, just be sure it goes down low enough to handle your hair density. You don't want to burn your hair off.   

Conversely, if you have thick hair, evenly distributed heat will control your hair more. Still, know your hair! Even thick hair gets burned. Get a hair curling iron that fits the level of heat you know your need for your hair type.  

When it comes to heat and ensuring your hair stays beautiful, there are heat protectants out there that create a buffer between the heat of the iron and your hair. Checking out a few of these will help you ease into the heat of the iron. 

Special Features

 

Auto shut-off: We've all done it: we thought we left something on and had to run back in the house to check. Safety features are some of the best features in heating devices of any sort, not excluding curling irons. Look for the auto-shutoff feature when possible. It'll give you peace of mind.  

Illumination: Knowing that your curling iron is on is a fantastic feature also tied to safety. Choose an iron that visually tells you that it's on, and it's hot. Some products come with a flashing light to tell you it's heating, and then it becomes still when it's ready for use. We recommend finding a product with an illuminating feature so that you don't go for your iron when it's hot, without knowing about it.  

Size: Curling iron sizes are made to be convenient, depending on your lifestyle. If you want to have your hair curler with you at all times, then look for something that fits in your bag. If not, then a regular-sized iron for your bathroom will do. 

Conclusion

 

We hope you have enjoyed these reviews and that they help you pick your next product. As with any product involving heat, be careful, use it well, and clean it safely. Curling irons tend to last longer when taken care of.