5 Best CHI Hair Dryers for 2022 Reviewed
Ever thought that all chi hair dryers are all the same? That would be an understandable assumption to make, but couldn't be more wrong! The power and performance of a hairdryer is affected by its motor, material, in-built technology, and a multitude of other features you may not have considered.
What are those attachments that come with my hairdryer? What does a DC motor do? Why does my hairdryer produce ions?
In this guide, we focus specifically on CHI professional blow dryer models. We aim to answer all your questions and more about this selection of five products, with our detailed product reviews. To help you choose your perfect CHI dryer, we've created this buyer's guide filled with everything you'd possibly need to know about the brand and its products, which each come with different functions and unique selling points.
Inside each review, we'll tell you the following points for each model:
– Price rating
– Material the product is made from
– The drying technology it includes
– Does it have add-ons and attachments?
– Its heat settings and speed adjustments
Our guides let you know which choice you should opt for with your budget, and recommend models depending on hair type and style. We'll let you know if the model features a 'cool shot' button great for adding a sheen to your hair, and how the dryer leaves your tresses feeling when you're done using.
Read on to find out which CHI models we rate and which won't work for you!
1. CHI Touch 2 - Touch Screen Hair Dryer
Pros
– Precise touch screen controls for speed, heat, and ions

– Reduce drying time by 50% with 1875 watt power

– Compact, ergonomic design

– Clean design—no switches in the way

– Limited 2-year warranty
Cons
– Touch screen hard to use with damp hands
The CHI Touch 2 Touch Screen Hair Dryer is a slick and intuitive touch-controlled hairdryer. With a 4-inch touch screen panel and a speedometer to customize your settings, this hair dryer allows you to control the temperature, speed, and ionic output. You can style your hair your way, all while reducing thermal damage from heat styling. Read on for more details on this product in our CHI Touch 2 Touch Screen Hair Dryer 2020 Review.
2. CHI Tech Travel Ceramic Hair Dryer
Pros
– Well designed for travel

– Well sized

– Folds easily

– Light in weight

– Lots of drying power

– Usually returnable if you are not satisfied

– Well priced
Cons
– The chord can tend to tangle
Every girl dreams of having a travel-friendly hair dryer that still does the job like a more expensive model — the CHI Tech Travel Ceramic Hair dryer ticks this box. The product is light, folds away easily, aesthetically pleasing, and it dries your hair with a professional finish.
The hair dryer has several distinctive features, making it quite advanced for a small travel dryer. If you want a compact hair dryer for your travels, but you refuse to compromise on quality, then you'll want to keep reading this CHI Tech Travel Ceramic Hair dryer review.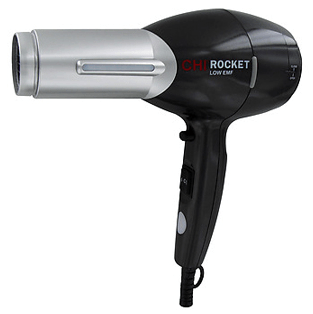 3. CHI Rocket Hair Dryer
Pros
– Dries hair fast

– Operates quietly

– Ideal for frizzy locks

– Two speeds: high and low

– Professional quality

– Small and not bulky

– Comb attachments included for straightening

– Includes a 2 Year Warranty
Cons
– Beginners may find it hard to handle

– Becomes hot quickly

– Somewhat pricey
CHI has brought its flat iron expertise to this new blow dryer. This CHI Rocket dryer with comb attachments allows you to dry and straighten sections of your hair. As you can tell by our ratings, the company is highly successful at making hair softer and more beautiful.
The fast-drying component of this product makes it very appealing to those on the go. CHI has outdone itself with an item that can knock minutes off of anyone's morning routine. 
We couldn't praise this product enough. Here are the finer details on our 2020 CHI Rocket product review.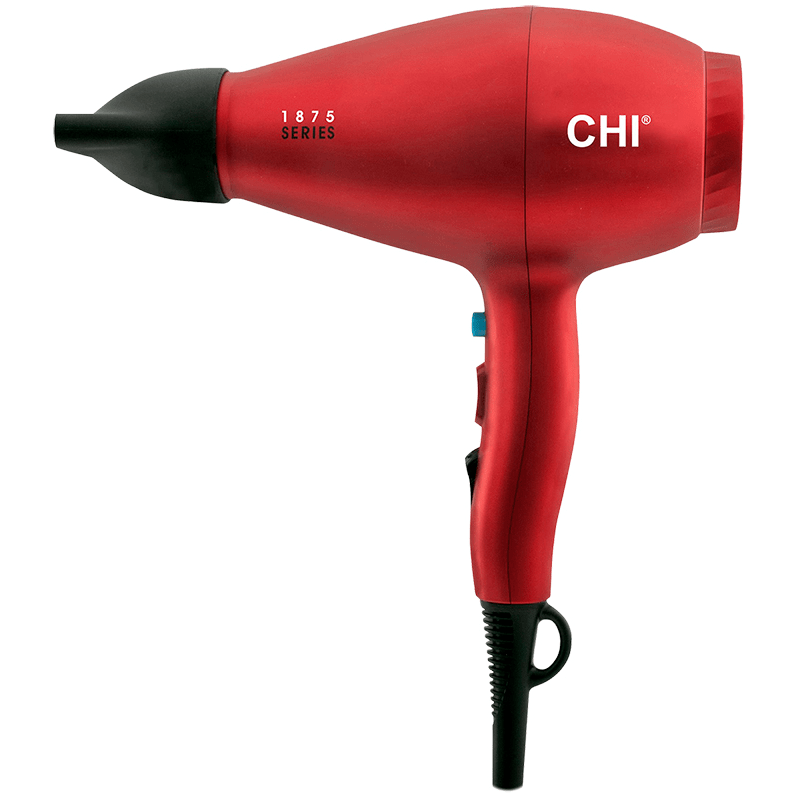 4. CHI 1875 Series Hair Dryer
Pros
– Ion generator emits negative ions to tame frizz and add shine

– Lightweight and travel-friendly

– Antimicrobial to reduce bacteria build-up
Cons
– Short nozzle attachments can make it hard to dry large sections of hair
When it comes to hair dryers, Houston-based brand CHI makes some of the most advanced on the market – and the 1875 Series is no exception. The name refers to its 1875 watt motor, a hugely impressive wattage for such a lightweight and compact dryer. This powerful airflow is filtered through a ceramic heater, which generates ions to smooth and add shine to your hair. 
So, does the CHI 1875 Series dryer live up to the promise of its name?
The answer is a resounding yes. CHI is renowned for its versatile carbon fiber dryers, and the 1875 Series is both an excellent gateway into the brand and a great dryer in its own right.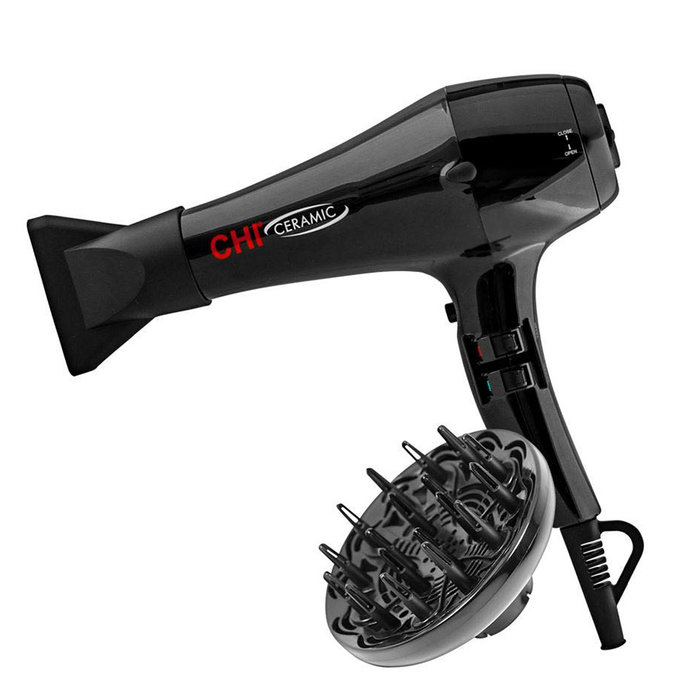 5. CHI Ceramic Hair Dryer
Pros
– Lightweight and easy to transport

– Reduces static

– Eliminates frizz

– Multiple speed and temperature settings

– Suitable for all hair types

– Good value for money
Cons
– 'Cool Shot' button needs to be held down constantly for it to work
The CHI Ceramic Hair Dryer is a versatile dryer designed for all hair types, thanks to its numerous speed and temperature settings. It is 1875 Watts and has been created to effectively reduce static and eliminate frizz for smoother, sleeker locks and effortless styling. Hair is static- and frizz-free due to the presence of Far Infrared technology and the inclusion of Tourmaline Ceramic elements for more even heat distribution.
The product is manufactured by CHI HAIRCARE, which is a US-based company comprised of hairdressers – so it is obvious that they know what they are doing!
Tips for Buying a CHI Hairdryer
If you've read through our reviews and are still puzzled as to which CHI dryer to choose – never fear. We've compiled a short, simple list for you, to make clear all the materials and functions you should look for in a product based on your hair type and other needs.
Without further ado: if you have…
Fine hair
– For fine hair, you should be looking for products that are made with ceramic. This material is kind on hair by kind of absorbing some of the damaging heat before it reaches your hair.
– You should also look for models that come with concentrator attachments, so you can easily add volume to your blow dry. Otherwise, normal drying can leave hair flat and lifeless.
– Cool shot buttons are your friend! A blast all over the hair after drying leaves hair soft and shiny, and adds and element of health and sheen.
– Fine hair can easily become brittle with overexposure to heat, so setting your dryer on a lower temperature setting is a good option for you. Dryers with advanced heat controls (eg. More than two options) are recommended, so that you can get a cooler setting that's also comfortable and not too cold.
– Fine hair tends to dry quicker, so you can get away with using lower wattage. This will also help prevent unnecessary and accidental heat damage.
– Choose a DC motor to avoid overpowering your hair.
Curly hair
– A diffuser nozzle is great for curly-haired beauties. This separates the airflow, making it lighter on your locks. It won't be harsh and flattening on your curls, leaving you with cute bouncy ringlets.
– Curly hair tends to be thicker and takes longer to dry. If this is you, opt for a higher wattage model.
– Go for a middle heat setting, if you can. If you have hard-to-dry hair, it's tempting to use your dryer on full heat, but this is damaging and can turn your hair flat and lifeless.
– Far-infrared technology will help retain your hair's natural texture while ensuring a quick drying time.
– Ionic technology (also known as negative ion technology, or an ionic generator) will ensure your curls stay frizz-free.
– If you have thick, coarse curly hair, an AC motor will benefit you. Less powerful DC motors are all you need to use for fine hair.
Thick hair
– As your hair likely takes a long time to dry, you should look for far-infrared technology in your dryer. This dries hair quickly by breaking down large water molecules and heating hair from within.
– Go for at least 1800 watts, for a powerful and therefore faster dry.
– Advanced temperature and speed controls are great for thick hair. Go for a mid-heat and a fast setting to quicken the process.
– Use a diffuser to spread the airflow over a larger surface area.
– Tourmaline or titanium materials heat up faster and stronger – helping thick-haired people speed up their daily routines!
– AC motors are your friend. They pack a punch, and dramatically shorten your styling time.
Long hair
– Working on the assumption your hair takes a long time to dry, you should follow the above instructions for thick hair.
– BUT – if you have long, fine hair, make sure you stay away from top temperatures and use mid or low heat settings to avoid damage.
– Depending whether you have thick or fine hair, use AC or DC motors respectively.
Short hair
– Shorter hairstyles usually dry quickly, no matter what hair type you have. This means you should select a low heat. Ensuring you protect your short hair from heat damage is possibly more important than long hair – you'll stunt your hair's growth by inflicting too much heat damage.
– You can vary the speed to any you like best.
– Use a concentrator nozzle to add volume and definition to short hair.
– Take advantage of advanced haircare technology, like ionic and far-infrared. Anything that helps protect hair from heat is good for you.
– Choose a gentle DC motor – AC is too powerful for your needs.