3 Best BIO IONIC Flat Irons for 2022 Reviewed
Do you have trouble getting your hair to look its best in the morning? If so, a BIO IONIC hair straightener can help. This company has years of experience in making products that novices, beauty gurus, and professional stylists love. The brand's focus is on helping its customers look and feel their best without worrying about the health of their hair. BIO IONIC produces flat irons that hydrate and restore your hair rather than ruin it. There's no need to worry about scorching your hair or causing long-term or irreparable damage. Countless customers have achieved shinier, softer, and healthier hair thanks to BIO IONIC's hair straighteners. 
Even by the same company, not all flat irons are created equal. BIO IONIC's hair straighteners differ in elements like the materials they are made of, functionality, power and wattage, heat settings, and special features. While reading BIO IONIC flat iron reviews can help you decide on which kind to buy, you should have a resource that highlights exactly what to look for when buying a hair straightener from this company. Here, we have provided the following guide so you are aware of everything you need to know about buying a flat iron from BIO IONIC.
TOP 3 BIO IONIC Flat Irons
1. BIO IONIC OnePass Straightening Iron
Pros
– Precise heat adjustment
– Beautiful eye-catching design
– Optimized for multi-styling
– Used by salons
– Five-year warranty
Cons
– Zero, that we can tell!
All this alone would be enough for us to crown the BioIonic OnePass our straightener of choice… But there's more. The styler allows for precise heat adjustment, meaning YOU control the amount of heat that hits your precious locks. (Our pro tip: turn it down!)
We also award top marks to the look of this straightener. The luxe-looking dark grey of the styler compared with the baby blue plates is a complementary colorway that works wonders.
The curved barrel of BioIonic's OnePass means curling and waving your hair is no problem at all. The silicon strips aid this function, making it one of the quickest tools for curling on the market. Once finished, simply brush out your curls, spritz with hairspray and dash out to your party.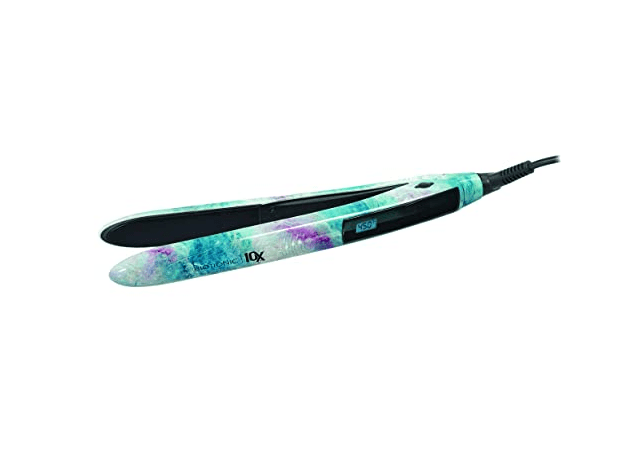 2. BIO IONIC Magical Stone 10x Pro Flat Iron
Pros
– Fast/Efficient

– Pretty design

– Unique vibration technology

– Multiple heat settings

– Provides healthy/shiny results
Cons
– Pricey

– Only comes in one design
The Bio Ionic Magical Stone 10x Pro Styling Iron (Limited Edition) is a gorgeous flat iron with 1 inch plates. It is able to create stunning, healthy results in a much shorter amount of time than most competitors thanks to its unique vibration setting.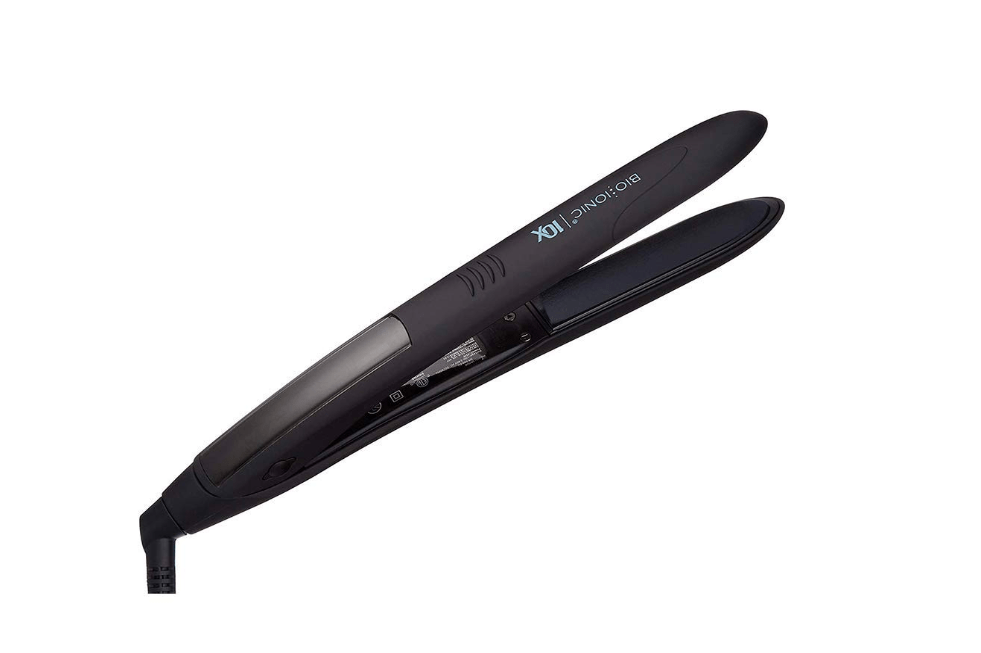 3. Bio Ionic 10x Flat Iron
Pros
– Digital controls with easy-to-read LCD screen

– Vibrating plates for better performance

– 9-foot swivel cord for easy mobility

– Allows you to style in under ten minutes
The Bio Ionic Flat Iron 10x is a sleek hair straightening device with rounded ceramic plates and a soft-handle grip. With a modern look, this straightener gets the job thanks to its design and construction. The vibrating plates help to reduce the amount of time that you spend styling your hair. The vibration combined with the 1″ width of the plates allows users to straighten their hair in under 10 minutes. The long swivel cord and digital controls will enable you to control the process every step of the way simply.
What you need to know before buying a BIO IONIC Flat Iron
Why Choose a BIO IONIC Flat Iron?

 

A BIO IONIC flat iron can revolutionize your getting-ready routine. However, before settling on one to buy, you should be aware of the factors that could influence your purchase.  

Materials

 

Some materials you may find in heavy-duty hair straighteners include tourmaline and titanium. BIO IONIC produces flat irons made with ceramic heating plates. Ceramic is one of the most common materials used in hair straighteners across the beauty industry, as it has been in use for more than 20 years - because it works. Ceramic heats up quickly and evenly and retains heat well. This way, the heat will reach every part of your strands to ensure a frizz-free look that doesn't falter.  

BIO IONIC produces its flat irons with ceramic plates ranging from 1 to 2 inches in size. Smaller plates are better if you plan on creating waves or other versatile looks, while larger plates are effective on thick, long hair.  

Functionality

 

Every flat iron, even when different models are produced by the same company, work in slightly different ways. BIO IONIC flat irons, depending on the specific model, use some combination of far-infrared heat, Sonic vibration, silicone speed strips, and a BioCeramic MCH Heater to straighten your hair. These heating features all work together to produce straight, frizz-free, healthy hair. One feature you'll find on some BIO IONIC products is the Ceramic Mineral Complex, which diffuses moisture into each hair strand and locks it into your cuticles.  

Typically, products with a large number of these perks will be pricier, so you need to consider if they are worth it to you.  

Another key aspect of functionality is how practical the product will be for you. You shouldn't only use your BIO IONIC hair straightener when you want to straighten it. Know that certain BIO IONIC products make it easy for you to produce waves and curls in addition to straightening your hair.  

While some women enjoy having an arsenal of styling products, others may not want to clutter their bathroom cabinets. If you are interested in a multipurpose styling tool, a BIO IONIC hair straightener will complete the job. These products are versatile and come with specific recommendations for use. For example, some suggest using a fine-toothed comb when working on every section of hair to produce neat, frizz-free strands. Others recommend smoothing over wider sections of hair. Choose a BIO IONIC hair straightener that aligns with how you prefer to work with your hair. 

Power and Wattage

 

The wattage rating of BIO IONIC products ranges from 38 to 45. The higher the rating, the more power the device can safely handle over a prolonged period of time. When you're shopping around for a BIO IONIC hair straightener, consider how often you'll be using your device and how long each hair straightening session will take you. If your hair is fine and short, you can get away with a product that has a lower wattage rating. However, you may need to get a flat iron with a wattage rating of 43 or 45 if your hair is long and thick or if you plan on using it frequently.  

Another important factor to consider is if your hair straightener will have universal voltage. This is important if you plan on taking your flat iron with you as you travel. Some products will not be compatible with outlets in different countries or continents. If you have your heart set on a particular flat iron that doesn't have universal voltage, you may need to invest in a voltage converter or travel adapter. Some customers may find this extra work more trouble than it's worth, so they'll look for another flat ironing product.  

Heat Settings

 

Depending on the specific model, BIO IONIC flat irons can reach maximum temperatures ranging from 385°F to 450°F. Lower temperatures tend to protect your hair better, while higher temperatures produce a better final result. However, if you choose a BIO IONIC flat iron with a high maximum temperature, you can protect your hair using a heat protectant. If you are using the hair straightener on someone with fine hair, use BIO IONIC's adjustable heat settings to turn the temperature down to not cause damage.  

Special Features

One safety feature that we love is an automatic shut-off option. Let's say that you woke up late one morning and were in a rush to get ready. As you're about to pull into work, you realize you forgot to turn off your flat iron. This is anyone's worst nightmare, but you can rest assured if you have invested in the right hair straightener. A lot of hair straighteners come with an automatic shut-off feature after a period of disuse, usually after thirty minutes or one hour. This is a great safety precaution that can keep you, your family, and your home safe. If you tend to be a little forgetful, this is a great feature to make sure your new BIO IONIC hair straightener has.  

A special feature of BIO IONIC flat irons that you may overlook is the cord. Ensure that the cord length is adequate. Many BIO IONIC hair straighteners come with 9-foot cords that grant you maneuverability as you are getting ready for the day. Make sure the cord length for the product you are buying meets your needs. Also, think about if having a swivel cord for your flat iron is important to you or not. One of these will make it easier to move your flat iron around as you use it and move it around, as the cord will be more flexible. 

Some flat irons come with luxury features like ergonomic thumb rests. While your flat iron will be completely functional without one of these, it can make your getting-ready routine more comfortable, especially if you straighten other people's hair often.