3 Best BaBylissPRO Flat Irons for 2022 Reviewed
If you've been looking for a reliable and high-performing flat iron tool, then the name BaByliss has likely come across your path. BaByliss has made a name for itself as one of the most premier hair styling tool brands. Its products have become known for their powerful hair styling performance, ergonomic design, innovative technology, and sleek results. 
Haircare professionals everywhere recommend BaByliss flat irons as a premium piece of technology sure to bring about a result everyone will love. As a brand, BaByliss continually provides innovative solutions to meet the demand of the growing and ever-changing beauty marketplace. By keeping prices accessible and quality reliable, BaByliss positions itself as a fierce competitor across international markets.  
It's easy to see why BaByliss has such a large and loyal following—its products leave customers satisfied consistently by providing practical, accessible, and innovative beauty tools. 
BaByliss flat irons bring a lot to the table. Understandably, as a buyer, you want to do some research before deciding on the product and model to purchase. If that's why you're here, keep reading for a guide on BaByliss flat iron reviews and how to shop for your ideal flat iron.
TOP 3 BaBylissPRO Flat Irons
1. BaBylissPRO Nano Titanium-Plated Ultra-Thin Straightening Iron
Pros
– Great multi-styling capability
– Titanium plates reach full heat quickly
– Super-advanced heat settings for all hair types
Cons
– Reaches unnecessarily high temperatures
– US voltage means that it may not be usable outside the US/Canada
BaByliss are the beloved, international haircare brand loved by teenagers and women alike. They create innovative new hairstyling products, that look fun and function like a dream. In my opinion, they're the perfect introduction to haircare products for young people or newcomers to styling: straightforward to use, easy to handle, cute to look at, and with all the safety precautions that are necessary when using heat.
The BaBylissPRO Nano Titanium-Plated Ultra-Thin Straightening Iron is no exception. It's an eye-catching, lightweight flat iron perfect for taking on your travels, or simply keeping on your dressing table at home.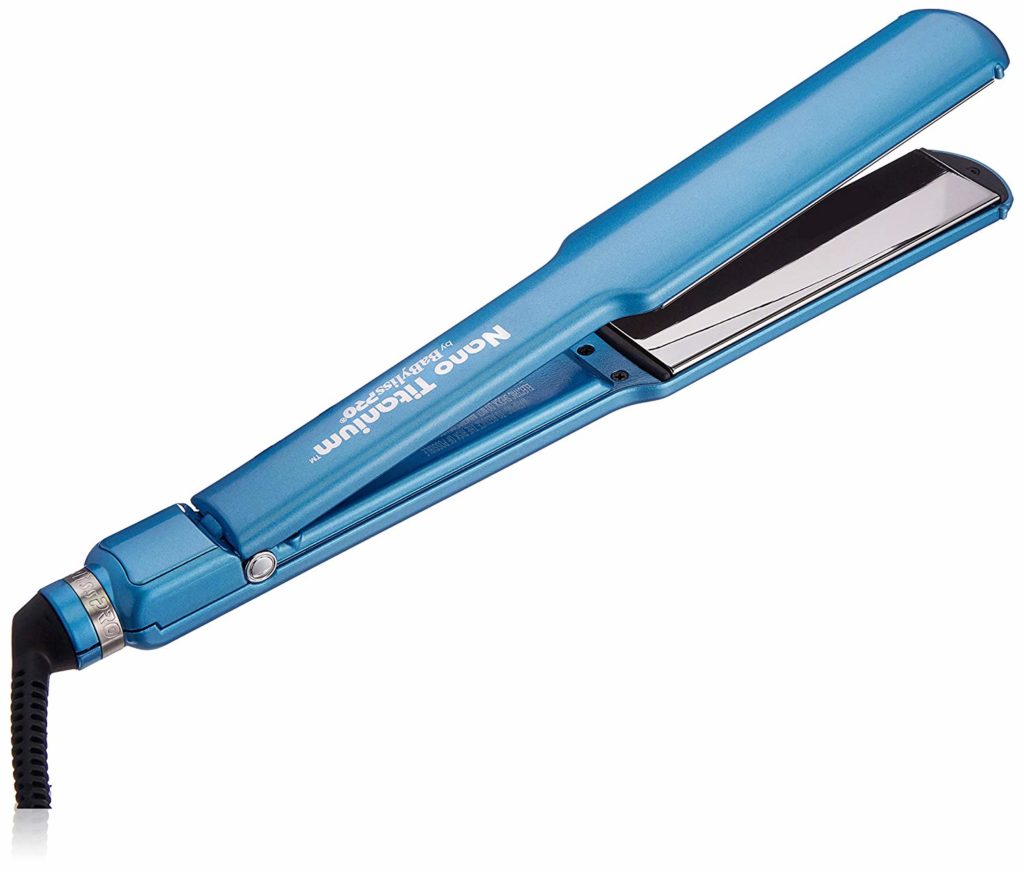 2. BaBylissPRO Flat Iron
Pros
– Lightweight

– Adjustable heat

– Doesn't snag

– Suitable for all hair types

– Affordable
Cons
– May get too hot

– No auto-off button
The BaByliss PRO Ceramic Straightening Iron is functional for different hair types across the board. It has an instant heat and recovery, dials up to 450 degrees F, is capable of straightening wide chunks in one go, and doesn't snag.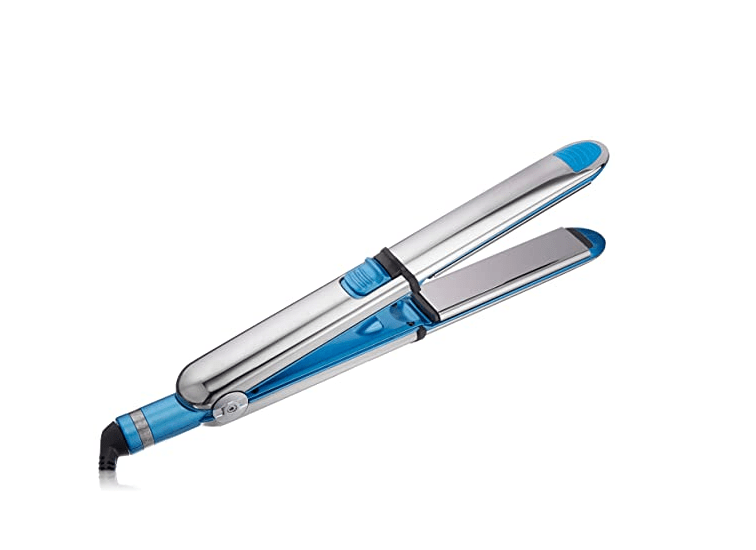 3. BaBylissPRO Nano Titanium Prima Flat Iron
Pros
– Curl and straighten your hair with the same tool

– Smoothes, conditions, and shines hair as you use it

– Heats up to 465 degrees Fahrenheit

– Lightweight and corrosion and warp resistant. 
Cons
– Handle heats quickly when on a metal surface, but the tool comes with a glove. 

– Made of hot metal, so only touch heated device with a mitten. 
The BaBylissPRO nano titanium flat iron is a dual function tool that you can use to both straighten and curl your hair. This hair styling tool comes in a chrome metal color with blue accents.
What you need to know before buying a BaBylissPRO Flat Iron
Why Choose a BaBylissPRO Flat Iron?

 

BaByliss has gained international recognition for its strengths in technological innovation, hair styling precision, and powerful heating options. The brand has a broad base of return customers that only look to BaByliss to meet their hair styling needs—and the loyalty is for a good reason.  

Let's take a look and see just why choosing a BaByliss PRO flat iron is the right choice for you and your future hair: 

- Nano Titanium

—BaByliss PRO flat irons harness the power of nano titanium technology to deeply restore the strength and shine of your hair while protecting it from unwanted heat damage. This technology is unique to BaByliss, so rest assured you won't find shine and safety all-in-one elsewhere. 

- Affordability

—While BaByliss flat irons are a premium product made by an industry-leading company, the price of the BaByliss PRO straightener is affordable and an incredible value for the product at hand. 

- Full Hair Spectrum

—The heating settings of these hair straighteners come at a full spectrum to allow for the heating of all kinds of hair types and needs. Advanced features on straighteners feel innovative, and customers compliment their ergonomics. 

- Intuitive Design

—Anyone can use a BaByliss flat iron to get smooth and sleek hair without straining or missing out on results thanks to their intuitive design and hand-friendly grip. 

 

Materials

 

It's important to note the materials used to make the product you choose. As far as the BaByliss PRO series goes, here are some highlights regarding their materials and benefits:

- Heating plates made of unique

nano titanium

(or ceramic, depending on the model) technology that offers high resistance protection for your hair.

- The materials are

slim and light

, which makes the styling process more comfortable.

- The

ultra-smooth surface

of the nanoplates is perfect for heat conduction and a smooth, sleek result.  

 

Functionality

 

The functionality of a straightener dictates the entire styling experience and results. Flat iron buyers should pay close attention to how the straightener gets its job done and the look of the final product. The BaByliss straightener functions as a powerhouse flat iron, offering many assets: 

- Heat conduction created from the

high-resistance titanium or ceramic nanoplates
- Heats up to 450 degrees

for a wide range of temperature options

- The

smooth and wide surface

of the two plates allows the user to straighten more substantial portions of the hair with fewer strokes and won't cause pulling or snagging

- A

40 percent reduction in hair styling time

because users only need to run the iron through once or twice

- The protective plates

prevent frying or burning
 

Power and Wattage

 

The power and wattage of your chosen straightener will impact the strength of your straightening results. These features are an essential part of any buyer's decision. These are some of the power and wattage features of the BaByliss PRO irons:

- The power cord comes with a

swivel attachment

to the iron that makes twisting and turning the iron convenient and hassle-free.

- The

infrared level heat

emitted delivers effective but gentle results.

- You should

operate the flat iron at a wattage of 120 volts AC

, as - noted by the product's instructions. 

 

Heat Settings

 

When shopping for hair straighteners, the topic of heat should be a big part of your decision. But what is the 'perfect heat' for hair straightening?

The truth is, no one's quite sure. If you're working with thin or damaged hair, moderate or low heat levels will avoid further damage. On the other hand, coarse, thick, or curly hair can benefit from a little bit higher temperatures to get the sleek results you're seeking. 

Hair can combust at temperatures over 450 degrees F, so unless you want to lose your hair, that's not a viable option for a hair straightener. 

The BaByliss offers premier heat settings that can be hard to find in other reliable brands. These settings include:

- An LED heat setting display

that shows the precise temperature, allowing for better control and safer styling.

- Heat settings that go all the way

up to 450 degrees

, the maximum level of heat that still allows for protection of the hair follicles without burning.

- Heat control

is easy to adjust so that you can change heat while styling to accommodate different needs and never apply more heat than necessary. 

- Fifty micro heat settings

so that you can get incredibly precise heat control rather than jumping by large intervals. 

 

Special Features

 

Some hair straighteners come equipped with unique features. These features can include wet-to-dry straightening capabilities or hair curling functionality, depending on how you use the device.  

These features aren't essential for a product to be a strong contender for your hair styling choice. A good straightener provides consistent and reliable results while protecting your hair. 

Some of the unique features that the BaByliss PRO straightener series offers include: 

- 5-inch long plates

. When you can straighten larger pieces of hair at one time and still get the same results, you can cut down on time it takes to style your hair entirely.

- Ergonomic design.

BaByliss flat irons are comfortable to hold and ergonomically designed. This design makes it easy to use the straightener as a hair curler as well. Twist the flat iron after clamping down near the roots. Then, pull the rest of the hair down and through the iron, holding a moment at the bottom before releasing. 

Unfortunately, the BaByliss PRO does not have an automatic shutoff feature. Some other models will come with this feature, but it's not necessary.

Verdict

 

The advantages that the BaByliss PRO flat irons offer are many. As the premier hair tools company globally, they are known for providing the very best solutions for a wide variety of hair needs across their international fan base. Their BaByliss hair straightener collection is no exception. For a reliable and effective product, prospective customers can count on BaByliss to deliver exceptional results every time.