3 Best BaBylissPRO Curling Irons for 2022 Reviewed
Most hairstylists would tell you that the best way to get a confidence boost without a haircut? All you need is to change the way you're styling your hair!  
If you have straight, relaxed hair, try getting a curling iron to bring out some lovely bounce and voluminous curls. From classic, tight curls to glamorous, full waves, there are tons of looks you can achieve.  
At the same time, while curlers may be a good option for some, it can be risky for others. If you don't know how to pin your hair accurately, you could wind up looking like you gave yourself a perm.  
Thankfully, BaByliss PRO curling irons are a great, user-friendly tool for those looking to get soft, natural curls. The brand has a wide range of curling wands with varying barrel sizes, voltage options, heat settings, and more. 
We know how crucial it is to get the right curling iron suited for you. Stop wasting your money on cheap hair appliances that don't work and invest in a quality curling iron. With our BaByliss curling iron reviews, you're sure to find the right tool that will curl and protect your hair with perfection.
TOP 3 BaBylissPRO Curling Irons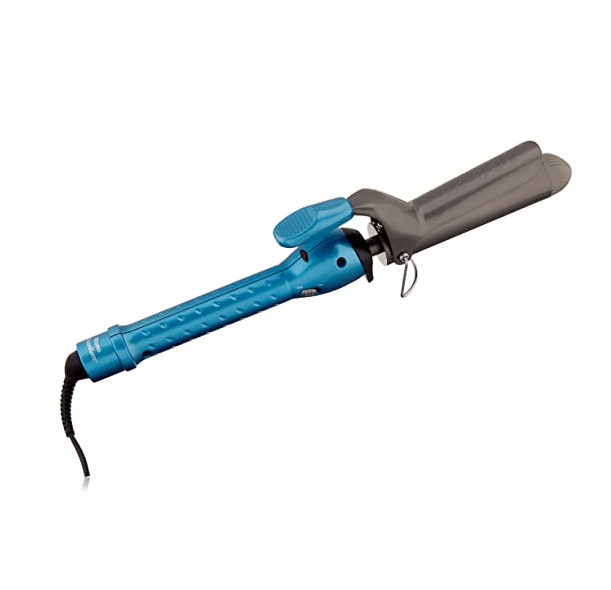 1. BaBylissPRO Nano Titanium Spring Curling Iron
Pros
– 50 heat settings

– Reaches up to 450° Fahrenheit!

– Includes Turbo Heat button which boosts heat in a pinch

– 8-foot tangle-free swivel cord

– Sol-Gel nano titanium/ceramic barrel

– Utilizes far-infrared heat from inside the barrel to heat hair
Cons
– Needs a converter for international travel, as the wattage is the standard USA 110V

– Price runs between $40-$50

– Comes in one color option, dual black/gray
The BaBylissPRO Nano Titanium Spring Curling Iron is perfect for creating big waves and textured curls on any hair type. Its 50 settings with temperatures up to 450° Fahrenheit makes it an exceptionally versatile curling iron. With its 8-foot swivel cord, it's easy to plug the iron in wherever you are.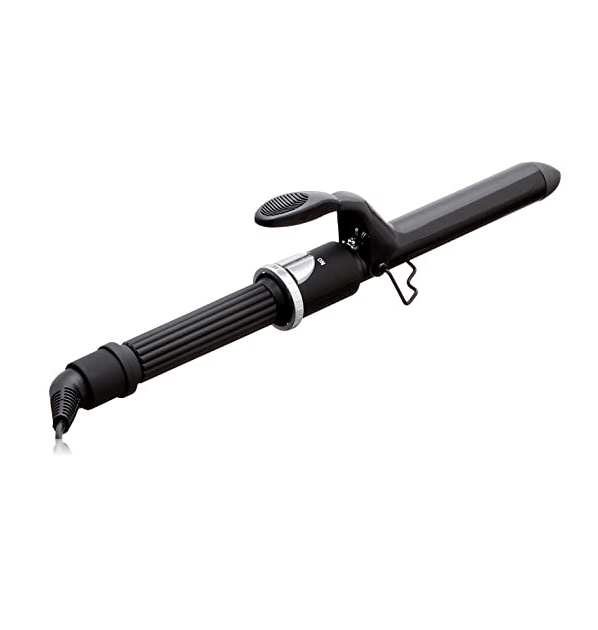 2. BaBylissPRO Porcelain Ceramic Spring Curling Iron
Pros
– Quick and even heat distribution

– Time saving benefits

– Economical pricing

– Easy and comfortable to hold
Cons
– Gets burning hot very quickly

– Doesn't have dual voltage

– No Amazon Prime option
The Porcelain Ceramic Spring Curling Iron is perfect for creating stylish, glossy curls. Made by BaByliss, a trusted manufacturer of professional styling products, this product is designed with a range of heat settings and special features. You can use this ceramic and porcelain iron to create a variety of curled styles, from tight ringlets to glossy loops and soft, summary waves.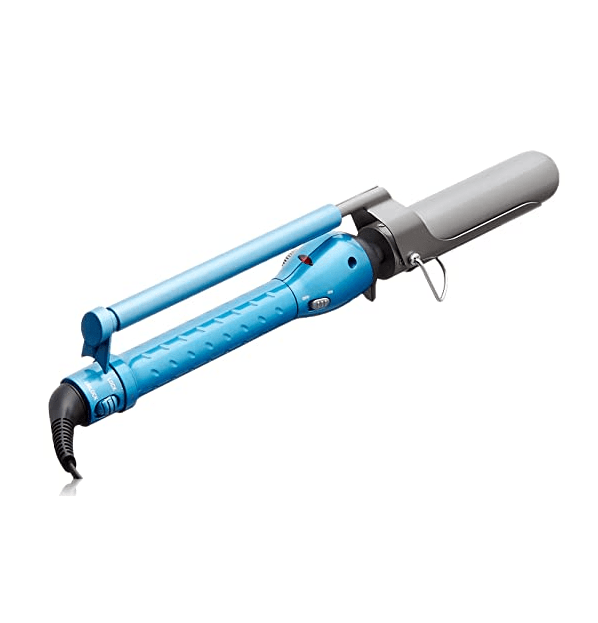 3. BaBylissPRO Nano Titanium Marcel Curling Iron
Pros
– The Turbo Heat button instantly boosts heat

– So-Gel titanium and ceramic barrel

– The device heats up to 450 degrees Fahrenheit to tame even the most stubborn hair 

– Swivel cord to make the product more accessible

– Locking mechanism prevents accidental burns
Cons
– You can only order the BaBylissPRO Nano Titanium Curling Iron in a pastel blue color

– Some individual products had functional issues when customers ordered them, though the customer service helped those clients get replacements as soon as possible
BaByliss continues to show its prowess as one of the top styling tool brands with the release of its new Nano Titanium Marcel Curling Iron. The BaBylissPRO Marcel Curling Iron is a product crafted to create textured curls and beach waves.
What to look for when buying a BaBylissPRO Curling Iron
Why Choose a BaBylissPRO Curling Iron?

 

Materials

 

 
- Nano Titanium:

Nano Titanium: BaBylissPRO Nano Titanium and Marcel curling irons both feature advanced Nano Titanium technology. The result is healthy textured curls and waves. Because titanium is such a high conductor of heat, these curling iron barrels will heat quickly. They retain heat to provide you with curls that hold! No more touch-ups throughout the day. Titanium also gives off the maximum amount of infrared heat. This heat level has shown to protect hair from over-drying. At the same time, it creates softer, shinier, healthier locks by sealing in moisture. Nano Titanium technology offers even heat distribution without those hot spots that leave hair burned or fried.  

- Sol-Gel Technology:

Sol-Gel Technology: This technology is available in the BaByliss Pro Nano Titanium and Marcel models. Sol-Gel changes nanoscale titanium and ceramic particles from liquid to solid form. The barrels have a higher composite of titanium and ceramic compared to other standard models. In fact, they have more than 65% compared to less than 15% on conventional barrel coatings. The composite makes Sol-Gel curling irons a longer-lasting, more robust, chemical resistant model. This titanium ceramic coating ensures you have a tool that will hold up to everyday use for years to come. 

- Porcelain Ceramic Barrel:

Porcelain Ceramic Barrel: Do you have delicate hair? If so, you've likely experienced that using a metal curling iron can lead to significant heat damage. If you avoid metal irons because they're too harsh, the BaByliss Porcelain Ceramic Spring iron is the answer. The porcelain ceramic barrels reduce and prevent hair damage better than standard ceramic curling irons. Plus, ceramic plates help protect your hair's moisture by sealing your hair cuticles. This seal results in healthy, glossy hair.

 

Functionality

 

BaByliss PRO Curling irons come in a variety of barrel sizes. Pick the right thickness to achieve your desired curls: 

Barrels an inch thick or less will give you tight ringlets. For soft, beachy waves, wrap your hair loosely around one of the medium-sized irons. If you want bigger, bouncier curls, opt for the larger size over an inch thick. 

Other features to consider when looking at a product's functionality include: 

- Maintenance Free:

The BaByliss PRO Curling Irons are all maintenance-free tools. There's no lubrication or additional treatment required. As long as you keep clean of any residue from hair care products, and maintain any vents and cords, your BaByliss curling iron will withstand many uses. 

- Safety:

Safety: At the top of the curling wand, there's a cool tip to hold on to while you're curling your hair safely. No more burned fingertips! Another great feature is the fold-out stand. You can set down your curling iron on the stand to avoid scorching the surface of your vanity or bathroom counter. Its spring clamp design makes sure that your hair easily unwinds from the wand without a lot of tangles.

 
 

Power and Wattage

 

BaByliss PRO curling irons are compatible with standard 120 Volt electrical outlets. The power plug features a polarized plug (one prong being larger than the other) as a safety feature. 

These curling irons receive power from a 360° swivel cord to allow you a full range of motion while styling your hair. Thanks to its length of 8 feet, you can use these curling irons far away from the outlet. You can even use it while you're standing in front of the mirror!  

Heat Settings

 

A great feature of the BaByliss PRO line of curling irons is that they come with such a large amount of heat settings. 

If you've become accustomed to your standard five settings, you'll be thrilled to discover the BaByliss curling irons. The BaByliss PRO Porcelain ceramic model comes in 30 heat settings. The Babyliss PRO Nano Titanium Marcel and Nano Titanium Spring models feature 50 heat settings! 

Using the temperature dial, you can set the heat to a particular targeted range. Choose the right range for your hair texture: 

- 1-10 (250°F–275°F) for perfect for fragile, fine hair.

- 11-20 (276°F–310°F) for thin, easy to curl hair.

- 21-30 (311°F–360°F) for medium-thick, relaxed hair.

- 31-40 (361°F–390°F) for wavy or curly hair.

- 41-50 (391°F–450°F) for coarse, very thick hair. 

If your hair is coarser and curlier, you may want to try a curling iron from the Nano Titanium line. The Porcelain Ceramic model only heats to 350°F, and higher heat is better for thicker hair. 

Special Features

 

Are you always rushing to get ready in the morning? Then you'll love the instant heat circuity available in the BaByliss PRO curling irons. This state-of-the-art technology allows the curling iron to reach its temperature in less than a minute! There isn't an auto shut-off, however, so make sure you turn off and unplug your curling iron when you're not using it. 

Also, if your curling iron needs some extra heat to get the curls to set, utilize the Turbo Heat Boost. This feature on the Nano Titanium Marcel and Spring models helps to increase the temperature quickly. 

Our Verdict

 

If you're looking for a quality, affordable curling iron for your beauty routine, look no further than the BaByliss PRO curling irons. Whether it's the Nano Titanium or the Porcelain ceramic, all BaByliss PRO products feature quality materials and longer-lasting models. Plus, with its impressive range of heat settings, you can confidently tailor your curling iron to the needs of your hair texture. 

Invest in a BaByliss curling iron and say goodbye to hair damage! Check out prices and compare models to see which curling iron and barrel size is right for you.